Maryland Gov. Larry Hogan: From Nixon to Trump, a Republican Family's Impeachment Legacy
When Maryland Governor Larry Hogan Jr. joined the small contingent of Republican lawmakers who endorse the impeachment inquiry pending against President Donald Trump, he continued a family legacy of breaking party lines.
"I don't see any other way to get the facts," Hogan told PBS' Firing Line on Friday evening.
His statement echoed his father, former Maryland Congressman Larry Hogan Sr., who in 1974 was the only Republican member of the House to vote in favor of all three articles of impeachment against then-President Richard Nixon.
The senior Hogan was a member of the House Judiciary Committee, who spent hours in hearings and at home poring over evidence as the Watergate scandal unfolded. He dictated notes into a tape recorder, he told The New York Times in June 1974, but he hadn't sent them out for transcription "out of respect for the rules of confidentiality." Likewise, he had also "forbidden his staff to tally the mail on impeachment lest his vote be influenced by it."
Newsweek subscription offers >
In his 2017 obituary, The Washington Post revisited Hogan's announcement, made the day before the House impeachment vote that "Richard M. Nixon has, beyond a reasonable doubt, committed impeachable offenses" and his further allegations of "an extended and extensive conspiracy to obstruct justice."
The congressman did not run for reelection after his term ended. Instead, he ran for governor in Maryland, where he had been careful to keep up his "politicking," aware of the "high feelings the impeachment issue arouses."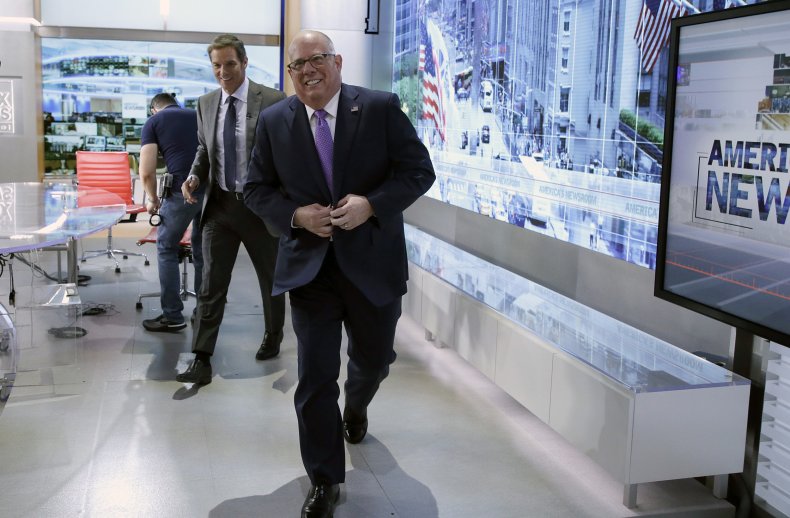 While his father's gubernatorial bid was unsuccessful, Larry Hogan Jr. began his second term as governor of Maryland in January, and has enjoyed high approval ratings in a blue state.
Newsweek subscription offers >
Ahead of his reelection in 2018, The Baltimore Sun reported that 60 percent of local Democrats approved of the Republican governor's job performance. Steve Raabe of OpinionWorks, which conducted the poll, attributed Hogan's bilateral appeal to "a likability factor" and "a sense of character about him."
Hogan's vocal support for the impeachment inquiry followed his public critiques of Trump earlier this year, after the president offended many by calling Baltimore "a rat and rodent infested mess."
"Washington is just completely consumed with, with angry and divisive politics, the divisiveness and dysfunction. And then 14 hours later we get this tweet that sets off another fire storm of angry tweets back and forth," the governor told local radio station WBAL.
"Enough is enough. I mean people are just completely fed up with this kind of nonsense," the governor said of the president's antics.
Maryland Gov. Larry Hogan: From Nixon to Trump, a Republican Family's Impeachment Legacy | Politics