Larry King Calls Julie Chen 'a Stand-up Girl' for Standing by Husband Les Moonves
Larry King thinks Julie Chen is doing the right thing in supporting Les Moonves, he shared in an interview TMZ posted Saturday.
"She's his wife. I think she's a stand-up girl," the 84-year-old television and radio host said. "I've known Les a long time. I like Les. I don't like what happened 20 years ago. I think those things, if true, are terrible. But she's his wife."
King was with his wife, Shawn, and asked her what she thought. "I agree with Larry," she said. "She's his wife. If somebody had said something about Larry, I would stand right by him." When her husband asked if she'd stand up for him if he was in the same position as Moonves, she pointed out that they married 20 years ago.
Moonves stepped down from his positions as chairman, president and chief executive officer of CBS amid reports of allegations of sexual assault published by The New Yorker in July and on September 10. He denied the allegations.
Chen, who married Moonves in 2004, publicly supported her husband after both reports.
"I have known my husband, Les Moonves, since the late '90s, and I have been married to him for almost 14 years," she wrote on Twitter in July. "Leslie is a good man and a loving father, devoted husband and inspiring corporate leader. He has always been a kind, decent and moral human being. I fully support my husband and stand behind him and his statement."
On The Talk a few days later, Chen said, "Some of you may be aware of what's been going on in my life the past few days. I issued the one and only statement I will ever make on this topic on Twitter. I will stand by that statement today, tomorrow, forever."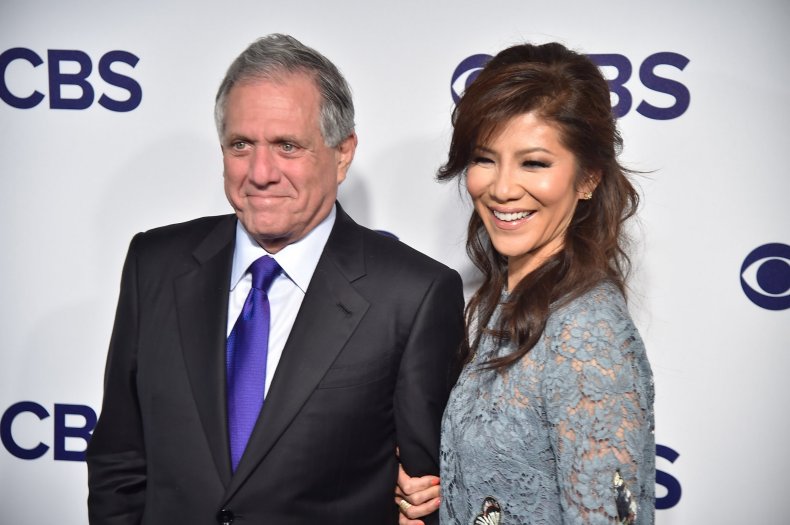 In a statement released September 10, Chen said, "I am taking a few days off from The Talk to be with my family. I will be back soon and will see you Thursday night on Big Brother."
Sharon Osbourne, one of Chen's co-hosts on The Talk, said, "Julie has always been there for me. She's been a friend. She's been someone who I admire and respect greatly."
When Chen hosted the CBS reality series on September 13, she signed off using her husband's last name for the first time. "I'm Julie Chen Moonves," she said at the end of the episode.