CNN 'Stopped Doing News' to Obsess Over Donald Trump: Larry King Slams Former Network
Former CNN host Larry King slammed his former employer for shifting excessive attention to President Donald Trump.
"They covered him as a character. They carried every speech he made. They carried him more than Fox News, at the beginning," King said while speaking on RT America on Tuesday. "And so they built the whole thing up."
The host, who held a primetime slot on CNN for 25 years, said his former employer has stopped reporting news. He also chided other networks for letting the president dominate coverage.
"CNN stopped doing news a long time ago. They do Trump. Fox is Trump TV and MSNBC is anti-Trump all the time."
While speaking with Rick Sanchez, another former CNN reporter, King said that cable news and the internet have helped change the political climate in the country and create a divisive atmosphere.
"Could you imagine cable news in Watergate?" he asked.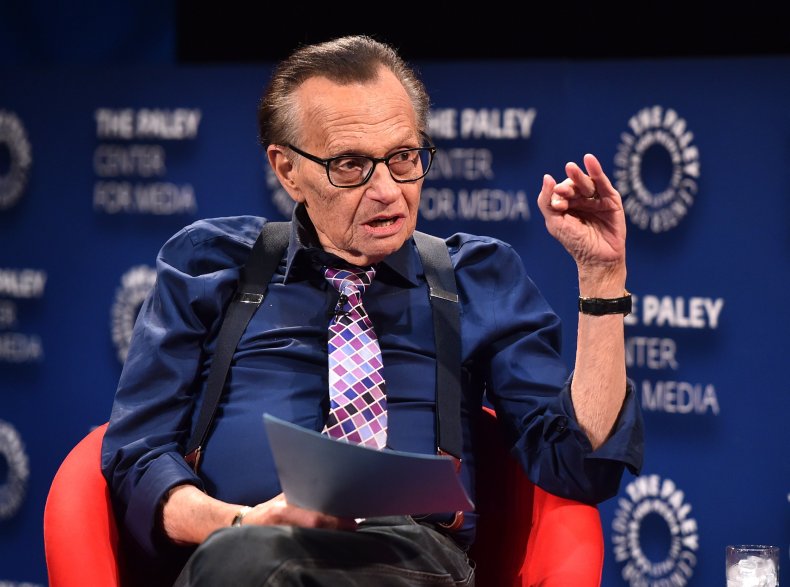 Other high-profile celebrities and journalists have questioned the amount of time the press devotes to covering Trump.
While speaking on Real Time with Bill Maher recently, Barbra Streisand questioned why the media still covers Trump. "I have one question," she said. "Why do we allow the media to keep showing him on TV? Why are we covering his rallies?"
"Because there's money in it," Maher responded. "The media used to be a loss leader; they didn't care if covering the news made money. And now it has to report to the stockroom like everybody else."
Earlier this year, Vox reported that, despite the animosity between Trump and the press, both have gained benefits from their relationship.
Trump benefits by gaining extensive publicity for his policy initiatives, while print and cable outlets have used Trump to promote their reporting. Companies including The New York Times and CNN positioning themselves as a valuable antidote to dishonest statements propagated from Washington.
"Trump is one of the best things that's happened to the media in years — generating a steady stream of audience interest in his antics and doling out a reliable stream of in-person and social media chum for journalists to swarm over," Vox said.
Forbes noted in April that Trump has helped propel cable news ratings.
Last year, the Australian Broadcasting Corporation tracked the number of times cable news networks mentioned "Trump." The survey found that CNN and MSNBC focused excessive amounts of attention on Trump, sometimes devoting two-thirds of air time to the president. Fox News mentioned Trump significantly less than the other two cable giants.
Trump's attacks on the media have since escalated, with the president praising Representative Greg Gianforte for assaulting a reporter from The Guardian.