Who Is Larry Kramer, and What Did He Do for AIDS Activism?
Playwright and AIDS activist Larry Kramer died in New York City on Wednesday at the age of 84.
According to The New York Times, Kramer's death was confirmed by his husband David Webster. Kramer died of pneumonia in Manhattan.
Kramer was an important AIDS activist who help found two organizations: He was a co-founder—with Nathan Fain, Larry Mass, Paul Popham, Paul Rapoport and Edmund White—of Gay Men's Health Crisis and a founder AIDS Coalition to Unleash Power (ACT UP), that were vital in providing services to people living with AIDS and organizing protests that brought attention to the issues that people living with AIDS faced as well as influenced policy.
GMHC's website calls a 1981 meeting of 80 men at Kramer's apartment where they addressed AIDS and planned to raise money for research on the virus a "foundation of what will soon become Gay Men's Health Crisis," which was formally established in 1982. GMHC provided services to people living with AIDS including a hotline, newsletter, buddy program and more.
Despite being an important part of the group's founding, Kramer had issues with GMHC's board, as he told the ACT UP oral history project in 2003. He cited his raising his voice and criticizing New York Mayor Ed Koch as problems he ran into with the board. "And I thought, at one point—I didn't even think—I either go to that meeting with the mayor or else I quit. That's just Larry's MO. I didn't think twice about it—didn't think in advance, I'm going to do this. I just did it. And then, I couldn't believe it when they said go," he told the ACT UP oral history project. "Then began these years in the wilderness. That was in 1983 or 1984 —before 1987, I wrote The Normal Heart. Everybody was dying. How could you not respond to that in some sort of way? Well, a lot of people didn't, but I just couldn't believe that this country was so hateful."
Despite his unceremonious exit, Kramer was later honored and presented with the first Larry Kramer Activism Award by GMHC in 2015, according to The New York Times.
After he left, Kramer founded ACT UP, which focused on direct action and protest rather than programs that GMHC did. The first protest was on Wall Street in New York on March 24, 1987, according to ACT UP New York's website. In his interview with the ACT UP oral history project, Kramer also detailed the organization's first protest in a New York Times op-ed called "The FDA's Callous Response to AIDS."
Brandon Cuicchi an active member of ACT UP for over 10 years told Newsweek that Kramer was an incredibly important person for the LGBTQ+ community. "Larry Kramer's legacy on the HIV and the LGBTQ+ communities is immeasurable. Larry Kramer is responsible for saving millions of lives. Larry Kramer taught the LGBT community to stand up for ourselves at a time when the LGBT community was at its lowest point during the AIDS epidemic. He taught us how to fight and stand up for ourselves," Cuicchi told Newsweek.
Kramer was critical of Dr. Anthony Fauci for his response to the AIDS epidemic, criticizing him in a 1988 San Francisco Examiner open letter, but said in a March New York Times article regarding the COVID-19 pandemic that the two were "friends again." "Once you got past the rhetoric," Fauci told the New York Times in Kramer's obituary. "you found that Larry Kramer made a lot of sense, and that he had a heart of gold."
Besides being a noted AIDS activist, Kramer is best known for his play The Normal Heart, which depicted an AIDS activist trying to convince an organization to be more vocal in their attempts at reform. In Jeff Kaufman's moving 2018 documentary Every Act of Life, playwright Terrence McNally talks with Kramer about the play, "I remember how excited I was when I saw The Normal Heart because there's never, ever been anything in my lifetime quite like that theatrical event of a play that made people want to jump out of their seat and run and do something active about a horrible situation. It had the most electrifying cause-and-effect."
Kramer also wrote the play The Destiny of Me, which was a runner-up for the Pulitzer Prize fro which he received an Obie Award for playwriting. He also wrote the screenplay for the film Women in Love, which was nominated for an Oscar.
Eric Sawyer, founding member of ACT UP NY and co-founder of Housing Works and former adviser to UN-AIDS, told Newsweek about a sweet and kind side that not many people saw of Kramer and what he was working toward in his final years. "I think the world has lost a hero. Larry spent his entire life fighting for the rights of the gay and lesbian community, fighting for their dignity, fighting to have gay and lesbian people treated equally and also fighting for a cure for AIDS through his ability to turn anger and grief into action. He birthed the HIV activist response, and for that the world should be eternally grateful. While many people know Larry as an angry activist, not many people know him as an incredibly sweet man and an incredible friend, and those of us who knew him personally will forever miss him. One of the things that is sad other than his loss is that at the end, Larry felt that he had failed because he wasn't able to see a time when LGBT people were truly treated as equals and much of his speaking and writings in the last year or two was to try to reissue a call to arms to the LGBT community to again pick up the fight for equality," Sawyer told Newsweek.
GMHC CEO Kelsey Louie remembered Kramer as a passionate activist who was incredibly brave in a statement that was released Wednesday. "Larry was a revolutionary challenging the authority of the status quo, a force to be reckoned with," Louie said in a statement. "He was a person who made it difficult to be on the other side of his rage, a general who marshaled the troops of our communities, and a passionate, brilliant and wildly brave gay man. Yet when he visited GMHC's dining room or attended one of our fundraisers, Larry moved gently throughout the venue, speaking quietly to clients or donors, even offering a wink or a hug if you were lucky."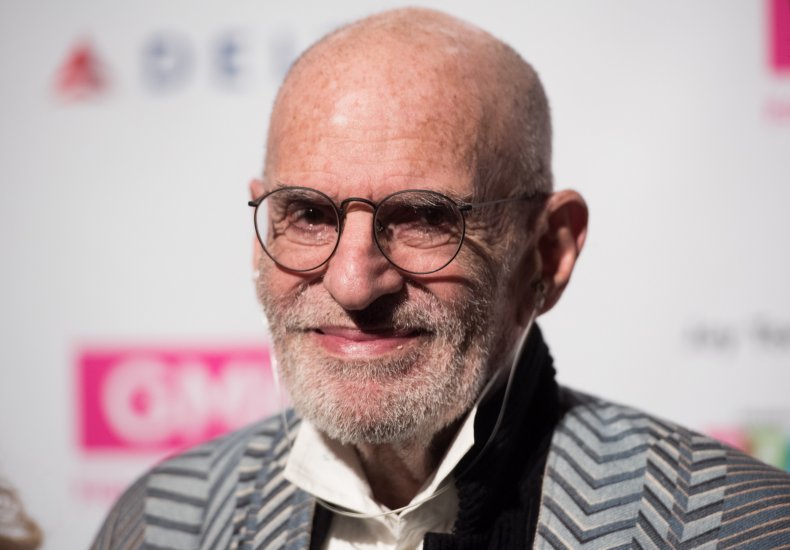 Updated 5/27 2:55 p.m. EST: This story has been updated to include comment from GMHC that was obtained after the story was originally published.