Larry Nassar Abuse Hearing: Former USA Gymnastics Doctor Called 'Spawn of Satan' During Victims' Testimony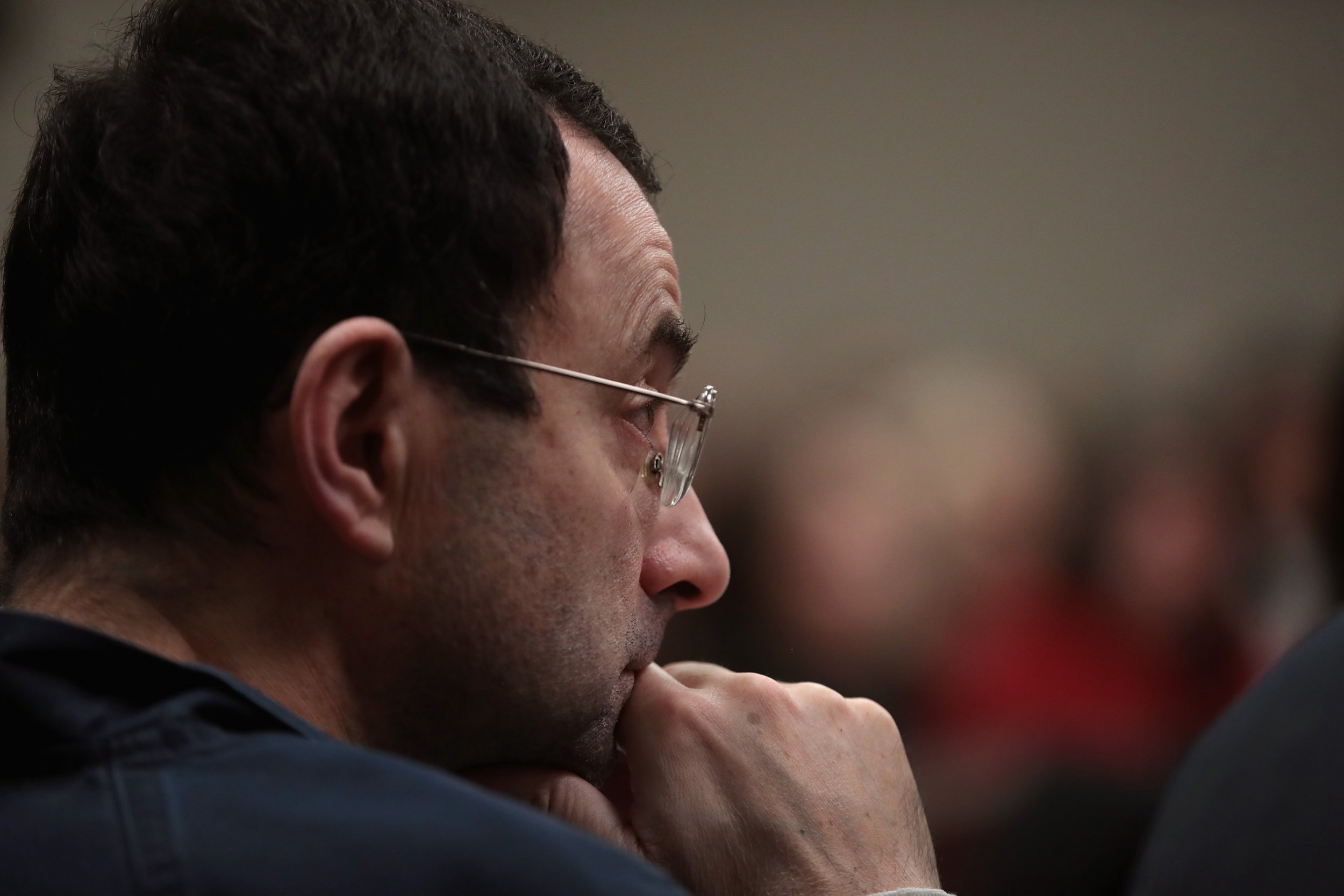 The sentencing hearing of former USA Gymnastics team doctor Larry Nassar began Tuesday morning in a Lansing, Michigan courtroom.
More than a hundred victims are expected to appear in court to confront the man who has pleaded guilty to molestation.
Nassar previously received a 60-year prison sentence for a separate child pornography case. Prosecutors are now asking for an additional sentence of up to 125 years.
Maggie Nichols
The mother of Maggie Nichols, a former USA Gymnastics national team member, spoke in place of her daughter on Wednesday. Maggie began seeking treatment for back pain from Nassar at the age of 15.
"You actually are not a real doctor," Gina Nichols told Nassar.
"You're not a doctor at all. You're a serial child molester, a pedophile," she continued.
Tiffany Thomas Lopez
Victim Tiffany Thomas Lopez began seeing Nassar as a freshman softball player at Michigan State University in 1998. She claims staff members at the university ignored her reports of the abuse by Nassar. Lopez spoke directly to her abuser:
"I imagine hitting you if I ever had the opportunity to see you again," she said. "Instead I will allow my thoughts and my feelings to hit your heart."
"We seek justice," she added. "We deserve justice, and we will have it."
Jeanette Antolin
Another victim and former Team USA gymnast, Jeanette Antolin, said to Nassar, "Larry, you made me believe that you were my friend. You deceived me. You manipulated me, and you abused me. I truly believe that you are the spawn of Satan."
Jessica Thomashow
Seventeen-year-old Jessica Thomashow spoke on Tuesday of the abuse she endured when she was only 9 and 12 years old while receiving treatment for a rib misplacement and a stress fracture.
"When it was over, I was so confused. It was awful and embarrassing. I left and kept the disgusting thing that had just happened to me to myself."
Chelsea Markham
The adoptive mother of Chelsea Markham spoke to Nassar in response to the abuse her daughter endured while seeing Nassar at the age of 10.
"This was a man that was supposed to be the best in his field, but he abused her. For my daughter, it just became a serious bout of depression," Donna Markham said.
Chelsea quit gymnastics at the age of 13 and took her own life in 2009, which her mother says is due to the abuse she experienced from the former doctor.
Jade Capua
Jade Capua sought treatment from Nassar when she was 13. Four years later, she spoke of the abuse she endured from the disgraced sports doctor.
"It left a mental scar that unfortunately will always be something that happened," she said. "However, I'm a strong believer that wounds heal into scars, and these scars become stories that you share and heal from. Justice must be served."
Danielle Moore
Victim Danielle Moore claims she was abused over several years while receiving back injury treatment from Nassar.
"You abused your power, authority, and stature to prey on others who were already in pain, helpless and without a voice," Moore said. "I hope that your self-pity is as dark and more terrifying than my feeling of hopelessness."
Kyle Stephens
In a powerful statement, Kyle Stephens spoke of the abuse she experienced until she was 12-years-old.
Nassar, a family friend, exposed himself to her when she was aged just 6.
Stephens addressed her abuser: "Little girls don't stay little forever. They grow into strong women that return to destroy your world."
Nassar has been publicly accused of abuse by more than 140 female athletes including Olympic gold-medal gymnasts Aly Raisman, Gabby Douglas, McKayla Maroney and Simone Biles.