Larry Nassar: First Male Victim to File Lawsuit Claims Disgraced Doctor 'Put Acupuncture on His Genitalia' to Treat Shoulder Pain
A University of Michigan gymnast reportedly became the first male to file a lawsuit claiming he was abused by disgraced sports physician Larry Nassar.
Jacob Moore alleged that the former USA Gymnastics and Michigan State University doctor abused him when he was 15 and undergoing treatment for shoulder pain, as reported by International Gymnast.
According to the complaint, Moore sought treatment from Nassar in April 2016, during which the doctor administered acupuncture to the teenager's "pubic area and in and around his genitalia, ostensibly for the purpose of treating his shoulder pain."
Nassar also was alleged to have pulled down Moore's trousers, exposing his genitalia to a minor female gymnast who was present in the room.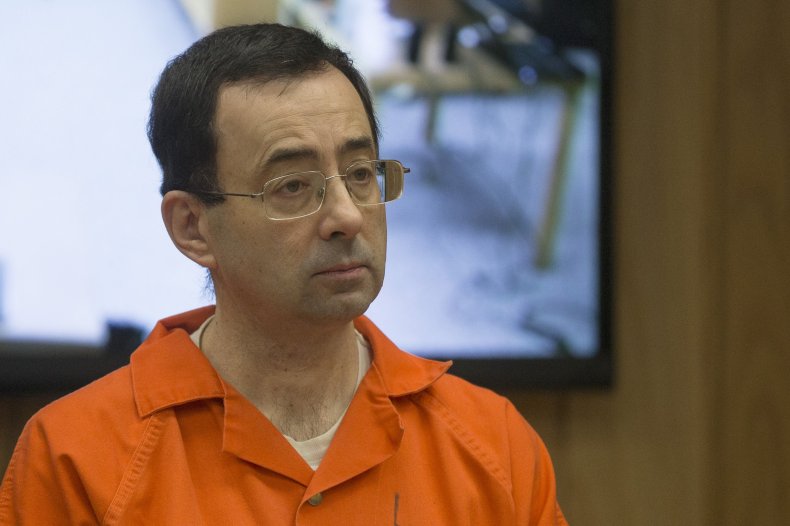 The complaint, extracts of which were published on Deadspin, continued, "Plantiff Jacob Moore believes the conduct of Dr. Nassar was sexual assault, battery, abuse, molestation and harassment performed by Defendant Nassar for Defendant Nassar's sexual pleasure and gratification."
Moore, now 18, was a member of the U.S. men's junior national team and is currently a freshman at the University of Michigan. He is the brother of Kamerin Moore, who was abused by Nassar.
Kamerin Moore was one of the more than 150 victims to appear in court to testify against Nassar. In a statement at Ingham County Circuit Court, she said, "My whole family was fooled by you, but I know now who you really are—a child molester and a master manipulator.
"You will never mean anything to anyone for the rest of your entire life. Never."
Both Moore siblings filed as plaintiffs in the federal lawsuit started by Rachael Denhollander, a former gymnast who became the first person to come forward with allegations of abuse against Nassar in 2016.
Since then, more than 300 victims, including Olympic stars, have come forward to say they too were abused by Nassar in one of the biggest sports scandals in U.S. history.
Nassar was sentenced to 40 to 175 years in prison after admitting to 10 counts of sexual assault against girls and young women dating back decades. He had already been sentenced to 60 years in federal prison for child pornography charges.
After being told he would spend the rest of his life in prison, Nassar apologized to his scores of victims in court.
"There are no words that can describe the depth and breadth of how sorry I am for what has occurred," Nassar said. "An acceptable apology to all of you is impossible to write and convey. I will carry your words with me for the rest of my days."