Why Larry Nassar Sentencing Judge Rosemarie Aquilina Let Victim Statements Last For Days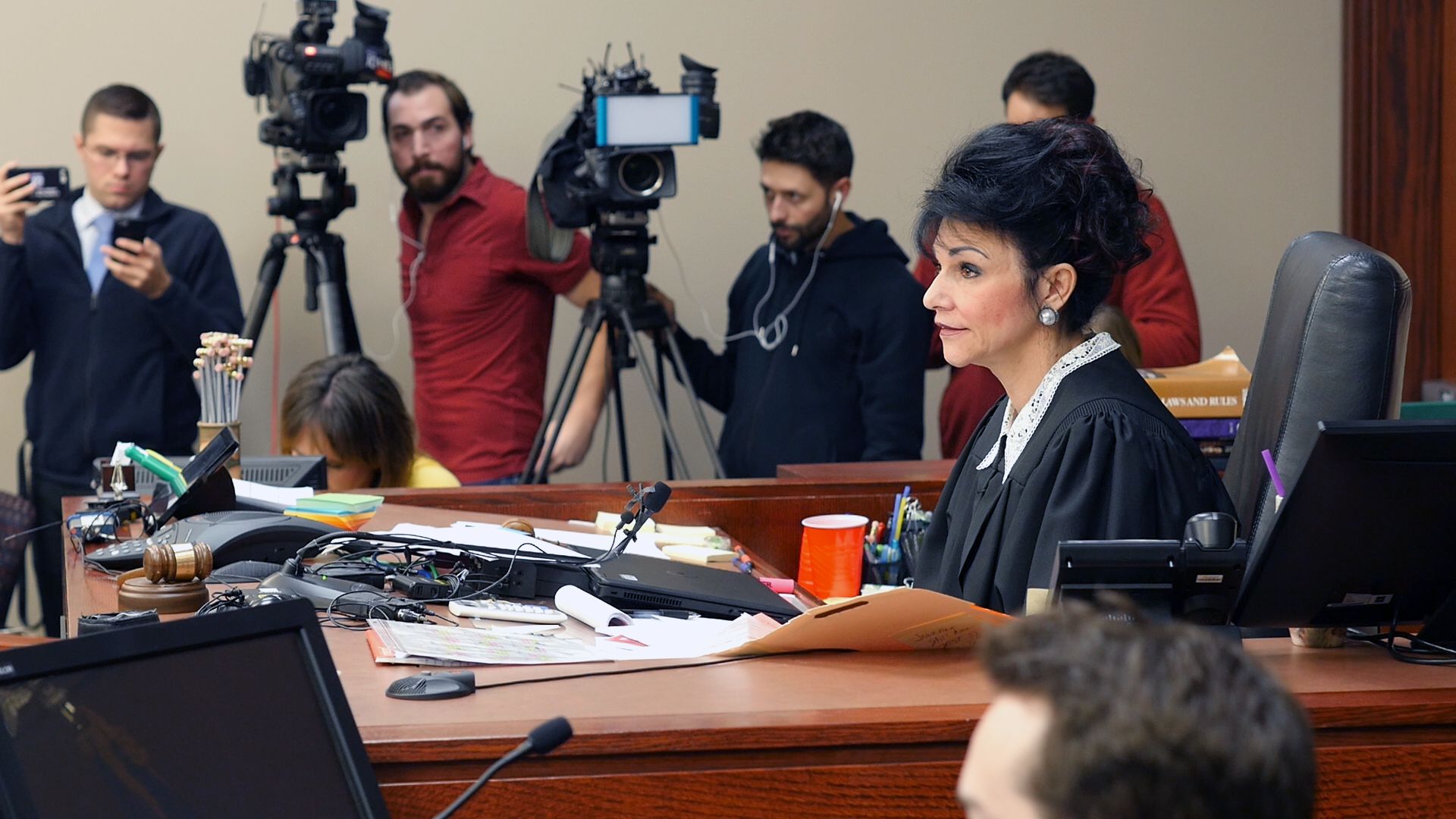 Judge Rosemarie Aquilina's courtroom is different from what one may normally see during a trial. The Michigan circuit court judge dedicated days to those who accused Olympic gymnastics doctor Larry Nassar of sexual abuse. Over 150 women and girls stepped forward to face Nassar, look him directly in his eyes and tell him how he hurt them.
For some, it was closure. For others, it was a small sense of vengeance. For Aquilina, it was only fair.
Her supportive actions from her position of power is on full display in the HBO documentary At the Heart of Gold: Inside the USA Gymnastics Scandal. The film details Nassar's abuse and takes a deep dive into the courtroom so viewers can witness the emotions, as well as the sentencing of one of America's most shocking sexual abusers.
Aquilina has been criticized in the past for allowing her courtroom to become a place for emotion. As each of the women ended her victim impact statement during Nassar's January 2018 trial, Aquilina offered words of encouragement. When she sentenced Nassar, however, her words were harsh. Some would say too harsh. Aquilina said she took pleasure in locking up Nassar with little possibility for release. He's in a Michigan prison with a sentence of up to 175 years.
The judge knows her tactics are different but says they're necessary to provide a fair and just trial. Part of that justice is helping victims heal. The Nassar case was a chance for her to hear the stories of hundreds of women and help them mend.
"I think as judges, people think we pound the gavel and we're really mean, but I think the courtroom for both sides is a place of healing," Aquilina told Newsweek. "And it's really important for me to know that victims are heard, they're believed, they understand that each judge, myself including, will do the best job they can to right the wrong. And, of course, you never can right this wrong."
Though Nassar's case is extreme—332 women said in their lawsuits he sexually abused them—this method has been in practice in Aquilina's courtroom for 15 years.
"Part of restitution means making them whole, and making them whole means that they face their devil and tell them exactly what they want so that their healing can begin," she explained.
"He doesn't have enough money to make them whole, and money will never make them whole, but he certainly has time to listen," Aquilina said. "So I will give them all the time they need, because we must look at them in terms of healing and surviving and thriving, and that's what I try to do, not just on this case but on every case. I've handled every case like this for 15 years."
To Aquilina, it's all about listening. For a judge to sentence fairly, each side must be heard. She constantly sees past victims and defendants make a difference in their life after her trials.
While there is a possibility for rehabilitation with the right response, in Nassar's case, Aquilina is certain there won't be any change.
"I think that he thinks he's a good doctor," she said. "I think he will always try to be in a position of control and that he does not understand what he did. He wanted to gain control of the situation, and he even says, if you listen to the trial, he says, 'I want this to be easier on everyone.'
"It's always all about him. There's no understanding that what he did was wrong. So no, I don't think he can be rehabilitated, and I think that's what my sentence spoke to."
There are moments from Nassar's case Aquilina will keep with her. The most memorable was when Trinea Gonczar, a lifelong friend of Nassar's and survivor, brought tears to the abuser's eyes with her powerful words. She simply asked him, "What have you done, my friend?"
The judge will keep details from Nassar's pre-sentencing letter to the court private because, she said, it would cause more harm to the survivors if those details were released.
After its HBO premiere Friday, At the Heart of Gold will be used for educational purposes. Aquilina, and all those involved in the project, see the film starting a larger conversation about safety in gyms, schools and learning environments.