Larry Nassar Victims Are Being Comforted By Preston The Therapy Dog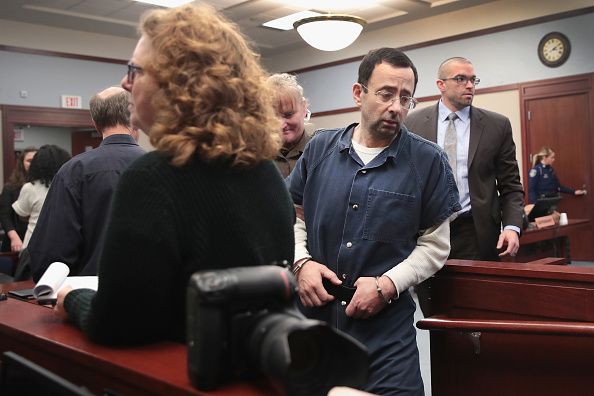 Preston the therapy dog brought some joy to the victims of those who were testifying against former sports-medicine osteopath, Larry Nassar.
The blue bandana wearing pup works at the Ingham County Prosecutor's Office in Michigan, comforting children when they testify in court. Victims, attorneys and family members all stopped to pet him and take pictures with him on Friday. Preston's playfulness gave everyone a break from all of the crippling testimonies.
"He's got an incredible sense of whenever someone's in pain," said Ashley Vance, a Small Talk crisis counselor who works as Preston's handler, told the Lansing State Journal. "He'll go right up to the person who needs it the most and start nuzzling them. He seems to know exactly what's needed."
Nassar, 54, pleaded guilty in November to ten counts of first-degree criminal sexual conduct, which could result in a minimum of 25 to 40 years in prison and a maximum sentence of life in prison.
Sixty-eight of Nassar's victims, all women, and girls gave statements on Thursday as part of his plea deal, which allowed victims to give statements in court before his sentencing. The statements began on Tuesday and will continue into next week, and the Michigan Attorney General's office expects more than 100 victims will come forward to give statements before Nassar is sentenced by Judge Rosemarie Aquilina.
Many of the statements came from athletes who went to Nassar for treatment. Olympic gymnasts Gabby Douglas, McKayla Maroney, Simone Biles, Jordyn Wieber, Jamie Dantzscher, and Aly Raisman are just a few of his accusers.
The emotional statements from the women and girls have brought tears to the victim's eyes in the courtroom, but the black lab was stationed outside Aquilina's office ready to provide comfort for anyone who needed it.
Therapy dogs provide comfort to those who have experienced some kind of trauma and work with their owners to improve other people's lives, according to the American Kennel Club. But when the blue bandana is off, Preston is just a regular dog.
"Once he takes off his bandana, it lets him know he can go back to being a puppy who's just wagging his tail and playing around," said Vance.