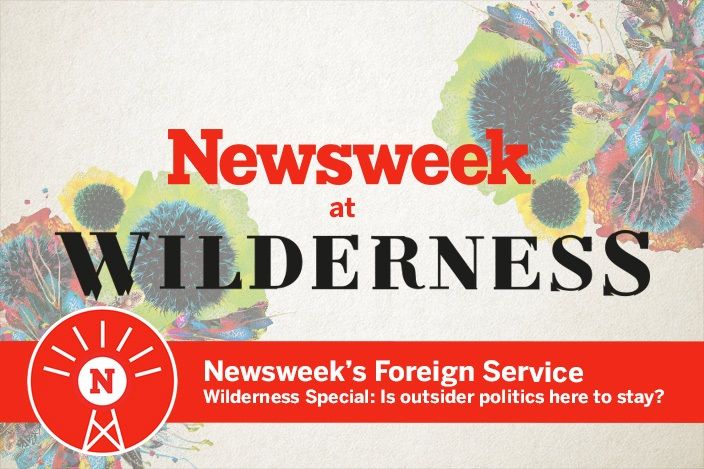 You can subscribe to Newsweek's Foreign Service on SoundCloud, Acast and on iTunes.
Episode five of Newsweek's Foreign Service podcast was recorded live at the Wilderness Festival on August 6 and looks at the rise of insurgent political movements in the U.S. and U.K. It was chaired by Newsweek Europe's Digital Editor Serena Kutchinsky and featured guests from across the political spectrum.
When we first chose this topic for our Wilderness debate back in the spring, we were worried that it might not feel as relevant by the time summer rolled around. That we might be living in a calm, post-EU referendum world where Britain had voted to remain, Donald Trump had abandoned his hopes of becoming the Republican presidential candidate, Boris Johnson definitely wasn't the U.K foreign secretary and the Labour Party, well, it was still in a state of harmonious disunity. The reality couldn't be more different.
Now it feels like like politics is changing, possibly forever. On both sides of the Atlantic, establishment politicians and mainstream parties are being pushed out of power by an electorate angry at what they see as a morally bankrupt elite. Campaigns are won and lost on social media. The traditional axis of left and right is redundant. But is this a passing fad—the result of lingering anger over government's mismanagement of the financial crisis or a more significant shift which will redefine politics for the 21st century?
Find out as we discuss what has led us here and what the future holds with Larry Sanders, the academic and Green Party Health Spokesperson and older brother of the US Senator Bernie Sanders, James Schneider, National Organiser of Momentum, the left-wing political organisation founded after Jeremy Corbyn's successful 2015 campaign for the Labour leadership,the politician and author George Galloway, Isabel Oakeshott, the Daily Mail's Political Editor At Large and co-author of "that" biography of David Cameron, and the writer and philosopher Robert Rowland Smith.
Catch up on all the previous episodes of our podcast here.
Newsweek's Foreign Service special edition was presented by Serena Kutchinsky, produced by Mirren Gidda and recorded and edited by Jordan Saville.