How Las' Lap Is Expanding the Scope of Rum By Bringing The Final Round of Trinidad Carnival to New York City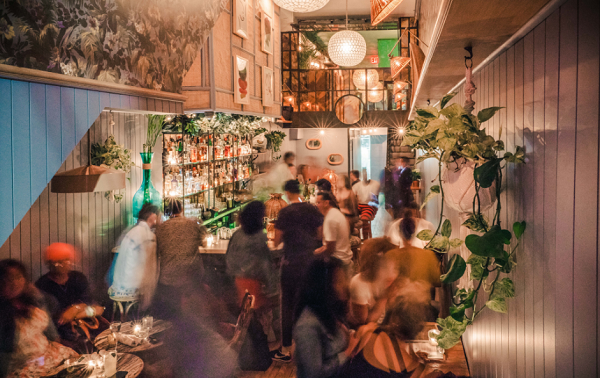 Nestled in the middle of Orchard Street on Manhattan's bustling Lower East Side resides a gem of an establishment that may be easy to miss if you're not paying attention to the small, pastel-hued signage hanging above a not-so-intimidating clear door. But once inside, the fun, island-like atmosphere makes it impossible to want to leave. The music is popping. The food is good, the drinks are even better and the vibe is as clear as the Caribbean sea: This is a place where you want to be. This is Las' Lap.
Named after the "last hour" of Trinidad and Tobago's annual Carnival event, Las' Lap is that final round of celebration of the night. The moment that separates the folks who view a 2 a.m. last call as means to go home from the ones who have long recognized the night doesn't actually end until you make it. Las' Lap, which opened its doors in May 2018, has solidified its place as the home for the all-nighters here in New York City looking celebrate Caribbean culture by following the islands' lead and keeping the party going.
It's also notably the spot that's pushing rum to the surface, which is likely why visitors will see the spirit infused in a number of cocktails on the menu. "We love all spirits. We have zero discrimination to spirits, but rum in itself is what's inherently in West Indian culture, Trinidadian culture," Darnell Holguin, the bar's beverage director, told Newsweek.
Holguin is additionally one of Las' Lap's partners along with New York nightlife veterans Vincent Bryant and Bryce Sheldon, Nick Semkiw, Scott Williams, John Belle, and actor Michael B. Jordan.
"Rum in itself is such a global spirit that is influential for the economy, global trade, and even cultural diversity," Holguin continued, noting the liquor was going to have its moment very soon. "The thing that has made it difficult for people to understand rum versus every other spirit is that it currently isn't much of a unified language. I wouldn't say we were gonna be the ones to entirely set the unified language, but I'd say that we'll be the ones to bring awareness and understanding towards the spirit category."
He added: "We've had a lot of fun with making things here that are very recognizable as cocktails made with other spirits, except we make them with rum. One of our most, if not our most, popular cocktails would be the Las' Lap, our namesake obviously. It's based on The Last Word, a classic cocktail made with gin, lime, green chartreuse and maraschino liqueur. We take that and we add rum instead, and that element in itself is just a showcase of the versatility of rum."
Las' Lap's dedication to the rum category may also be why Bacardi Rum has its eye on the bar. While there's no official rum of Las' Lap, Bacardi is used in various cocktails like the Don Papa—Las' Lap's play on Ernest Hemingway's favorite Cuban drink, Papa Doblé, comprised of Bacardi Cuatro, fresh grapefruit juice, Luxardo Maraschino, lime and honey— and Holguin's signature cocktail, It Was All A Dream, which landed him the title Of Bacardi Rum Legacy Champion in 2017. That drink, which was inspired by Holguin Dominican Republic heritage, is created with Bacardi Ocho, Passion Fruit, condensed milk, orange juice, and Mama Juana.
Bacardi Cuatro is the base of the King Cuatro, a limited-time recipe curated by Bacardi's "rum guy" Jordan. Thanks to the Black Panther star's new ambassadorship with the liquor brand, Las' Lap served as the venue for a particularly special mixology event, hosted by Jordan and led by Holguin, back in February, where guests got a chance to concoct their own King Cuatro cocktails. If all goes accordingly, Las' Lap patrons could see more events like such in the future.
"We plan to do a lot with Bacardi," Bryant, said.
Bryant, who's worked hand-in-hand with Sheldon on some of the city's most prominent nightlife venue and events, noted Las' Laps history of collaborations and events with various brands and DJs since doors opened. There was the Christmas party partnered with Coquito NYC in December and, more recently, Las' Lap's first Anti-Valentine's Day party with New York nightlife collective The Shakedown, helmed by Jairo Taveras and Robert Nieves.
With business flourishing, expansion is on all of the owners' brains. There's already Las' Lap merchandise available—hats and pins, and the company is currently developing more.
It's that same hope for the brand's future that led the owners to take the establishment's dining program so seriously, and the food, at Las' Lap curated by renowned chef Kelvin Fernandez, is given just as much attention to detail (and taste) as the beverages.
"Each individual dish is like perfectly shareable or you can keep to yourself, which is really nice," Sheldon said. "I love the lobster arepas. The jerk chicken spring rolls are great. We have a new jerk sauce that comes with it."
Although the sweet chili wings were a fan-favorite, especially for Las' Lap's late-night crowd, the Lap Burger shouldn't be missed. Two Pat La Frieda patties tucked between a brioche bun, the burger is made with Las' Lap's specialty—and top-secret recipe—pineapple aioli and bacon glazed in rum infused brown sugar.
While expansion for some downtown hot spots can often lead to alienation of customers, Las' Lap's patrons don't have to worry about that. Even with a rotating crowd including some A-listers and athletes, and a doorman—don't worry, he's only there to help prevent overcrowding in the small restaurant and bar—much like the island vibes that inspire the venue, Las' Lap is for everybody to enjoy, and so far, people from all walks of life have been enjoying it.
"It's a real New York diverse crowd. From upper echelon of status or whatever you want to call it to the local neighbor that comes in twice a week who wants to eat some good food and have some cocktails. It's a super diverse place and a home for everybody looking to have a good time," Sheldon said.
Should you need any further convincing for visiting Las' Lap whether for your final lap of the night, a solid early evening pick-me-up or a full-fledged turn-up, Sheldon has just the words of encouragement: "Just tell everyone to come home. This is a home, so come on home."