St. Anthony Feast: 'Cruel' Ancient Ritual Forces Horses to Run Through Flames to Honor Saint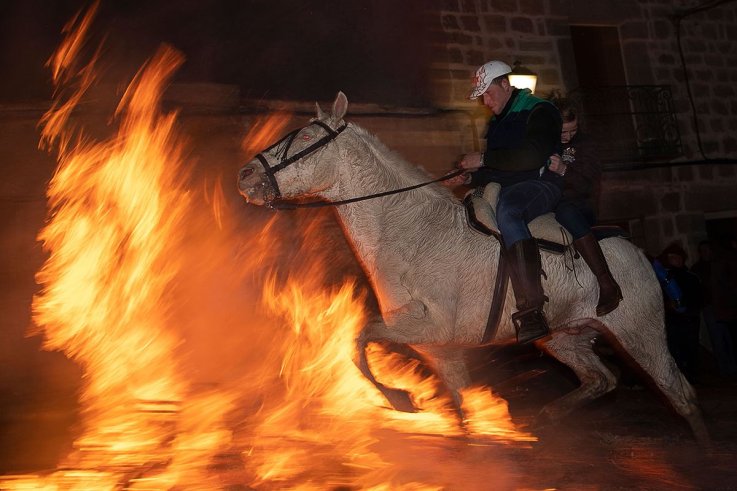 Making horses jump over huge flames may seem a wildly inappropriate way to honor the patron saint of animals, but that is how the feast day of St. Anthony is celebrated every year in one Spanish village.
Horses are ridden through bonfires lit on the cobbled streets of San Bartolome de los Pinares, about 60 miles west of Madrid, every year on the night of January 16. Some believe the tradition, known locally as Las Luminarias, purifies the animals and prepares them for the year ahead.
Others believe the practice is a case of cruelty to animals. Dr. Joanna Swabe, Senior Director of Public Affairs at Humane Society International/Europe (HSI), told Newsweek: "It is ironic that to celebrate the feast day of the patron saint of domestic animals, horses are forced to take part in an event that is highly likely to cause them stress and fear. Horses are flight animals, extremely sensitive and skittish, whose natural instinct will be to avoid the raging bonfires. So to be forced to walk through them will be a terrifying experience."
Nick Weston, Head of Campaigns at Britain's League Against Cruel Sports, told Newsweek: "It beggars belief that in the 21st century horses are still being put through the ordeal and dangers of being forced to jump through huge bonfires to satisfy a human tradition that dates back to more primitive times. The notion that the poor horses are purified by this is superstitious nonsense—it is a cruel and outmoded ritual which the organizers should end."
Elisa Allen, Director of People for the Ethical Treatment of Animals (PETA), told Newsweek: "The terrified horses used in Las Luminarias are made to run and jump through flaming bonfires, putting them at risk of serious burns and other injuries, not to mention the stress caused just by being in a crowded festival environment."
However, locals defend the tradition fiercely. María Jesus Martin, Mayor of San Bartolome de Pinares, has been quoted as saying: "This festival is very special, it is all about feeling. And this is because we are transmitting it from one generation to other generation, from parents to children."
In 2017, the mayor told AFP that no animals were harmed by the practice. "It makes me angry to hear the insults without those speaking knowing anything at all about the tradition," she said.
Spain is well known for its controversial festivals involving animals, such as bullfighting. PETA told Newsweek: "It's beyond comprehension that in the 21st century, parts of Spain still allow and even celebrate the sadistic torture of animals for human amusement. Spanish tradition is rich and vibrant—there are countless cultural activities to engage in that don't involve putting animals' lives at risk for the sake of entertainment. We urge authorities to put a stop to this ritualized torture, which is a stain on the country's reputation."
Dr. Swabe of HSI said: "In a modern and compassionate society, it is entirely possible to keep traditions alive without subjecting animals to pain and distress. So we urge the organizers of Las Luminarias to reinvent this fiesta with all the spectacle of the bonfires but without the animal suffering."
Elsewhere in Spain and around the world, the feast day of Saint Anthony the Abbot is marked in a far less fiery way. Pet owners take their beloved animals to churches so that priests can bless them with holy water. This tradition is followed in Catholic countries such as Mexico and the Philippines.