Las Vegas Is America's Newest Motor City
Las Vegas is turning into America's new Motor City. While there is no new vehicle manufacturing taking place there, the desert gambling oasis has popped onto the radar as a car-loving haven for antiques, classics, new and super luxury cars, not to mention motorsports.
And, 2023 may just be the year Las Vegas earns its car lover credibility.
The Las Vegas Concours d'Elegance began in 2019 as the 40th sanctioned concours level event on the planet. After a few floundering years, the event found its new home at the Wynn Las Vegas in 2022. The association with the Wynn built on the event's foundation and grew to include the high-end cuisine, plush accommodations and a more all-inclusive experience.
Its setting, on the greens of the Wynn Golf Club, allowed for a touch of serenity away from the roar and glare of the Sunset Strip for the thousands of attendees.
As part of the event, 230 automobiles were judged in 15 classes with a 1933 Duesenberg "20 Grand" that is part of The Nethercutt Collection taking home Best of Show Pre-War honors and a 1951 Delahaye 235, owned by Mullin Automotive Museum founder Peter Mullin, earning Best of Show Post-War.
In addition to historic cars, the event was attended by new, super luxury autos. The juxtaposition is natural, with high rollers wanting to be carted around in style while also looking for their next toy. Rolls-Royce, McLaren and Lamborghini were among the brands with a presence at the event.
"The 2022 Las Vegas Concours d'Elegance marks another key event for luxury car collectors. Las Vegas has always been a hot spot of luxury and luxury cars and this event gives not just Las Vegas but the entire world a chance to come celebrate together," Martin Fritsches, President, Rolls-Royce Motor Cars NA told Newsweek.
"It was a perfect place to showcase our Black Badge Cullinan and Ghost and for the first appearance of the new Phantom Series II. All of these are driving the image of Rolls-Royce into the future and will be vintage collector cars at the Las Vegas Concours d'Elegance in the decades to come."
The 2023 event is planned to be bigger and better than before.
Las Vegas's Concours isn't the only enthusiast event the town hosts. It is home to the less formal Cars and Coffee Las Vegas, Celebrity Cars and Coffee and Caffeine and Chrome car shows.
RatCity Rukkus, a car and bike show, and Viva Las Vegas Rockabilly Weekend and Car Show happen in April.
This year, Las Vegas will be home to two NASCAR race weekends (March and October) and two NHRA events (April and October). In November, Formula 1 comes to town with the Las Vegas Grand Prix.
Ticket sales and promotions for the F1 weekend are going fast with a variety of multi-event inclusive packages being sold, including a $1 million package that the Wynn Las Vegas has put together that includes accommodations for six people, VIP access to events, spa treatments, rounds of golf, transportation, tickets to a show, a meal at Delilah, and concierge service. For each package sold, F1 and the Wynn will make a $100,000 donation to local philanthropic efforts.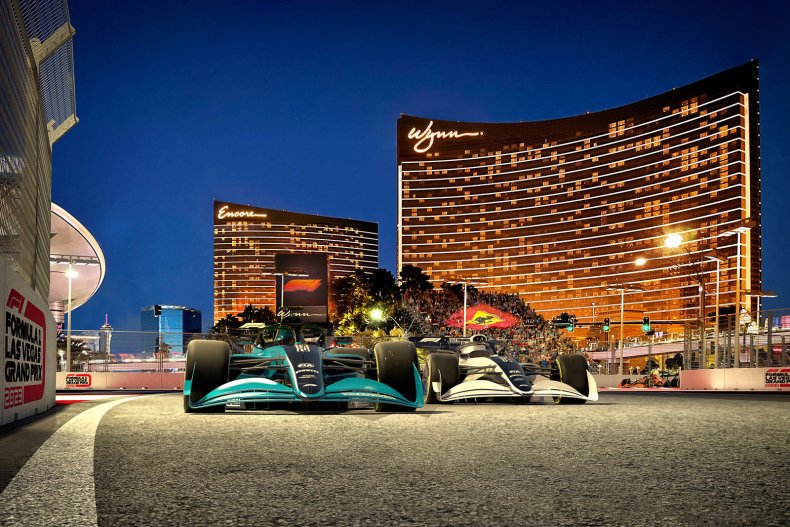 It's not just the Wynn that's partnered with F1 to bring a memorable experience to race fans. Caesars, MGM Resorts, Resorts World Las Vegas, and The Venetian Resort are among the race's other partners.
The Bellagio, part of MGM Resorts quickly sold out of its $2,827 per person Grandstand Package that allowed race goers to take in the 3.8-mile course from a space in front of the Bellagio Fountains.
Resorts World is selling a $200,000 Legacy Zouk Experience, which includes a resort credit, two tickets to their F1 party, promo chips, transportation from the airport and Paddock Club, a suite to stay in, and two Paddock Club tickets.
The race will go through the grounds of the MSG Sphere, a $2.17 billion entertainment venue that will seat 17,500 with an extra 2,500 able to pack in as standing room only, when it's completed in the second half of 2023.