Las Vegas Bans Fake Guns From Entertainment District, But Open Carry of Real Firearms Is Legal
Las Vegas' city council voted Wednesday unanimously to ban toy and replica guns from the entertainment district, but maintains the city's open carry policy for visitors or citizens possessing real weapons.
Fake weapons have also been banned from the sidewalks bordering the entertainment district, also known as the Fremont East district—Main Street, Ogden Avenue, 7th Street and Carson Avenue.
The city doesn't hold regulatory power over the carrying of real firearms, which is regulated by the state government, leaving it in the strange position of disallowing toys while allowing citizens and tourists to openly carry real guns on their bodies. In fact, the state statute is worded in such a way that it may allow fake guns to legally squeak by on a technicality in spite of the city's ordinance.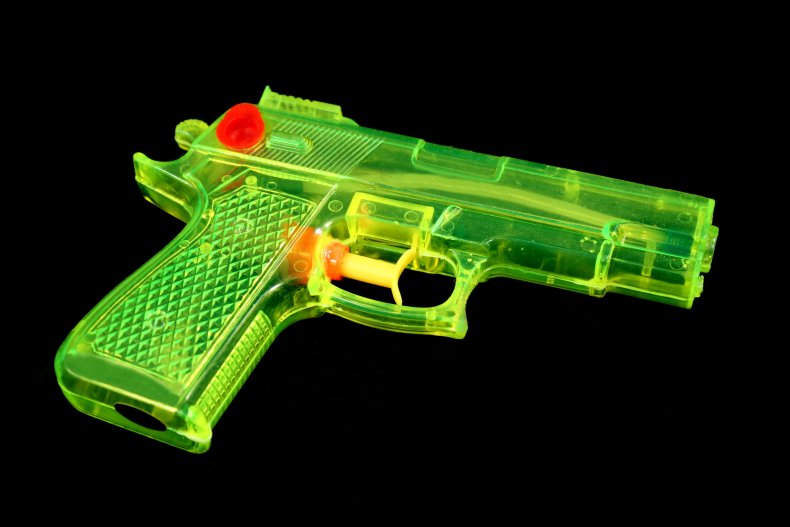 The law was introduced by Councilwoman Olivia Diaz, and it was explained that the law was encouraged by the city's Public Safety Department, which wanted local ordinances to be consistent with existing laws for the Las Vegas Strip for the sake of safety. The Clark County Commission—which has authority over the Las Vegas Strip—passed a law that outlawed the display or use of any toy or replica firearm in 2012. There's also a law in Henderson, Nevada that bans the "pointing, brandishing, concealing, using or attempting to use a fake firearm."
Those who violate the law may be charged with a misdemeanor punishable by up to six months in jail and a $1,000 fine.
Firearm ordinances have been on the table for the city of Las Vegas ever since the tragic 2017 mass shooting on the strip during the Route 91 Harvest Festival which resulted in 59 deaths and 413 injuries. A woman recovering from her injuries in a nursing faculty died on Friday, adding to the death toll.
"It's just one of those weird, twisted ironies," Christiane Brown, co-president of the Northern Nevada chapter of the Brady Campaign to Prevent Gun Violence, told The Las Vegas Review-Journal. "I understand that if you have a toy and someone thinks that's a real gun, that could cause grave concern. However, people are out there with real guns legally, and I think that should be of grave concern."
"It's the irresponsible use I think that's creating the problem," Don Turner, president of the Nevada Firearms Coalition said. "If you treated a toy gun like a real gun, you wouldn't have an issue."
The graphic below, provided by Statista, illustrates which states allow open and/or concealed carry of firearms.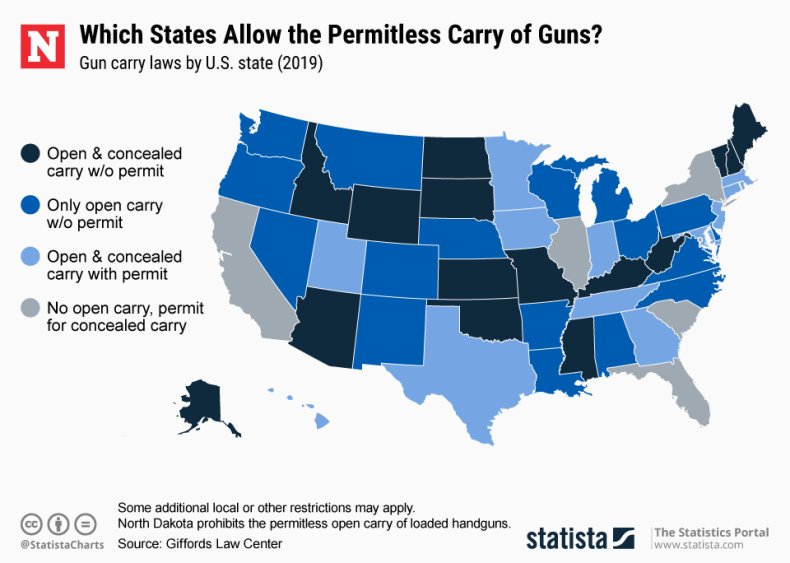 This article was updated to include an infographic.