Las Vegas Casinos Could Open By Memorial Day, Wynn Resorts CEO Tells Trump
Wynn Resorts CEO Matt Maddox told President Donald Trump and others gathered at Wednesday's White House roundtable discussion that Las Vegas casinos may be opened for business by Memorial Day on May 25.
Maddox suggested the date when Trump asked when he thought casinos on the Las Vegas strip would reopen. The executive said that the casinos would only reopen after meeting benchmarks he has proposed.
"Let's start phase one," Maddox said. "Golf course[s], tennis courts, small restaurants, small retails, nail salons etc., with social distancing in place. Judge the benchmarks that we've prepared. We've prepared three benchmarks based on disease growth, ICU capacity and testing positivity rate. We've going to have them out there in public every day."
"If we're inside those benchmarks in three weeks, then on Memorial Day I would hope we're open," he added.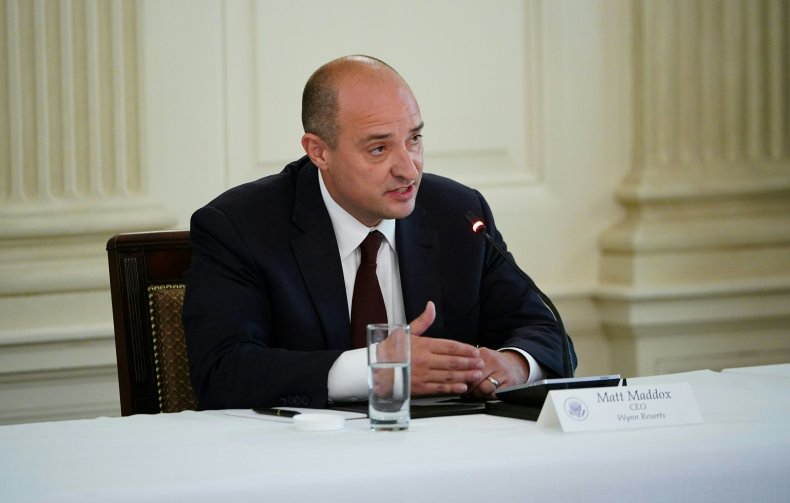 The "Plan for Opening up America Again" roundtable event included many top officials in the Trump administration, including the president, Vice President Mike Pence, White House Chief of Staff Mark Meadows, Treasury Secretary Steven Mnuchin and Labor Secretary Eugene Scalia. Participants also included corporate leaders from the hospitality, automobile and restaurant industries.
Trump applauded Maddox and the "terrific group of people" at Wynn Resorts for continuing to pay all 15,000 of their employees during the pandemic, saying that he hopes the company is "rewarded for that."
Wynn Resorts founder Steve Wynn was the vice-chairman of Trump's inauguration committee and acted as finance chairman of the Republican National Committee at the behest of the president, before stepping down after multiple allegations of sexual misconduct emerged in 2018. He also stepped down as CEO of Wynn Resorts, with Maddox replacing him.
The pandemic's economic impact on the gaming industry and the Las Vegas economy has been severe, but the decision of when casinos will be allowed to reopen will not be up to Maddox or any other industry executive.
The issue has been fiercely debated in the state. During an awkward interview with CNN's Anderson Cooper last week, Las Vegas Mayor Carolyn Goodman came under fire for ignoring guidance from pubic health experts and volunteering the city to become a "control group" by abandoning preventative measures and allowing casinos to reopen.
It is unclear how the timeline proposed by Wynn Resorts will be received by Nevada Governor Steve Sisolak, who is ultimately responsible for any decisions on allowing casinos or other businesses to reopen in the state.
Sisolak announced that he would be extending the state's stay-at-home order while easing some restrictions in an interview with ABC on Wednesday. A timeline for reopening has not been announced, but the governor suggested that casinos were unlikely to be reopening soon.
"The opening of the casinos and the gaming enterprises will probably come in the third or fourth phase of what we're going to end up doing because we're just not quite ready yet to handle that type of a volume," Sisolak said.
Further details of the governor's plan are expected to be announced on Thursday.
Newsweek reached out to Sisolak's office for comment but did not receive a response in time for publication.