Las Vegas Casinos Expected to Reopen in June After Months-Long Closure Due to Pandemic
Nevada Governor Steve Sisolak announced Tuesday that casinos in his state, including establishments in Las Vegas, could reopen for business June 4.
Sisolak ordered the temporary closure of nonessential businesses across the state in March due to the coronavirus, affecting 440 licensed casinos. Taxes from gambling account for roughly 18 percent of Nevada's general fund. Sisolak's mandated closure of casinos caused revenue from casinos to drop dramatically. Casinos earned $618.1 million in March 2020, down 39.6 percent from March 2019 when casinos raked in over $1 billion.
Coronavirus mitigation measures will be enacted in casinos by the time they open, according to Sisolak. "I don't think you're going to find a safer place to come than Las Vegas by June 4 with the protocols that we've put in place, then the testing that we've put in place, with the contact tracing that will be in place by that time," Sisolak said.
Newsweek reached out to Governor Sisolak's office for further comment. This story will be updated with any response.
Face masks are expected to be made available for casino employees and guests. Temperature screening will be provided for guests at resort hotels as will designated testing areas. Health care professionals will be on site and guests will be expected to perform a self-assessment for coronavirus when they check in.
MGM Resorts International is expected to reopen four of its Las Vegas properties including the Bellagio, MGM Grand Las Vegas, The Signature and New York-New York. According to a Wednesday press release from the company, MGM plans on installing plexiglass barriers and hand washing stations on casino floors.
Newsweek reached out to Governor Sisolak's office for further comment. This story will be updated with any response.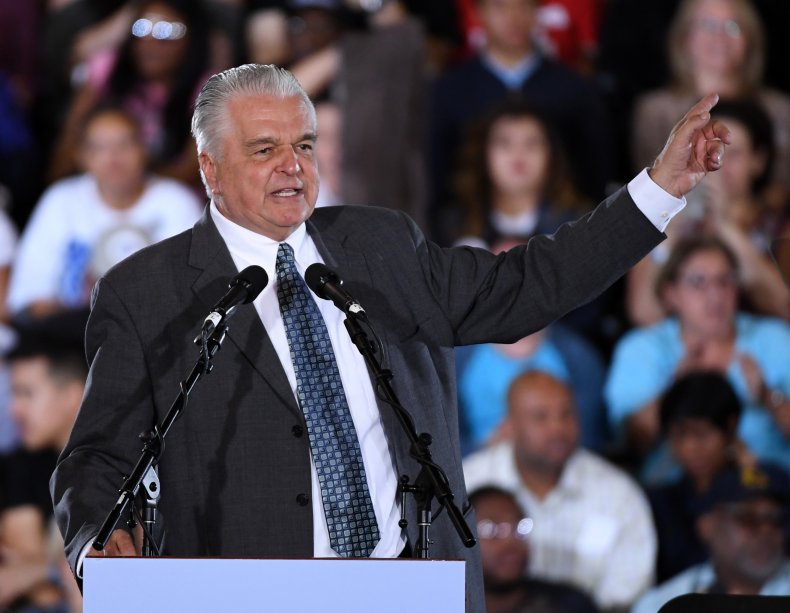 Some tribal casinos in Michigan are expected to reopen as soon as Friday. Non-essential business closure orders by Governor Gretchen Whitmer did not apply to tribal casinos, which are not overseen by the state government. Other casinos in the state are required to remain closed under Whitmer's latest stay-at-home order extension which is set to expire June 12.
Safety measures are expected to be enacted in tribal casinos including limiting the number of individuals in the casinos, reducing the number of slot machines available and cutting down on food and beverage services.
In a Tuesday statement, Chairman of the Gun Lake Tribe Tribal Council Bob Peters said the tribes were being advised by health care professionals. "We make the decisions and implement these procedures with the best evidence and knowledge provided to us," Peters said.
Tribal casinos near the Coachella Valley in California have already started reopening for business although Governor Gavin Newsom has asked them to "reconsider."
In a May letter to tribal leaders, Newsom said the reopening of gambling establishments "deeply concerns me, and I urge tribal governments to reconsider and instead make those determinations based on how they align with the current local public health conditions and the statewide stage of reopening."