Las Vegas Couple Uncovers Ice Age Era Skeleton Buried Under Home
One couple got more than they bargained for when the installation of their backyard pool uncovered an ancient surprise.
On Monday, workers digging the Las Vegas pool stumbled across skeletal remains, says The Las Vegas Review-Journal. By the time homeowners, Matthew Perkins and his husband, awoke that morning, they reportedly found the workers already talking to Metropolitan Police Department officers about the discovery.
"It kind of freaked us out," Perkins said. However, officers soon determined that the remains were too large to be from a human.
The police reportedly wanted to discard the bones, while the pool contractor advocated for continuing with the project and building over them. Perkins and his husband, however, are working with Nevada Science Center Director of Research Joshua Bonde to see if the remains can be excavated
KTNV reports that the remains were uncovered four to five feet below the ground, in a section of soil that dates back 14,000 years.
Upon first inspection, Bonde believed that the skeleton belonged to a horse that died between 6,000 to 9,000 years ago. "It was an actual skeleton," Bonde said. "The bones were in the leg position attached to one another, which is actually really rare preservation for that area."
The couple lives only a few miles from Tule Springs Fossil Beds National Monument, home to hundreds of ice age fossils, so the discovery may not seem all that surprising. However, despite the proximity, Bonde says it's rare for people to find bones on their own property.
As of this morning, KTNV reported new updates from the case. Specifically, parts of the animal's jaw and teeth have been uncovered, and the remains confirm Bonde's initial suspicion: the creature was indeed an ice age horse that lived in the now-Las Vegas area.
The exact age of the remains, however, remains unknown. For now, scientists are basing their estimates on the age of the soil surrounding the bones.
"That's kind of the glaring question...because right now we're making our age determination based upon the age of the rocks below and above it so it's kind of a sandwich of a date and it would be nice to have a date on the bones in themselves," said Bonde.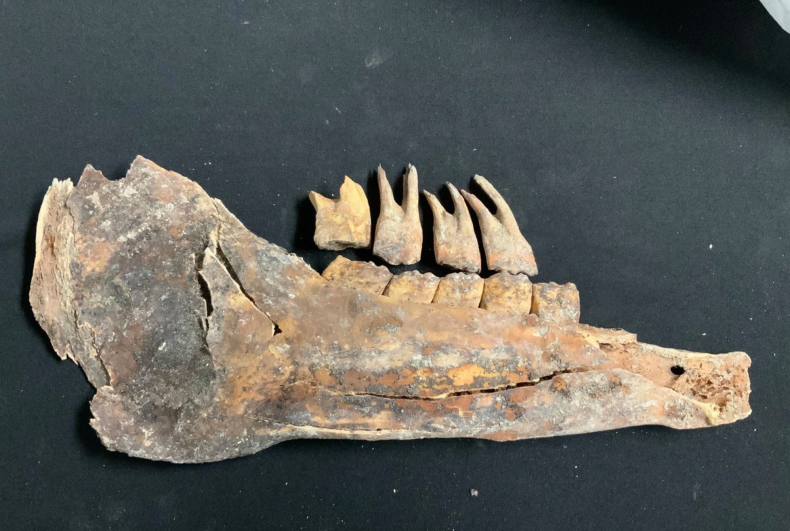 Scientists would have to use carbon-dating to get a precise age on the bones, but apparently, The United States Geological Survey is interested in contributing to the project.
The discovery comes just days after it was reported that contractors working on a family's patio in England uncovered the remains of five human skeletons. Those remains have already been sent for exact carbon dating, but researchers believe the findings are the "disturbed remains of a number of graves from the early medieval period."