Las Vegas, Among First Cities Hit by COVID Delta Variant, Sees Cases Fall
There are signs that Las Vegas may have seen its peak of new COVID cases in the latest wave as the 7-day average begins to fall. Clark County where Las Vegas is located is starting to see its average figure of new cases decline.
On August 5, the 7-day average in Clark County was 834, down from 866 the previous day. Between July 30 and August 3, the 7-day average was more than 900, which were the highest average figures in the area since the previous peak in winter, according to The New York Times coronavirus tracker.
The 14-day average for COVID cases is also on the decline in Clark County. The Nevada Health Response reported the 14-day average as 918 on August 4, compared to 994 on August 3 and 1,031 on July 31.
The figures suggest that Las Vegas, which was one of the first areas in the country to see the Delta variant spread rapidly in early July, may have seen the worst of the latest wave pass. The surge of COVID cases reported last month coincided with more businesses in Nevada opening and tourists being welcomed back to the state.
However, there are still concerns that the Delta variant could tear through Clark County, with figures suggesting that fully vaccinated people accounted for 15 percent of new COVID cases in July.
"This Delta variant is truly Godzilla," Cassius Lockett, the Southern Nevada Health District's director of disease surveillance and control, told the Las Vegas Review.
"It is truly burning down communities that are unvaccinated and now moving its way into fully vaccinated individuals, as well."
The vast majority of confirmed cases, hospitalizations and deaths related to COVID-19 are still occurring among people who are unvaccinated.
According to the Nevada Hospital Association's latest weekly round up, unvaccinated COVID-19 patients "continue to fill southern Nevada hospitals" which is contributing to hospital overcrowding and staffing shortages.
Currently, 26 percent of all hospitalized patients in southern Nevada have COVID, with 31 percent of people in the Intensive Care Unit with the virus. However, hospitals in South Nevada and the rest of the state are currently not overwhelmed or ill equipped to deal with the current influx of COVID patients.
Officials are continuing to urge people to get vaccinated in order to protect people against COVID and the Delta variant.
A total of 48 percent percent of Nevada residents are fully vaccinated, with 58 percent receiving their first dose, according to state health department data.
The graphic below, provided by Statista, shows the number of breakthrough cases of COVID in the U.S., which is defined as when someone contracts COVID after being fully vaccinated.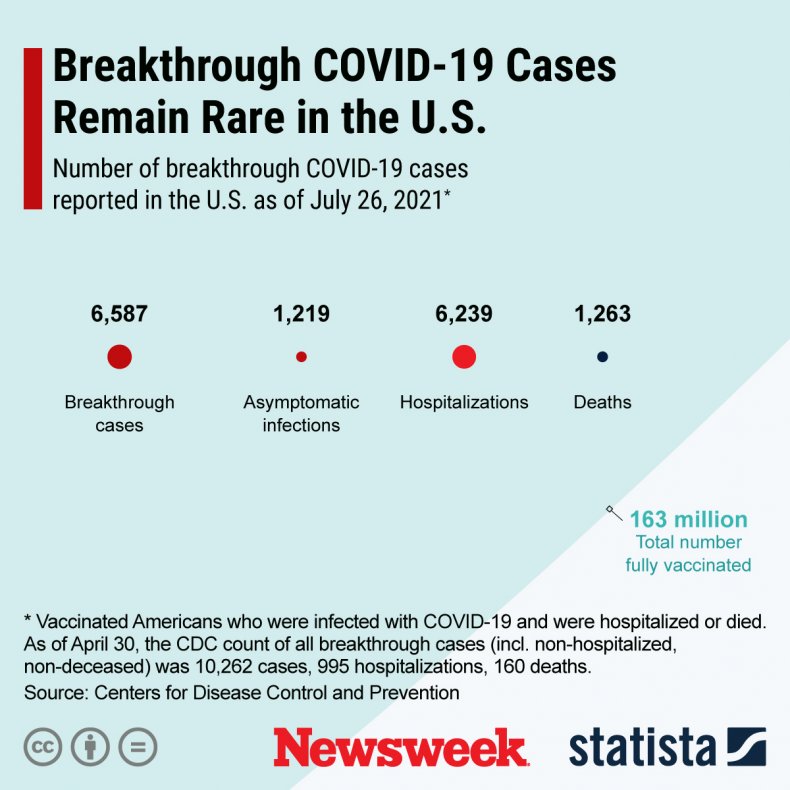 Nevada Governor Steve Sisolak said in a statement: "Unless we increase our vaccination rates quickly, the virus will have time to mutate, the unvaccinated will continue to fill our hospitals and place unnecessary strain on our ability to treat all patients, and our economic progress will be threatened. That's why we're masking—to slow the spread as more Nevadans, as soon as possible, roll up their sleeves and get their shots."
The U.K. also had a major spike in recorded COVID infections as the Delta variant spread, hitting around 50,000 new cases a day in mid July.
However the success of the U.K.'s vaccine rollout—which has seen more than 90 percent of the adult population receive at least one dose—has seen deaths and hospitalizations significantly fall, even as it still records tens of thousands of new cases daily.
Figures show the U.K. recorded 30,215 positive COVID-19 on August 5.