Las Vegas Flight Canceled After Alleged Drunk, Maskless Woman Causes Chaos
An intoxicated woman was removed from a Frontier Airlines flight from Las Vegas to San Diego that was later cancelled.
On Monday, a woman boarded the plane and caused a disruption that caught the attention of staff and passengers who were on board. The woman refused to leave and was maskless, passenger Serena Smith told 13 Action News.
Though the woman was removed from the plane, she had nothing to do with the cancellation of the flight, a Frontier Airlines spokesperson told Newsweek.
"Flight 2127 scheduled from Las Vegas to San Diego was canceled Sunday evening due to operational matters—there was no connection between the actions of a passenger and the cancellation of the flight. We reached out to affected customers with a reimbursement option (up to a stated amount) if they choose to rebook with another airline and provided each with a $100 Frontier travel voucher as a goodwill gesture," Zach Kramer, manager of corporate communications for Frontier, said. "Furthermore, customers always have the option to request a refund when their flight is canceled by Frontier."
Once the woman was escorted off the plane, the flight couldn't resume due to the fuel overheating within the plane at McCarran International Airport. More fuel needed to be added to cool the plane down, which ultimately caused the flight to be canceled.
A Frontier spokesperson told 13 Action News passengers were given a $100 voucher and the option to re-book with another airline after the cancellation.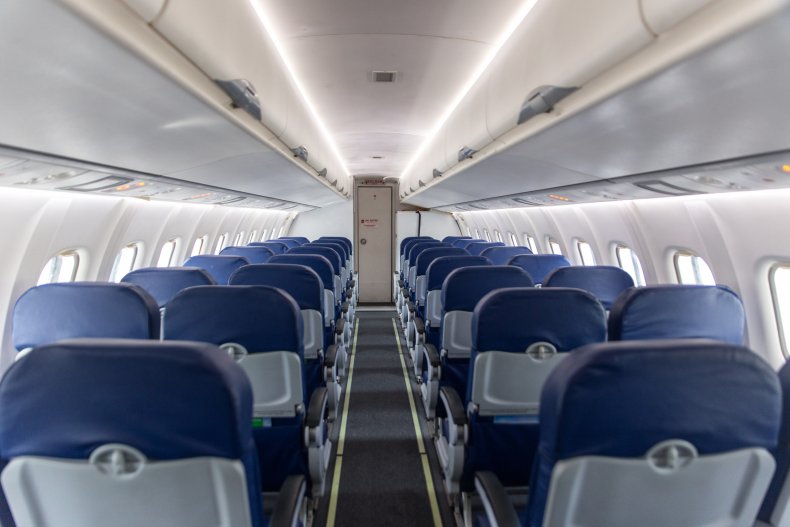 Across America, there has been a rise in the number of airplane incidents during the COVID-19 pandemic.
On August 3, a passenger named Maxwell Berry was arrested after allegedly attacking and groping flight attendants on a Frontier flight from Philadelphia to Miami. As he was duct-taped to his seat, the passenger started using profane language while maskless.
"You guys f**king suck," he yelled. "My parents are worth more than f**king $2 godd**ned, and you know what—you f**king suck."
He also said, his grandfather is "worth more than this f**king plane."
Passenger Alfredo Rivera caught the entire ordeal on camera. He told WPLG he was shocked at the behavior of the 22-year-old man.
"He started to get aggressive and basically attacked the male flight attendant," he told the station.
Frontier Airlines issued a statement to Newsweek regarding the incident.
"During a flight from Philadelphia to Miami on July 31, a passenger made inappropriate physical contact with a flight attendant and subsequently physically assaulted another flight attendant," the statement said.
On July 12, an American Airlines passenger had to be duct-taped to her seat after trying to open the plane's door. She also was biting and spitting on an anonymous flight attendant who was trying to assist her.
American Airlines issued a public statement regarding the incident.
"While in flight from Dallas-Fort Worth [DFW] to Charlotte [CLT] on July 6, the crew onboard American Airlines flight 1774 reported a potential security concern after a customer attempted to open the forward boarding door and physically assaulted, bit, and caused injury to a flight attendant," said a company spokesperson.
"For the safety and security of other customers and our crew, the individual was restrained until the flight landed at CLT and could be met by law enforcement and emergency personnel," the statement continued.
Newsweek has reached out to McCarran International Airport for further comments.
Correction (8/9/2021, 8:45 p.m.): An earlier version of this story said the woman's removal caused the flight's cancellation. It was a technical issue that cancelled the flight. Newsweek regrets the error.