NRA on Las Vegas Massacre: Weaker Gun Laws Are the Answer to Gun Violence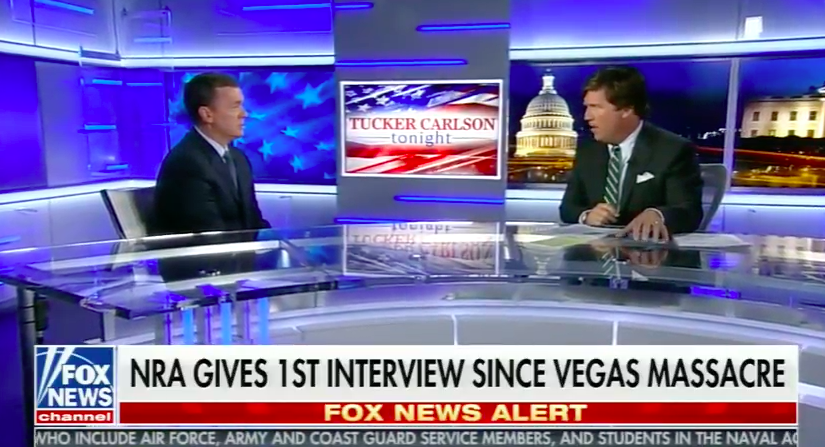 The National Rifle Association made its first comments about the Las Vegas massacre on Thursday night when its chief lobbyist, Chris W. Cox, spoke to Fox News anchor Tucker Carlson on his prime time program, Tucker Carlson Tonight. In the interview, which lasted about seven minutes, Cox said that the best way to keep people safe from mass shootings like the one that took place in Las Vegas on Sunday night — in which 59 were killed at a country music festival — was to loosen, not strengthen, gun laws.
"Right now, the American people are looking for answers. But the American people are also looking for their Second Amendment. They're looking for Congress to respect the Second Amendment," Cox said. He added that it was imperative for Congress to "pass reforms like national right-to-carry reciprocity."
Nationwide right-to-carry reciprocity is the NRA's "top legislative priority," explains Dan Friedman of The Trace, a news organization that covers issues relating to guns. Right-to-carry reciprocity would mandate "every state to accept the permits of the other 49, regardless of differences in standards for who is eligible to bring a hidden gun into public spaces," Friedman writes. That would effectively dilute the stringent laws of states like California and New York. Cox did not explain how that would have prevented the shooting in Las Vegas, or how it will otherwise make people safer.
Cox also showed little sympathy for the victims of the Las Vegas shooting, all of whom were attending country music concert. This was a striking departure from the collective mourning Republican leaders have urged. If anything, Cox wanted Fox News viewers to pity the NRA, which he said was being unfairly blamed for the shooting. "They blame the one organization whose members don't commit the crimes." He did not acknowledge the organization's decades-long effort to weaken gun laws around the nation.
Carlson, who brands himself a fearless truth-teller, spared Cox from the kind of tough questioning with which he has confronted liberal college students, feminists and Black Lives Matter activists. For the most part, he listened with something approaching reverence, letting Cox recite his talking points.
Those talking points included the assertion that "this distraction of gun control does nothing to keep people safe." But as the nonpartisan fact-checking organization PolitiFact found in 2015, "States with laws that restrict guns do tend to have lower death rates." And as the news organization Vox noted earlier this week, the United States has 16 times as many gun deaths as Germany. This year, 11,809 Americans have been killed by guns.
Although Cox said that there "needs to be an honest conversation," that conversation presumably does not include any of the facts above, nor any broader arguments that guns have become a pestilence upon the American body politic. His version of honesty involved casting blame on "gratuitous violence out of Hollywood" and "prescription drugs," presumably of the psychoactive variety. Some conspiracy theorists believe that Las Vegas killer Stephen C. Paddock went on his rampage because of an adverse reaction to anti-anxiety medication. There is no merit to this charge.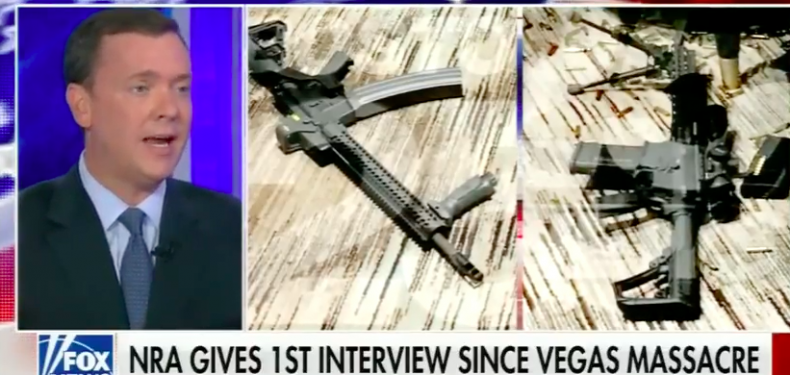 Cox also alluded to President Obama's supposed inability "to keep people safe" during his eight years in office. That seemed to suggest that Obama, with the help of congressional Democrats, somehow created the conditions that have fostered an increase in mass shootings. Further discussion of this assertion would have been welcome but did not take place, because Carlson declined to ask Cox any probing question. Perhaps this would have been different if Cox were a green energy advocate or a community organizer.
The NRA has already posted a press release on its site touting Cox's appearance on Tucker Carlson Tonight, suggesting that the organization was pleased with interview.
Near the end of the segment, Cox said that "expanding the rights" to bear arms is the solution the nation needs."That's what the American people want," Cox said. "And that's what the National Rifle Association wants."
Carlson let that stand.