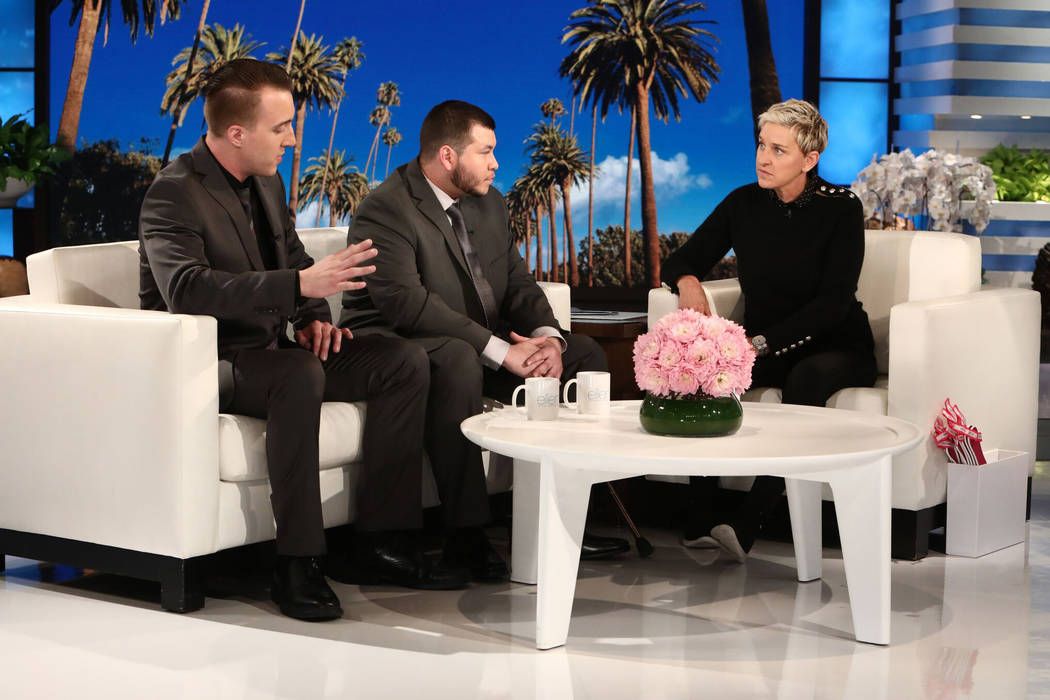 Weeks after the deadliest mass shooting in U.S. history, Las Vegas security guard Jesus Campos has appeared.
He has broken his silence on what happened the night of the mass shooting attack at the Mandalay Bay Hotel, in an interview that will air on Ellen DeGeneres's talk show on Wednesday.
Campos was named as the unarmed guard who first approached shooter Stephen Paddock after he launched his attack on concertgoers. He shot Campos in the leg through his hotel room door, leaving the guard injured but still able to radio in the whereabouts of the shooter.
But authorities changed their account days after the October 1 attack, saying that Paddock opened fire on the guard six minutes before he executed his plan— instead of after—and then killing 58 people and injuring 500 more.
The Las Vegas Review-Journal obtained a recording of his appearance, in which he confirmed that Campos was shot before the assault, and alerted authorities while injured.
A photo posted by DeGeneres showed Campos on the television show's set holding a cane. He is to appear alongside maintenance engineer Stephen Schuck.
Campos says that he is "doing better each day, slowly but surely."
Paddock also shot Schuck and injured him. Schuck said that he warned staff to report an active shooter before the mass attack.
"As soon as I started to go to a door to my left the rounds started coming down the hallway," Schuck said. "I could feel them pass right behind my head.
"It was kind of relentless so I called over the radio what was going on," he said. "As soon as the shooting stopped we made our way down the hallway and took cover again and then the shooting started again."
Mystery surrounded the story of Campos after he spoke to ABC News, telling them that he was "just doing my job" when he approached Stephen Paddock on the 32nd floor of the hotel, where the shooter had amassed an arsenal of 23 guns in what he had turned into a sniper's nest.
Paddock had seen Campos and Schuck approaching his room through cameras that he had set up for the meticulously-planned assault.
Campos was set to appear on several television networks including CNN, ABC and NBC to recount his version of events but pulled out at the last minute, leaving his union representative to cancel the interviews.
"We have had no contact with him…Clearly, somebody knows where he is," David Hickey, president of the Security, Police, and Fire Professionals of America union, told the Los Angeles Times, after telling Newsweek days earlier that he was set to speak with Campos and that he deserved the Presidential Medal of Honor.
MGM Resorts, the company that runs the Mandalay Bay Hotel, said in a statement that Campos "wants to tell his story at a time and place of his choosing."
"He's asked that everyone respect his request for privacy," the statement read. "We could not be more proud of Jesus."