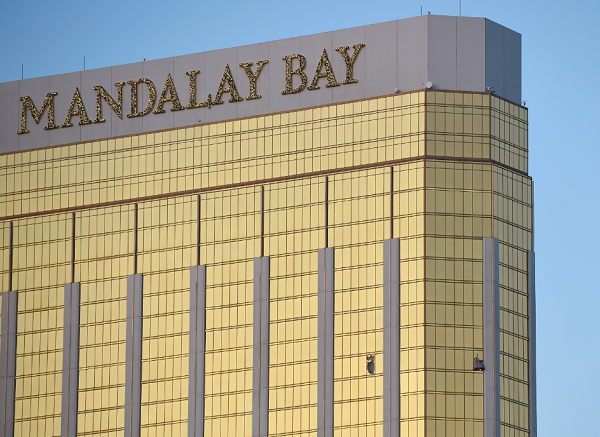 The Las Vegas gunman set up cameras inside and outside his hotel room, police said Tuesday, possibly to prevent being captured by law enforcement as he rained fire on concertgoers for nine minutes.
The disclosure was the latest bombshell in a twisted and devastating tragedy that so far has sparked more questions than answers. The attack left 59 dead and more than 500 injured.
A motive still isn't clear, but Clark County Sheriff Joseph Lombardo said investigators are closer to figuring out why gunman Stephen Paddock targeted concertgoers at a country music festival on the Las Vegas Strip Sunday evening.
Lombardo said the FBI is working to quickly bring Paddock's girlfriend, Marilou Danley, back to the U.S. She was in the Philippines, where Paddock reportedly wired $100,000, during the attack. Lombardo called her a "person of interest."
Paddock propped multiple cameras inside his room and outside, even setting up one on a room-service cart parked in the hallway, Lombardo said.
Police are still examining the devices and are unsure if they recorded Paddock's rampage as he rained fire from the 32nd floor window of his room at the Mandalay Bay Resort and Casino.
Lombardo said it's possible Paddock was "looking for anyone coming to take him into custody."
Inside the hotel room, he said investigators also found a "bump stock," a legal device that speeds up the fire of a gun and allows it to fire. The guns and the device were sent to the FBI and U.S. Alcohol Tobacco & Firearms for testing.
Lombardo said the cameras and the extensive arsenal—23 firearms—show the attack was "premeditated" and Paddock "planned extensively" and "evaluated everything."
During an afternoon press conference, Lombardo also gave a glimpse at how officers responded and the first clear indicator of how long the gunfire lasted: nine minutes.
He said officers found it "hard to pinpoint" where the gunfire was coming from but quickly formed a team and went upstairs with a hotel security guard.
He said the guard became separated from the officers somehow and Paddock shot him through his hotel door. Lombardo did not elaborate.
Police then waited for SWAT officers to breach the room with an explosive. A Newsweek analysis of police radio transmissions found the breach happened more than an hour after the attack started.
Lombardo said police officers had finished searching Paddock's second home in Reno. They found multiple electronic devices and an additional seven guns, five handguns and two shotguns, upping the total number of firearms located at his hotel room and two houses to 49.