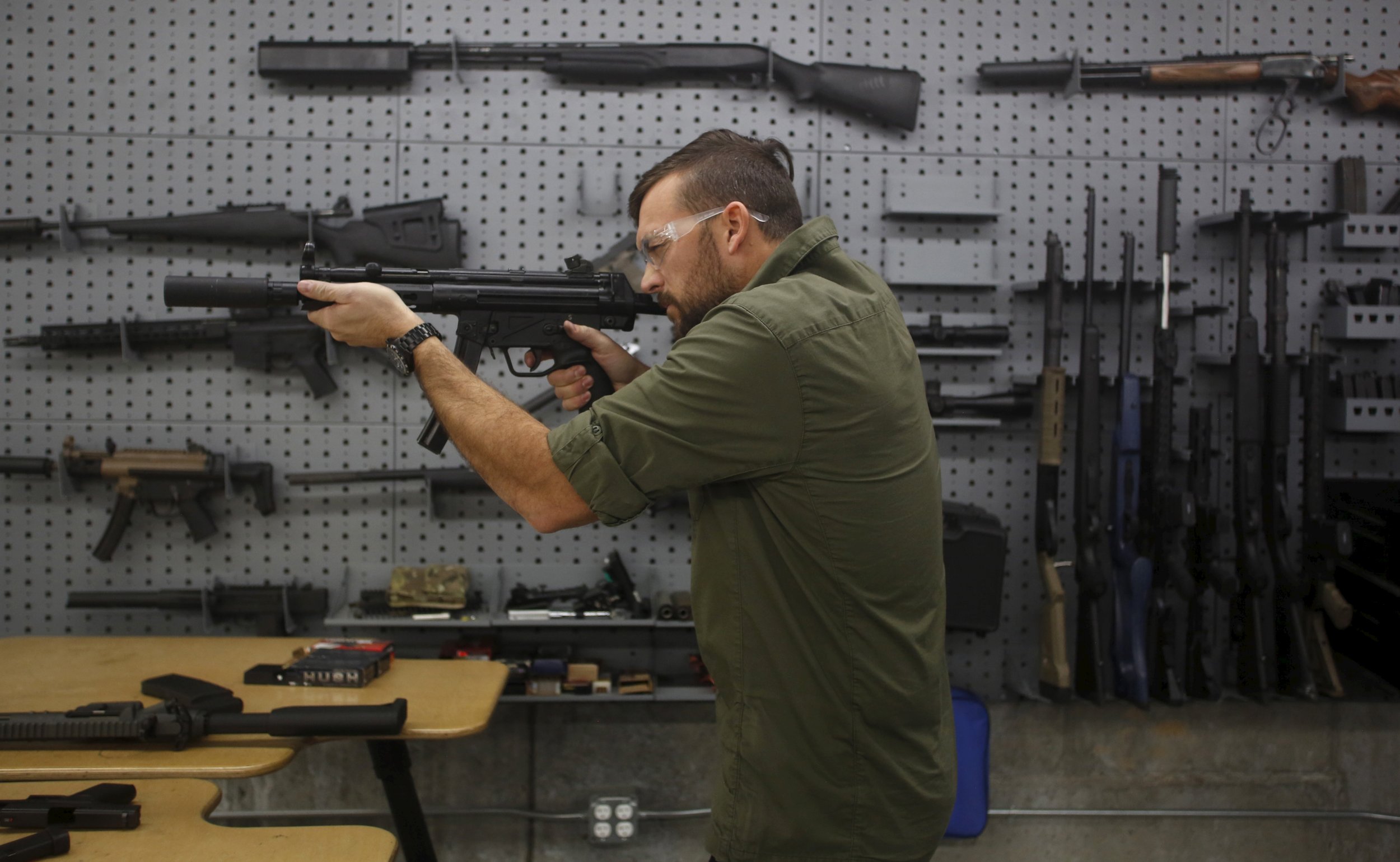 Democrats are urging their Republican colleagues in Congress to scrap a bill that that would make buying gun silencers easier and make it more difficult to classify ammunition as "armor piercing."
The calls follow the most deadly mass shooting in American history in Las Vegas Sunday, which left 59 people dead and more than 500 wounded.
But both the Donald Trump administration and Republicans insist now is not the time to talk politics about guns or debate whether to relax rules around buying and owning firearms.
"It is not enough to simply hold a moment of silence, or place U.S. flags at half-staff," wrote two senior Democrats in a letter to Republican House Speaker Paul Ryan Monday.
"Rather we believe that, in the wake of the horrific shootings last evening in Las Vegas, you must clearly state that the House will not seek to make matters worse by passing this legislation," wrote Democrat Rep. John Conyers Jr., on the House Judiciary Committee, and Raul Grijalva, on the Committee on Natural Resources.
The Congressmen are referring to the Sportsmen's Heritage And Recreational Enhancement Act, which last month House Republicans put on track for a vote.
The law will remove restrictions on the possession and sale of silencers, also known as suppressors, and remove the Bureau of Alcohol, Tobacco, Firearms and Explosives' ability to reclassify ammunition as "armour piercing"—which would prohibit that ammunition under federal law.
Read more: ISIS claims Las Vegas shooting, says Stephen Paddock "converted" to Islam
"In active shooter situations, law enforcement must respond quickly to locate the shooter in order to prevent the carnage from continuing," the members wrote, urging Ryan to block the bill from coming to a vote.
The bill was already put on hold earlier this year after a shooting at a Republican baseball practice in June severely injured Rep. Steve Scalise of Louisiana, who returned to Congress last week after a months-long recovery.
But White House press secretary Sarah Huckabee Sanders, speaking during a daily press briefing following the mass shooting Monday. said: "There's a time and place for a political debate, but now is the time to unite as a country. It would be premature for us to discuss policy when we don't fully know all the facts or what took place last night." President Donald Trump will travel to Las Vegas Wednesday to meet with law enforcement, first responders, and the families of the victims.
"Politicizing this terrible tragedy is, I think, beyond disgusting," said Senate Majority Whip John Cornyn of Texas Monday afternoon, adding political debate shouldn't come in the immediate aftermath of a tragedy.
But former astronaut Mark Kelly, whose wife—former Democratic Congress woman Gabby Giffords—nearly died after being shot in the head in 2011 during an assassination attempt that killed six people, argued that it was precisely the right time for such a debate.
"Here in America we are 25 times more likely to die from gun violence compared to people in other industrialized countries. This must stop," Kelly said during a press conference on Capitol Hill Monday, calling mass shootings "an epidemic that needs to be cured."
An even blunter message for Congress came from Connecticut Senator Chris Murphy—who became a leading advocate of tougher gun laws after his community was rocked by the Sandy Hook Elementary School shooting in 2012. "It's time for Congress to get off its ass and do something," Murphy said in a statement.
He called the thoughts and prayers of politicians "cruelly hollow if they are paired with continued legislative indifference" and called on Congress to stand up to gun lobby groups like the National Rifle Association and pass tougher gun laws.
"It is positively infuriating that my colleagues in Congress are so afraid of the gun industry that they pretend there aren't public policy responses to this epidemic," he said.
In a Congress, where both branches are controlled by Republicans who back looser gun regulations, that's not likely.
"There's a lot we need to do in the wake of this mass shooting," said Rep. Grijalva. "We don't need to make it easier to get hold of items that could make mass casualty events even more deadly."