Las Vegas Mass Shooting: Heroes Risked Lives To Save Others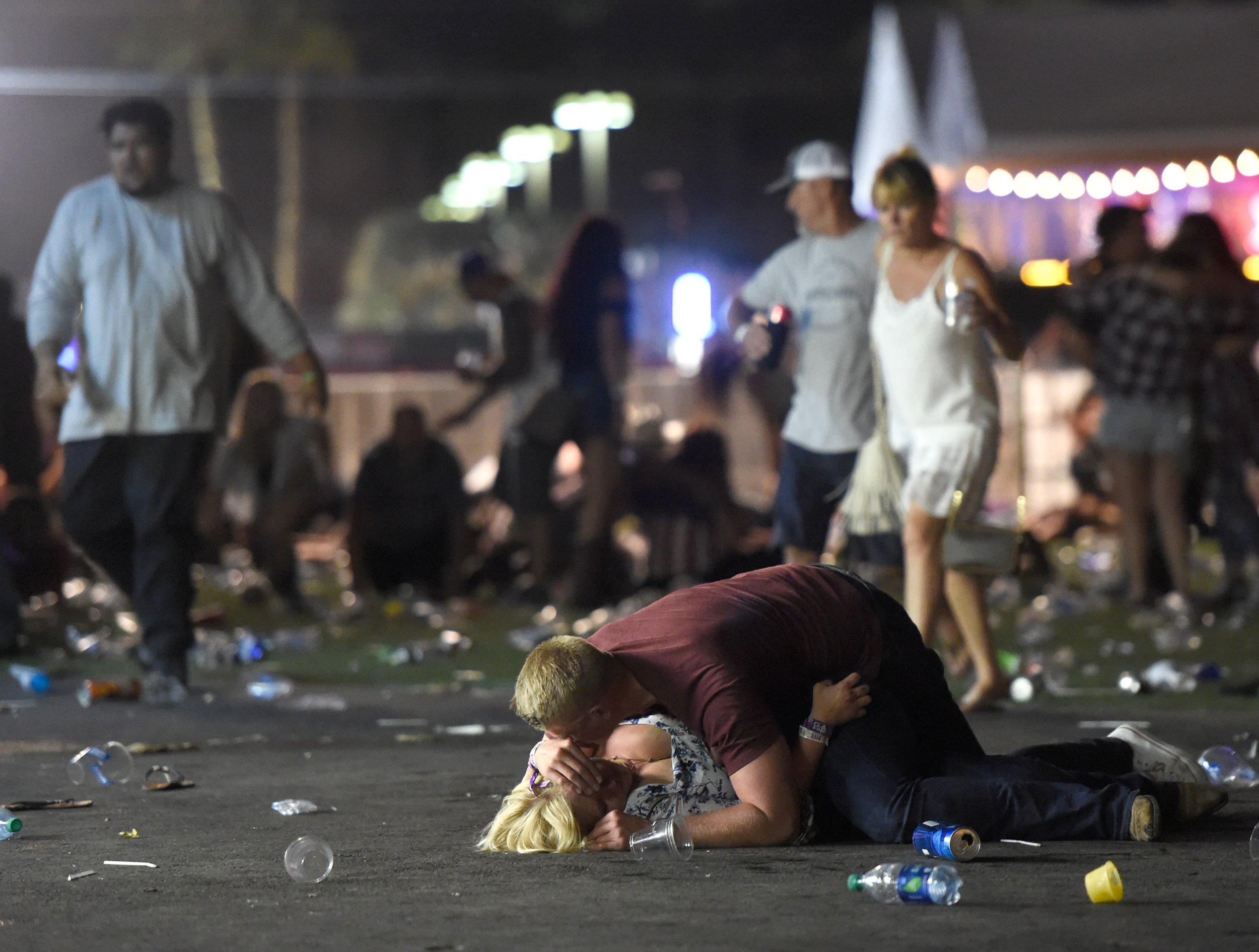 Carrying people on carts. Rushing strangers to the hospital. Officers risking their lives.
Amid the fear and chaos of gunfire in Las Vegas late Sunday were also stories of heroism and strength. The mass shooting unfolded late Sunday during a country music festival. Police say at least 58 were killed and 515 were injured.
Mike Cronk was celebrating his 48th birthday with his best friend, Rob, when they started hearing the gunfire, he told ABC News. They thought it was fireworks until his friend yelled out: "I just got hit!"
Everyone dove to the ground. His friend was shot three times in the chest.
People scattered and climbed fences to escape. It was chaos.
"I had to stay with my buddy," he said. "...I wasn't really worried about the safety part because I was going to stay with my buddy."
Cronk helped move him under a stage and put pressure on his wounds.
They loaded him into another concertgoer's pickup truck with four wounded. While they tried to get to a triage area that was set up by first responders, one concertgoer died in his arms.
"It was pretty horrific," he said.
Lindsay Padgett and her fiance were at the concert when they heard the popping sounds. After the gunfire stopped, they ran to their pickup truck and saw dozens in the street.
Many were helping the wounded, who were being carted away on gurneys, stretchers and pieces of the red metal fence used at the concert. People shouted, "We have a head shot!"
She started recording a video, which was later posted to Facebook, as people were loaded in the back of their truck.
"Right now, we need your truck," a man shouts to her in the video. "We just need to get people over to the hospital."
"OK! Put them all in the back!" she yelled back.
Gail Davis, who was also at the concert, saw people getting shot and falling. Her husband told her they had to get out. They ran as fast as they could.
They were near the concession stands and some tents when an officer yelled, "Come here, come here! Get in here!" she told CBS News.
They ran in and the officer told them to get down.
"The officer actually covered me up to protect me from being shot," she said. "You could hear the shots going back and forth and ricocheting."
She said she owes her life to the officer.