Las Vegas Mayor Pro Tem Steps Down After Allegedly Making Racist Comments at Republican Convention
Michele Fiore, the mayor pro tem of Las Vegas, Nevada, announced her resignation during a news conference on Tuesday after claims that she allegedly making racially controversial remarks at a Republican convention this month.
No recordings of Fiore's comments at the Clark County Republican Convention on Saturday have been released. However, Las Vegas Councilman Cedric Crear relayed some of Fiore's comments to Las Vegas Mayor Carolyn Goodman in a Thursday letter. Crear asked for Fiore's removal from office because of her statements. Mayor Goodman responded to Crear's request on Thursday by saying she was "considering all the information related to this situation."
According to Crear, Fiore allegedly spoke about affirmative action by saying, "I am a white woman and I should not lose my job because of their black asses."
Crear wrote that Fiore's comments "were totally repugnant, and spit in the face of all black persons."
"There is no room for racial division," Fiore said before she announced her resignation on Tuesday. Fiore said she was leaving the position because she had been reelected as the National Republican Committeewoman, a position that lasts for four years.
"I've got five months to make sure we get four more years of Donald J. Trump," Fiore said, adding that she wanted to spend her time addressing the racial divide in the city and creating "real resolve rather than just listening to the rhetoric."
Although Fiore will no longer fill the role of mayor pro tempore, she is expected to remain on the city council.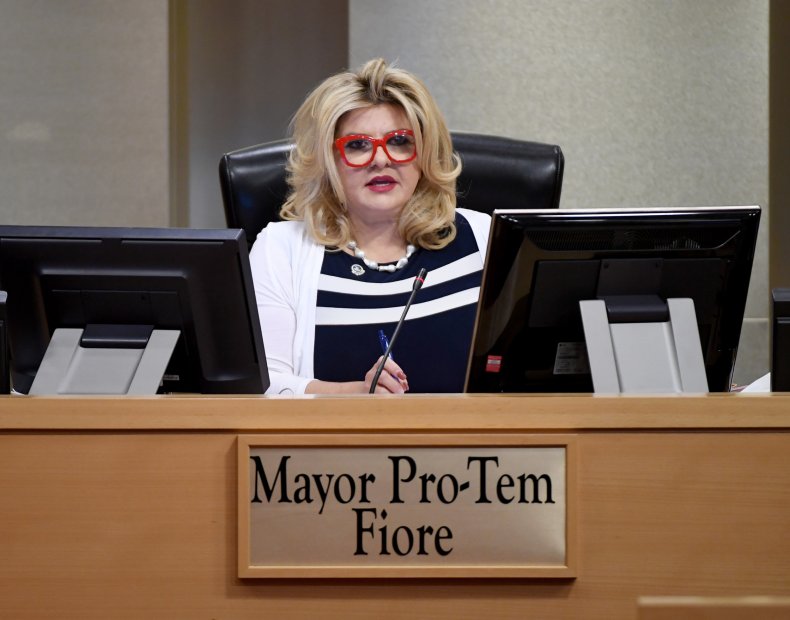 Newsweek reached out to the Clark County GOP for comment. This story will be updated with any response. Mayor Goodman's office directed Newsweek to video of Tuesday's press conference.
Goodman said after Fiore's announcement that she did not believe Fiore has ever been considered a racist and that Fiore has "the best of intentions."
Councilman Crear's office directed Newsweek to a Tuesday tweet. "Today isn't a day for celebration," Crear wrote. "It's truly unfortunate it has come to this, but there is no place for divisiveness and bigotry at City Hall. I am more committed than ever to fighting systemic racism in all its forms, and I know we can count on the Mayor to appoint a replacement who shares that same commitment."
GOP leaders in Clark County decried Fiore's comments during the convention as "racially charged" and "not reflective of Republican nor American values" in a June statement. They called for Fiore to apologize to both convention attendees and the community at large.
Fiore told reporters on Friday that her language had been taken out of context. "I can get a little Brooklyn when unscripted," Fiore said, "but I never, ever want to portray or have anyone believe that there is a racist bone in my body."
Comments allegedly made by Fiore at a June city council meeting also engendered criticism. Referring to demonstrations against racism and police brutality, Fiore allegedly said "protesting does not give you the right of beating white people up."