Las Vegas Mayor Who Offered Her City as Coronavirus 'Control Group' Faces Recall Petition Filed by Poker Pro
Doug Polk, a former professional poker player, has taken the first step to starting a recall petition that could oust Las Vegas Mayor Carolyn Goodman after she offered her city up as a "control group" to see if quickly reopening businesses would result in new coronavirus infections.
On Wednesday, Polk visited the city clerk's office to file a notice of intent to circulate a recall petition. He must now collect 6,745 signatures from registered voters who took part in last year's municipal primary election by Aug. 4.
If he succeeds, the city would hold a mayoral recall election to let voters decide whether to remove Goodman.
"[Goodman has] failed to responsibly represent her constituency, not only in her clear disregard for public health, but also in her support for the casino owners over the people of Las Vegas," Polk said in a brief statement to the Las Vegas Review-Journal.
"Additionally," he continued, "she is barely able to speak coherent sentences while discussing the subject matter. She is unfit to serve as the mayor of Las Vegas."
In response to Polk's filing, Goodman told the publication, "I mean, what can I say? You know, this is America. That's his choice. Everybody's entitled to their own political opinions."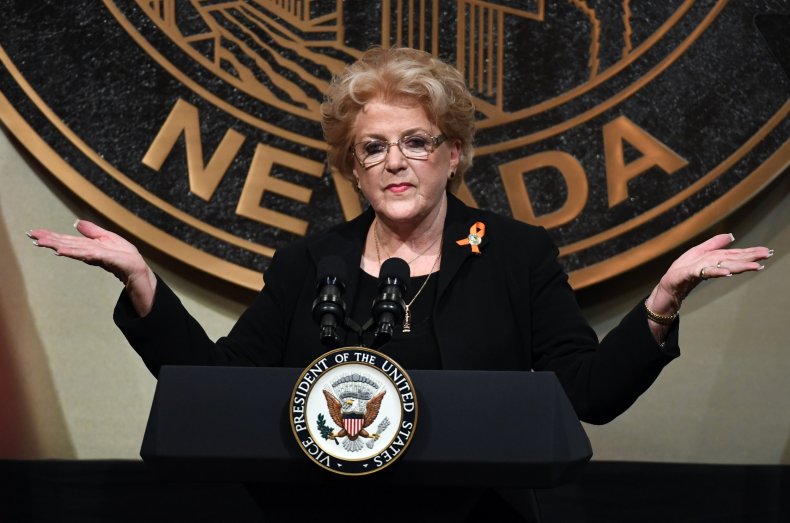 On April 16, Goodman called the statewide shutdown "total insanity" and told Nevada's Democratic Governor Steve Sisolak to quickly reopen the state for business so that her city's residents could start recovering economically.
Nevada had 2,836 confirmed coronavirus cases and 112 deaths at the time, and even though the county containing Las Vegas accounted for 2,559 of those cases, Goodman said the state's low death rate didn't substantiate the shutdown of its casinos and other non-essential businesses.
"Please, governor," she said, "we need to be able to live our lives, support our families and, yes, keep Nevada strong, but together."
However, Goodman received widespread backlash for several television interviews she held on April 22.
In an early morning MSNBC interview, Goodman said she assumes that everybody is asymptomatically infected with coronavirus, but wanted to re-open her city anyway.
When asked by MSNBC host Katy Tur how she planned on protecting people from COVID-19, Goodman said, "We've survived the West Nile, SARS, bird flu, E.coli, swine flu, the Zika virus."
"Those were not as contagious and they did not spread as this disease has already done," Tur responded.
When Goodman appeared on CNN that same day, host Anderson Cooper asked her, "You're encouraging hundreds of thousands of people coming there in casinos, smoking, drinking, touching slot machines, breathing circulated air, and then returning home to states around America, and countries around the world. Doesn't that sound like a virus petri dish?"
"How do you know until you have a control group? We offer to be a control group,"Goodman responded, calling Cooper "alarmist."
Sisolak appeared on CNN later that same evening and said, "I will not allow the citizens of Nevada, our Nevadans to be used as a control group, placebo, whatever she wants to call that. I will not allow that. We are clearly not ready to open."
On Thursday, Sisolak announced that Nevada will begin initial phases of reopening now that the state has seen a decline in cases and had met other benchmarks required to move forward.
He said a limited range of businesses can reopen at 12:01 a.m. on Saturday, including retail outlets, salons, and restaurants that offer dine-in services at 50 percent capacity. He added that no additional businesses—including casinos, bars and entertainment venues—will be allowed to reopen before May 30.
Newsweek reached out to Sisolak's office for comment. This story will be updated with any response.
Las Vegas Mayor Who Offered Her City as Coronavirus 'Control Group' Faces Recall Petition Filed by Poker Pro | U.S.