When Will Vegas Reopen? Social Distancing Guidelines for Casinos, Drive-Ins, and Restaurants
Some non-essential businesses will reopen in Las Vegas today, as Nevada enters phase one of its reopening plans. Businesses including restaurants, hair and nail salons, retail businesses, open-air malls and car dealerships, will be allowed to open on May 9.
However, other businesses, such as nightclubs, bars and pubs that don't serve food, spas, gyms, movie theaters and sports venues, will remain closed.
While casinos will not reopen in phase one, guidelines were published last week instructing casinos on how to operate once they do reopen.
The businesses that will open today will have to follow strict social distancing guidelines and many businesses will only permit 50 percent of their occupancies.
Nevada Governor Steve Sisolack tweeted on Thursday: "I encourage Nevadans to stay vigilant and protect themselves against this virus as we enter Phase 1. We must stay safe so we can stay open."
Drive-In Movie Theaters Guidelines
Although it was temporarily allowed to reopen for a day last month before being closed again, the West Wind Drive-In will reopen on May 9. However, drive-in guests will be expected to follow social distancing guidelines.
The West Wind Drive-In outlined its new rules in a Facebook post, which include leaving a car space between each vehicle and staying inside your vehicle. Guests will be allowed to sit in the back of a truck or car but cannot sit or stand outside.
Drive-in moviegoers can only leave their vehicle to use the restroom which will have limited capacity and anyone outside of their vehicle must practice social distancing. Guests are encouraged to bring their own snacks as the snack bar is closed, and anyone not following the rules will be asked to leave.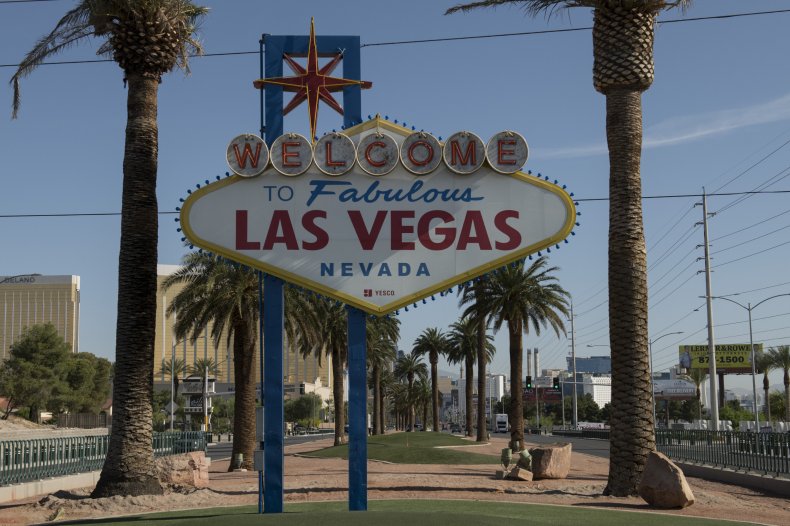 Las Vegas Restaurants Opening May 9
Restaurants in Las Vegas will be allowed to reopen with dine-in service on May 9, with social distancing guidelines in place. Additionally, pubs and bars that serve food will be allowed to reopen, as long as the bar area remains closed.
Restaurants can choose to open with 50 percent seating capacity and no bar seating, and restaurants should encourage guests to make reservations. Staff will have to wear face masks and customers are encouraged to do the same.
When will casinos open?
Casinos will not be included in phase one of Las Vegas reopening, but some resorts are hoping to open by Memorial Day, May 25. Once casinos reopen, they will have to follow strict social distancing guidelines, which were issued by the Nevada Gaming Commission last week.
The guidelines include occupancies reduced to 50 percent, three players at each blackjack table, six players at each craps table, four players at each roulette table, and four players at each poker table. Casinos will also have to disinfect cards and dice.
Additionally, conventions will have to be limited to 250 people and dine-in restaurants will have limited seating, and night clubs will remain closed.
The Las Vegas Review-Journal reported that Gaming Control Board Chairwoman Sandra Morgan said: "These are unprecedented times that require unprecedented measures. We are confident that these policies are sound, not only for our licensees but for our employees and guests."
Nevada currently has 5,920 confirmed cases on the coronavirus according to Johns Hopkins University, with 294 deaths and 205 recoveries.