Is Las Vegas Open? Nevada COVID Restrictions Explained
Nevada will enter a three-week Statewide Pause from Tuesday, with the state recording record numbers of new COVID-19 cases. Nevada Governor Steve Sisolak announced the new measures on Sunday after testing positive for COVID-19 himself.
According to Sisolak, 13 of Nevada's 17 counties have been flagged for having an elevated risk of transmission. This contrasts with early October, when only two counties were flagged.
Nevada's statewide test positivity rate is at a record 16.5 percent, with a record 2,416 cases recorded in one day, surpassing the previous record of 1,639 cases in July, as the state's hospitals experience record numbers and staffing shortages.
In a news release, Governor Sisolak said: "As your Governor, I am confident that I did all I could to avoid further restrictions and keep us on the path forward, but now I must act. In this defining moment, I implore Nevadans to tap into their independent spirit and consider their own personal responsibility."
"We decide our distance from others. We decide how long we spend in a high-risk setting. We decide whether to take the simple step of putting on a mask. Nevadans know that if it doesn't feel safe, then it isn't safe. And, if it isn't safe, we shouldn't be doing it right now.
"Ultimately, our individual actions decide whether we are going to prioritize getting our children into the classroom, allowing our businesses to operate under safe measures, and protecting our hospital system and healthcare workers."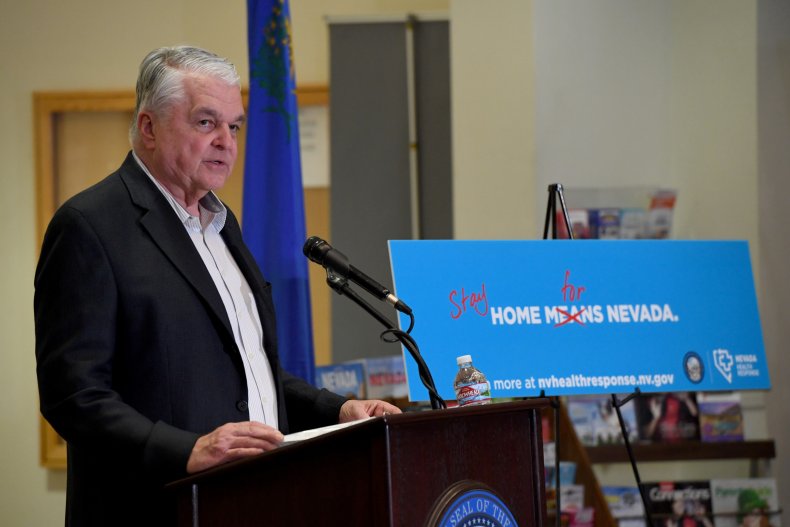 Nevada Statewide Pause
During what Sisolak is calling a Statewide Pause, additional businesses will not be closed, but capacity limits and other mitigation efforts will be introduced.
The measures will go into force on Tuesday, November 24 at 12:01 a.m. local time, and will last for three weeks. Sisolak will continue to meet with advisors to evaluate the situation during this time.
Is Las Vegas Open?
The new Nevada restrictions may have you wondering whether Las Vegas is open. Las Vegas will be impacted by the new restrictions, mostly in terms of the capacity limits at bars and gaming operations.
Nightclubs and adult entertainment venues will remain closed, though no other additional businesses will be closed during this pause.
Face Mask Mandate
Face masks must be worn at all times, indoors and outdoors, when around people from other households. In a tweet, Sisolak said: "In the last month or so, new research has emerged that continues to validate the importance of wearing a mask. They continue to be an essential tool in our fight."
Restaurants and Bars
From Tuesday, restaurants, bars, gaming operations, and other businesses and activities will be limited to 25 percent capacity, including indoors and outdoors. Previously, the capacity limit was 50 percent.
Additionally, no more than four people can sit at a table together, and seating at a bar or on countertops must continue to be socially distanced. Guests must also wear masks at all times when not actively eating or drinking.
Reservations will be required for bars that serve food and no walk-ins will be allowed, while curbside, delivery, and carry-out options are encouraged. Sisolak is also encouraging restaurants and bars to expand outdoor seating options.
Gyms and fitness facilities
Gyms and fitness facilities will have their capacity limited to 25 percent, down from 50 percent. Masks must be worn at all times except for when a guest is actively drinking. If a guest cannot wear a mask while doing an activity because it is too strenuous, the guest must seek an alternative.
There will also be a pause on adult and youth sports tournaments during the Statewide Pause.
Other Businesses
Other businesses that will have their capacity reduced from 50 percent to 25 percent include museums, art galleries, libraries, zoos, aquariums, arcades, racetracks, bowling alleys, mini-golf, amusement and theme parks, and other similar activities.
Additionally, gaming operations will be limited to 25 percent capacity. Brothels, adult entertainment establishments, day clubs, and nightclubs will remain closed.
Retail Stores
Retail stores, indoor malls, and grocery stores will remain at 50 percent capacity, but with strict social distancing and other health and safety requirements.
Stores with over 50,000 sq. ft. capacity will be required to have employees at all public entrances to ensure they follow the capacity limits.
Additionally, online ordering, curbside, delivery, and carry out operations are encouraged.
Public and Private Gatherings
Public gatherings, including places of worship, indoor movie theaters, live theater performances, casino showrooms, weddings, funerals, milestone celebrations will be limited to no more than 50 people or 25 percent capacity, whichever is less. Previously, the limit was 250 people or 50 percent, whichever was less.
No large events will be approved during this time and any large events planned for the next three weeks should be canceled.
Private gatherings will be limited to no more than 10 people from no more than two separate households, and face masks must be worn at these private gatherings.
With Thanksgiving coming up, Sisolak said: "And while I beg all Nevadans to listen to our health experts and the CDC by only spending Thanksgiving with your household members if you choose to gather with those you do not live with, you must all wear masks."
Businesses Not Impacted by the New Restrictions
Some businesses will not be impacted by the Statewide Pause restrictions and can continue operating under the same standards. These include hair salons, barbershops, nail salons, and businesses that provide aesthetic skin services.
Additionally, spas, massage therapy, massage establishments, and body art/piercing establishments will not be affected by these new measures. Community and recreational centers will also be able to continue to operate at 50 percent capacity.
The map from Statista below demonstrates which states have the highest number of confirmed COVID-19 cases, as of November 23, 2020.