Las Vegas Police Hunt Man Who Threw Killer Punch in Parking Space Altercation
An argument over a Las Vegas parking space spiraled out of control, leaving one man dead and another injured according to police.
The horror unfolded in the early hours of Sunday morning at a car lot outside a liquor store.
Metro Police said two men pulled into the parking lot next to a woman who was in her car and taking up two parking spots at around 1:15 a.m.
Police said the driver of that car began arguing with the woman.
However, a second car containing two men then pulled into the parking lot and began to argue with the man who had confronted the woman and passenger.
It is understood the two men from the second car each threw a punch at the two men from the first car.
Both of the victims were taken to hospital, where police said one man later died and the other is in critical condition.
Now detectives are hunting for the men and told local media there were witnesses in the parking lot at the time. They have appealed for them to come forwards.
It is not the first time an altercation has turned violent over a car parking space.
In August last year, Michael Drejka was found guilty of the July 2018 shooting death of Markeis McGlockton in Florida.
In that case, the parking lot dispute started when Drejka shouted at McGlockton's girlfriend for parking in a spot reserved for disabled shoppers outside of a convenience store in Clearwater.
Security camera footage showed McGlockton run up and shove Drejka, causing him to fall to the ground.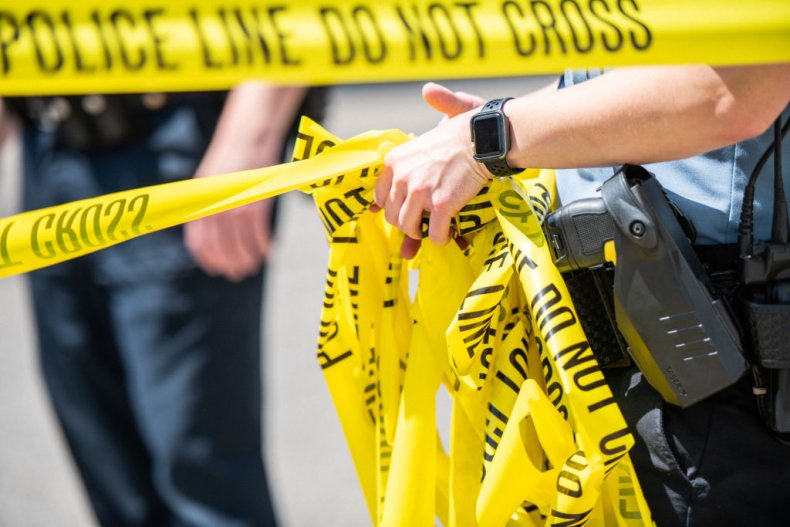 On his knees, Drejka then pulled out a gun and aimed it at McGlockton, who was backing away.
Drejka fired, hitting McGlockton in the torso and killing him.
Police initially declined to arrest Drejka, citing the stand your ground law, before eventually charging him with manslaughter. Following his arrest, Drejka told police that McGlockton took a step towards him after he pulled his gun out.
The jury deliberated for over six hours according to local CBS affiliate WTSP. At one point they requested clarification on the use of force statute from Circuit Judge Joseph Bulone.
The law, which is over 3,000 words long, states that the person who instigates an altercation cannot claim immunity for using violence in it.
Drejka is currently serving 20 years in prison.