Las Vegas Police Officer Indicted in 3 Casino Robberies Could Get Life
A Las Vegas police officer faces the possibility of life in prison after alleging robbing thousands of dollars from a series of casinos.
Caleb Mitchell Rogers, 33, of the Las Vegas Metropolitan Police Department (LVMPD) was arrested on February 27 and accused of robbing roughly $164,000 from three casinos in the last several months. His charges currently include three counts of interference with commerce by robbery and one count of brandishing a firearm during and in relation to a crime of violence, according to the U.S. Department of Justice (DOJ). This comes as the nation is showing a dip in trust in police officers, according to Pew Research.
Rogers's first alleged robbery was carried out on November 21 in the western part of Las Vegas, where he made off with $73,810. Later, on January 6, he reportedly held up another casino in the northern part of the city for roughly $11,500. In both cases, Rogers approached cashiers, demanded money with a gun drawn, and was able to make an escape.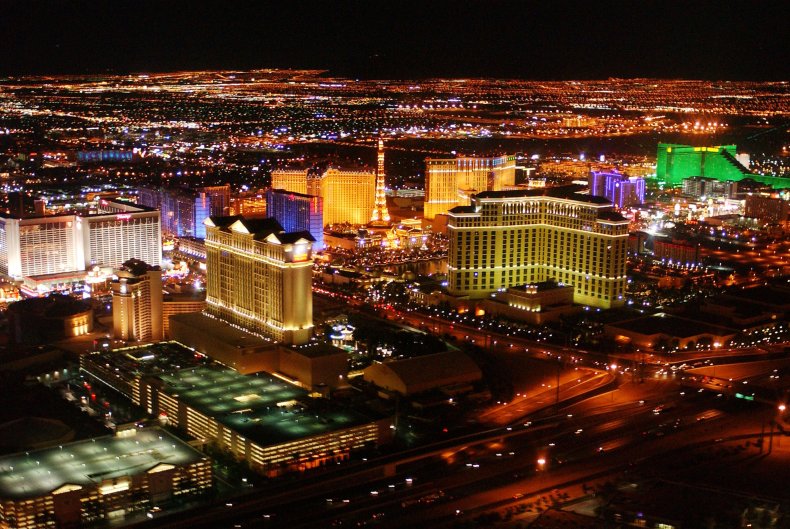 His escapades ended on February 27 when he attempted to carry out the third robbery, approaching casino employees in the sportsbook area with a gun and demanding they step away from the money. Rogers was able to bag and run off with $78,898, but not before one of the employees triggered an alarm.
"Get away from the money. I've got a gun. I will shoot you!" Rogers is alleged to have shouted at the employees before jumping the counter and knocking on to the ground.
Rogers was soon after tackled to the ground while attempting to escape in a parking garage, afterward allegedly brandishing his revolver and shouting, "I'm going to shoot you!" The guards were able to disarm and subdue him until police arrived on the scene, who soon discovered that Rogers's firearm was registered to the LVMPD.
The names of the casinos that Rogers targeted have not been released at this time.
"The statutory maximum penalty is 20 years in prison for each count of interference with commerce by robbery, and life imprisonment for brandishing a firearm during and in relation to a crime of violence," the DOJ's official statement on the case explains.
The investigation into the case is ongoing; the FBI is working with the LVMPD. Nevada Assistant U.S. Attorney Dan Cowhig is leading the prosecution against Rogers.
A federal grand jury chose to indict Rogers for his alleged crimes on March 22, and he is now set for a jury trial on May 23. His trial will be overseen by U.S. Magistrate Judge Brenda Weksler.
Newsweek reached out to the Las Vegas Metropolitan Police for a comment on this story but did not hear back before publishing.
It's not the first time LVMPD has made the news recently.
Last week, an LVMPD K-9 unit sniffed out more than $10 million worth of cocaine among a truckload of tomatoes.
On New Year's Eve, LVMPD caught two men from California who they say "came to town on the busiest weekend of the year to terrorize the community, to terrorize tourists."
In December, the department settled a lawsuit after one of its officers shot a naked man running away from a church.