Las Vegas Police Video Shows Moment Officer Is Shot in Hail of Bullets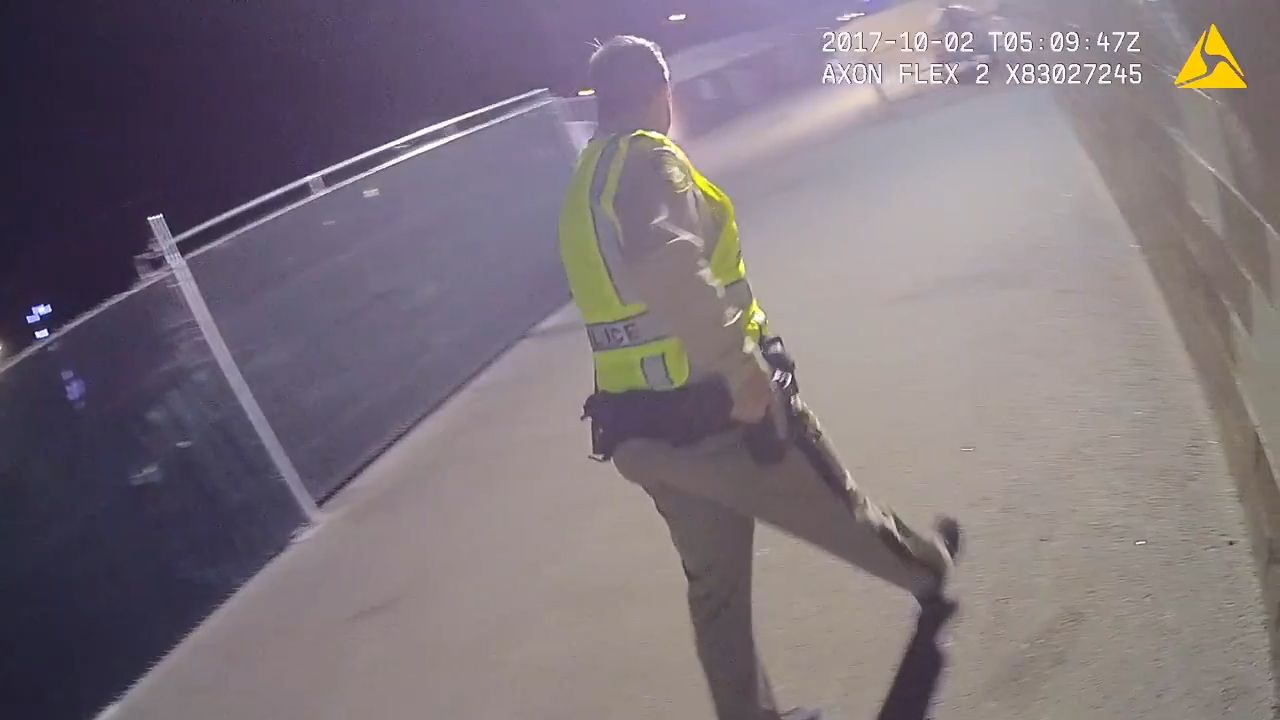 Dramatic footage released by Las Vegas police shows officers' reactions in the frantic moments one of their own is shot in a barrage of bullets fired by Stephen Paddock from the 32nd floor of a hotel.
The compilation of footage from the Las Vegas Metropolitan Police Department shows how officers responded at the chaotic scene Sunday. In the initial frames of the video, a group of officers can be seen taking cover behind a breeze-block wall. The distinctive lights of the Mandalay Bay hotel can be seen just in the edge of view.
Related: Las Vegas shooting: Police turn on public, ask how no one came forward over Paddock's plans
"Hey you guys, get out of there, get down!" one officer shouts at civilians nearby as bursts of gunfire can be heard ringing out over the sounds of sirens.
A second clip shows officers' perspectives as one of their own is shot. Undersheriff Kevin McMahill narrates the footage released at a press conference late Tuesday.
"This is a couple of officers hunkered down next to a patrol vehicle on Las Vegas Boulevard," McMahill says, "the moment one of our officers gets shot."
When the next barrage of gunfire ceases, apparently as Paddock reloads, the officers can be seen grabbing nearby citizens and pulling them to safety behind their vehicle.
Sheriff Joe Lombardo confirmed two on-duty officers were injured in Sunday night's attack. One required surgery but was said to be in stable condition following treatment. The other sustained minor wounds.
Further details emerged on Tuesday as law enforcement worked to find out how and why Paddock shot and killed 59 concertgoers at the Route 91 Harvest Festival. More than 500 more were wounded in the attack.
The Bureau of Alcohol, Tobacco, Firearms and Explosives said Tuesday that 47 shotguns, rifles and pistols had been recovered from three locations connected with the shooting: the hotel suite at the Mandalay Bay, as well as two other properties in Nevada.
Paddock had devices attached to 12 weapons allowing semiautomatic rifles to create automatic gunfire. Investigators could not confirm whether Paddock had any firearms training.
In the footage released Tuesday, protracted bursts of automatic gunfire can be heard ringing out across Las Vegas Boulevard. While some shorter bursts of over half a dozen rounds can be heard, for the most part the firing from the hotel window seems to last until Paddock needs to reload.
During Tuesday night's press conference, McMahill said the first call to the police came in around 10:08 p.m. local time, and the shooting ceased at 10:19 p.m. "I want you to think about that; the first minute the police are aware of shots being fired at 10:08, and it stops at 10:19, that's a remarkable response by this police department," he said, saying the suspect was shooting "on-and-off for somewhere between nine and 11 minutes."
Las Vegas Police Video Shows Moment Officer Is Shot in Hail of Bullets | U.S.