Las Vegas Road Sign Saying 'Mash Potatoes Not Your Head' Branded 'Disturbing'
A road sign which has popped up on a Las Vegas highway has been branded "disturbing," after it encouraged drivers to fasten their seatbelts by referencing a head injury.
The digital sign, saying "mash potatoes not your head buckle up," reportedly appeared on the I-15, near the Las Vegas Boulevard, and caught the eye of one motorist.
Danielle, posting to Twitter under @DHass85, shared a photo of the giant lettering, from the Nevada Department of Transportation (NDOT), on Wednesday.
She captioned the image, which amassed more than 1,800 likes: "#LasVegas this is highly disturbing."
Numerous people in the comments agreed, as @whiskyguyNJ wrote: "Scare tactics is ABSOLUTELY NOT the role of any state government. Last I checked WE pay their salaries. Fix the roads, help the homeless. Leave the s***** comments to friends and family."
Barb cox said: "I saw that today I was driving. Totally wrong way to word it!"
Kathy Leavitt commented: "I find this highly disturbing since my daughter was just killed and got her face smashed in and then automobile accident on September 4th thanks for the friendly reminder."
While Maxine thought: "Totally highly disturbing analogy considering my brother died after getting thrown threw the window of his truck and the truck falling and crushed him....FIND ANOTHER WAY TO GET YOUR POINT ACROSS... DISGRACEFUL!"
"Wait glad I'm not the only one who found that odd," Sheila Drakeley, MPH added.
Some thought it was effective, as Jacqueline reckoned: "A bit gruesome but makes a point!!"
SoVegasJoel simply tweeted: "Weird message."
Logan added: "Maybe a bit macabre, but it gets attention and ultimately that's the goal. Now if anyone is going to pay attention or not..."
And Teagan wrote: "Yup I definitely seen the sign and thought to myself what the entire fudge. The wording could've been different but it made it pause and think!"
A spokesperson for NDOT confirmed to Newsweek the signs were real, and are appearing along US 95, I-15, and CC-215.
NDOT said: "The message went up last week and remained up until Nov. 12. They will appear again as we approach Thanksgiving. This is a message that DOTs nationwide have found to be effective in sparking conversations about traffic safety.
"The message was approved by our Digital Message Sign committee, which consists of NDOT personnel as well as representatives from the Nevada Office of Traffic Safety, the Federal Highway Administration, and the Regional Transportation Commission. Our committee meets prior to each calendar year and determines what messages will appear on our DMS."
The reference to potatoes, as confirmed by NDOT, is due to the fact the holidays are fast approaching.
Potatoes, and traffic accidents, are commonplace over Thanksgiving and Christmas, with the November holiday seeing numerous deaths as a result of road traffic collisions.
It's thought to be due in part to more people traveling on the road to visit loved ones, and as the National Safety Council (NSC) noted: "Holidays are also often cause for celebrations involving alcohol consumption, a major contributing factor to motor-vehicle crashes."
The NSC shared data from 2018, the last year it had available statistics, showing 385 people died between Wednesday and Sunday evening of Thanksgiving weekend.
The United States Department for Transport echoed the sign, with their 2021 "buckle up" bulletin saying: "During Thanksgiving, millions will hit our nation's roads, eager to spend time with family and friends. It's one of the busiest travel times of the year. Unfortunately, more people on the roadways means the potential for more vehicle crashes."
"Nighttime is deadlier than daytime in terms of seat belt use. Over the 2017 Thanksgiving weekend, 57 percent of passenger vehicle occupants killed in crashes at night were unbuckled, compared to 40 percent during the day," it added.
NDOT said "creative and eye-catching" displays were key in getting safety messages across to drivers.
According to KTNV-13, NDOT said: "Nevada has had more fatalities on its roadways this year than in any year in at least the past decade—and we still have 52 days left in 2021. Reckless and careless driving that leads to lives lost is unacceptable and must stop.
"With over 90 percent of U.S. crashes caused in part by driver behavior, it is incumbent on all traffic safety partners to find effective ways to communicate driving safety reminders. Creative and eye-catching digital sign messages are one way to deliver those reminders and engage the public on the importance of traffic safety.
"NDOT and local traffic engineering and safety partners carefully review and prioritize digital sign messages to ensure that they provide the most critical and appropriate travel and traffic safety information to Nevada road users while remaining compliant with state and federal regulations."
Newsweek reached out to Danielle for comment.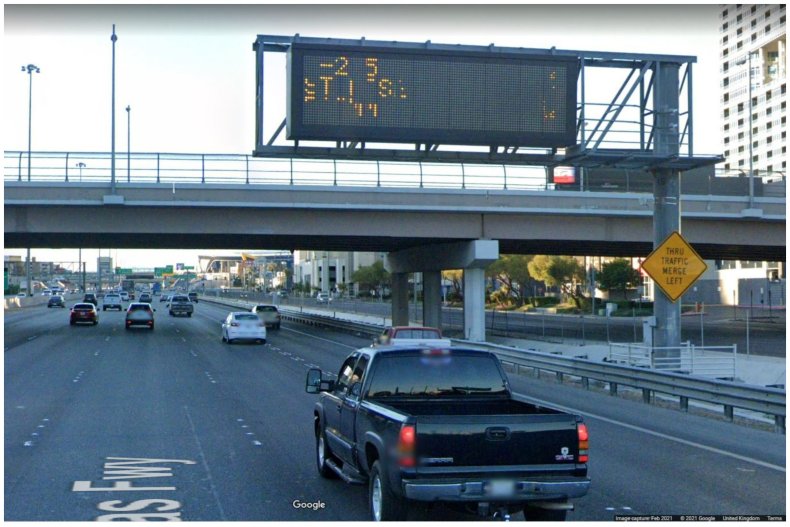 UPDATE11/16/21, 4:09 a.m. ET: This article was updated with comment from NDOT.