Las Vegas Shooting Conspiracy Theories Now Include the Illuminati and Antifa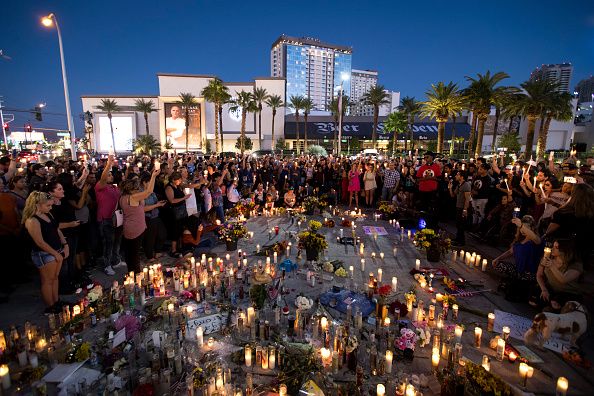 Conspiracy theories have been swirling around the internet since the Las Vegas shooting on October 1; the stories center around Stephen Paddock, the gunman who took the lives of 58 people and injured more than 500 others during the Route 91 Harvest music festival.
Conspiracy theorists have come up with their own stories on Paddock's motive. Recently, Metro USA reported on a theory about Paddock's motive in carrying out an Illuminati "blood sacrifice" ritual.
The Illuminati conspiracy theory was "revealed" by Sheila Zilinsky from the website Weekend Vigilante, which claims that the shooting was organized by the "deep state" Illuminati, a secret organization that tries to control the world via means ranging from shooting sprees to corrupt politicians. The video explaining the theory was posted to YouTube and Twitter.
"Folks, this whole thing in Las Vegas. This killing field in front of this sphinx, this pyramid, this obelisk, this is no coincidence…" Zilinsky says in the YouTube video. "This thing was nothing more than a strategically located blood sacrifice ritual, a death ritual across from a pyramid."
Other conspiracy theories have formed in the aftermath of the shooting. In an article from Mother Jones highlighting some of the theories that have circulated, conservative columnist Wayne Allyn Root said the shooting was being covered up by the FBI and the Las Vegas Police Department. In a tweet, he said that the attack was coordinated by Muslim terrorists.
"This is [the] real thing. Clearly coordinated Muslim terror attack. PRAY for our Vegas police. PRAY for victims. VERY bad. Awful," Root said.
A website called Neon-Nettle.com has also followed with their own conspiracy theory on the mass shooting and ran a story titled, "Las Vegas Shooting Exposed as Antifa-led False Flag Attack." The article attributed the claims to fake tweets allegedly sent out by President Donald Trump.
None of these conspiracy theories have been proven, though some people are quick to believe the things they read, especially if the conspiracy theorist has a huge following.
For instance, Infowars host Alex Jones said the FBI "found Antifa information in the room and photos of the women in the Middle East…There was Antifa crap everywhere." He later speculated that the attack was organized by "deep state" agents for stricter gun control laws and believed that this could lead the nation into a civil war.
"The Internet itself provides kind of an x-factor because, yes it's a place [where] a lot of false information forms, but it also coalesces with trusted sources and trusted information," Adam Klein, a professor at Pace University who teaches propaganda, told Mother Jones.
Klein said these conspiracy theorists don't have to do much to gain attention from their lying, and inject doubt into important discussions that we should be having.
"If we're talking about conspiracies instead of talking about gun control or mental illness or whatever factor that is a legitimate debate to have around this, then they're winning. It doesn't take more than that," Klein told the publication.
Paddock's motive for shooting at a crowd from the 32nd floor of the Mandalay Bay Resort is still unclear.