Las Vegas Shooting: Could Police Have Done More? Brand New Footage Suggests Yes
Newly released bodycam footage of the first officers to reach the area of the Mandalay Bay Hotel in Las Vegas shows them waiting in the hallway a floor below Stephen Paddock's room as he rained automatic gunfire down on the crowds below.
Rapid gunfire and radio chatter can be heard as two Las Vegas police officers and three hotel security managers hold back nervously, taking cover in the doorways of hotel rooms. The footage and accompanying officer reports form part of an investigation into exactly what happened on the night of America's deadliest mass shooting.
Paddock, 64, killed 58 people and injured hundreds more when he opened fire from his hotel room on the 32nd floor of the Mandalay Bay on October 1, 2017. Most of his victims were attending the Route 91 Harvest music festival on Las Vegas Strip.
Paddock's motive is not known; he shot himself at the scene and left no notes or indication of a motive for unleashing deadly carnage that night from his hotel room. Police found Paddock's body and a room full of rifles when they entered after the shooting stopped.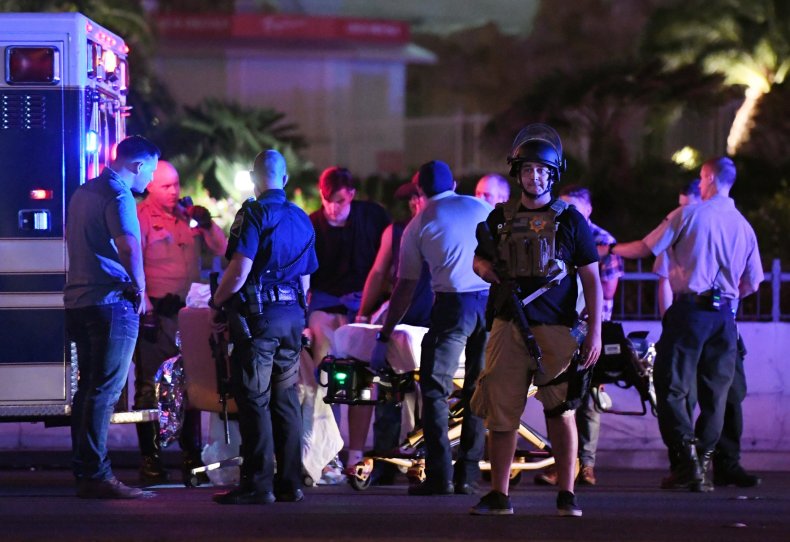 Officer Cordell Hendrex of Las Vegas Metro Police Department led his group toward the shooter's location in the hotel while Paddock was still firing. When they heard the intense gunfire, Hendrex held the group back on the 31st floor.
"I know I hesitated and remember being terrified with fear, and I think that I froze right there in the middle of the hall for how long I can't say," Hendrex wrote in his police report of the incident, which was filed in October 2017 and released publicly in May.
The officer also wrote, "I regret not being clearer" on the radio about the shooter's location on the 32nd floor and "I stumbled my words.
"I once again hesitated as the shots were still being fired from the 32nd floor and I remember saying another prayer in my head for God to keep us safe," Hendrex wrote.
"I did not know what to do next. I remember thinking that I had myself, my day 2 trainee and 3 security managers.
"Between the 5 of us only I and Officer Varsin were wearing body armor and all of use were only armed with a handgun each. The shooting stopped and all I could think was to stop the shooter or shooters from becoming mobile and or escaping."
Hendrex described his relief at the arrival of a sergeant who took over responsibility for managing the attack.
Officer Elif Varsin, the trainee officer, wrote in her report: "We heard rapid gunfire directly above us... Halfway up the 32nd floor in the stairwell myself and 3 other security officers held back and posted up between 31st and 32nd containing the area until S.W.A.T arrived."
The actions of every officer responding to events on that night in Las Vegas are under review by the city's police department.
But in the early days after the shooting, Clark County Sheriff Joe Lombardo complained that the word "incompetence" had been used to describe the Las Vegas Police Department's response to the attack. "I am absolutely offended by that characterization," Lombardo said at a news conference on October 13.
"We teach officers to respond directly to the active killing. Every second that it continues to go on, more lives are at risk," J. Pete Blair, a criminal justice professor and director of the Advanced Law Enforcement Rapid Response Training center at Texas State University, told the Associated Press after reviewing the bodycam footage. "But we don't expect them to take unnecessary risks."
Thor Eells, executive director of the National Tactical Officers Association, who watched the bodycam footage, told the news agency that this "is not a training issue...you can simulate an active shooter scenario, but it's not the same as when real bullets are flying."
Las Vegas Metropolitan Police Department did not respond to Newsweek's request for comment.