Las Vegas Shooting: ISIS Video Of Famous Strip Put Police on High Alert for Attack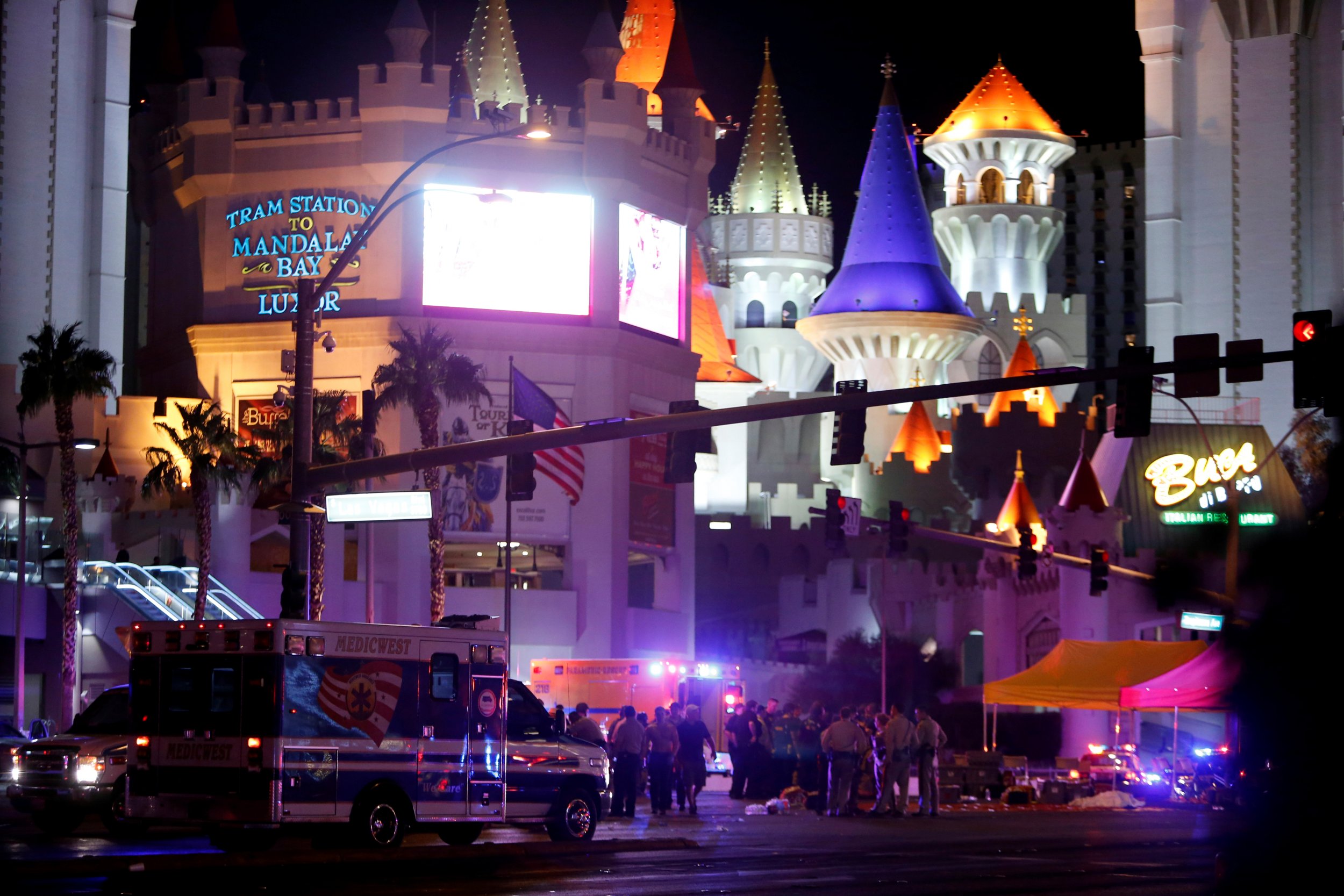 Las Vegas authorities were already on high alert before the shooting attack on the city's famous strip on Sunday night that left at least 20 people dead at the Route 91 Festival, after the Islamic State militant group (ISIS) released a propaganda video earlier this year showing footage of the site.
The 44-minute-long video released in May showed footage of the Las Vegas strip from 2015, calling on its supporters to conduct attacks with knives and vehicles, everyday weapons that its supporters have already used many times in the West over the past several years. The footage also showed New York City and Washington, D.C.
No group has yet claimed responsibility for the attack on Sunday, but the footage prompted authorities to consider that there was a credible threat to the city popular with tourists and gamblers.
The FBI's Las Vegas field office told Fox News in a statement following the video's publication that it was working with "international law enforcement, intelligence, and security services agecies to share information and intelligence."
A spokesperson for the Las Vegas Metropolitan Police Department said: "We are always concerned when Las Vegas is mentioned by groups or individuals who subscribe to the idea of committing violence to further their cause.
"Our city has been mentioned in similar videos and publications but this most recent video should serve as a reminder to remain vigilant and to report any suspicious activity."
ISIS has regularly called for attacks on U.S. soil and those who have associated with its cause have acted upon the call. In June 2016, Omar Mateen launched a shooting attack on a LGBT nightclub in Orlando, killing 49 people. In December 2015, a couple killed 14 people in another shooting attack in San Bernardino. ISIS claimed both attacks.
Las Vegas is a globally popular tourist spot, filled with entertainment and casinos, a bevy of locations that are the antithesis to ISIS's core, anti-Western beliefs. So Vegas authorities did not take the threat of a shooting, knife or vehicle attack lightly.
Metropolitan Police Department Capt. Christopher Darcy, who leads the Southern Nevada Counter-Terrorism Center, told the Las Vegas Review Journal in May that Las Vegas remained "one of the world's greatest event destinations" and therefore it would have higher security measures to protect revellers and holidaymakers.
"I think anytime somebody goes on the internet and makes a threat that they're going to conduct a lone-wolf or any type of attack, it's our responsibility to view it as a credible threat," he said. "It would be irresponsible not to take any threat as credible, especially when made by a group such as ISIS, who has in fact carried out attacks in the past."
As the search for a motive continues, Las Vegas Metro Police Sheriff Joseph Lombardo said that one individual has been killed after police "engaged the suspect."