Beyond the Shooting: How More Victims Ended Up at Las Vegas Hospitals Throughout the Week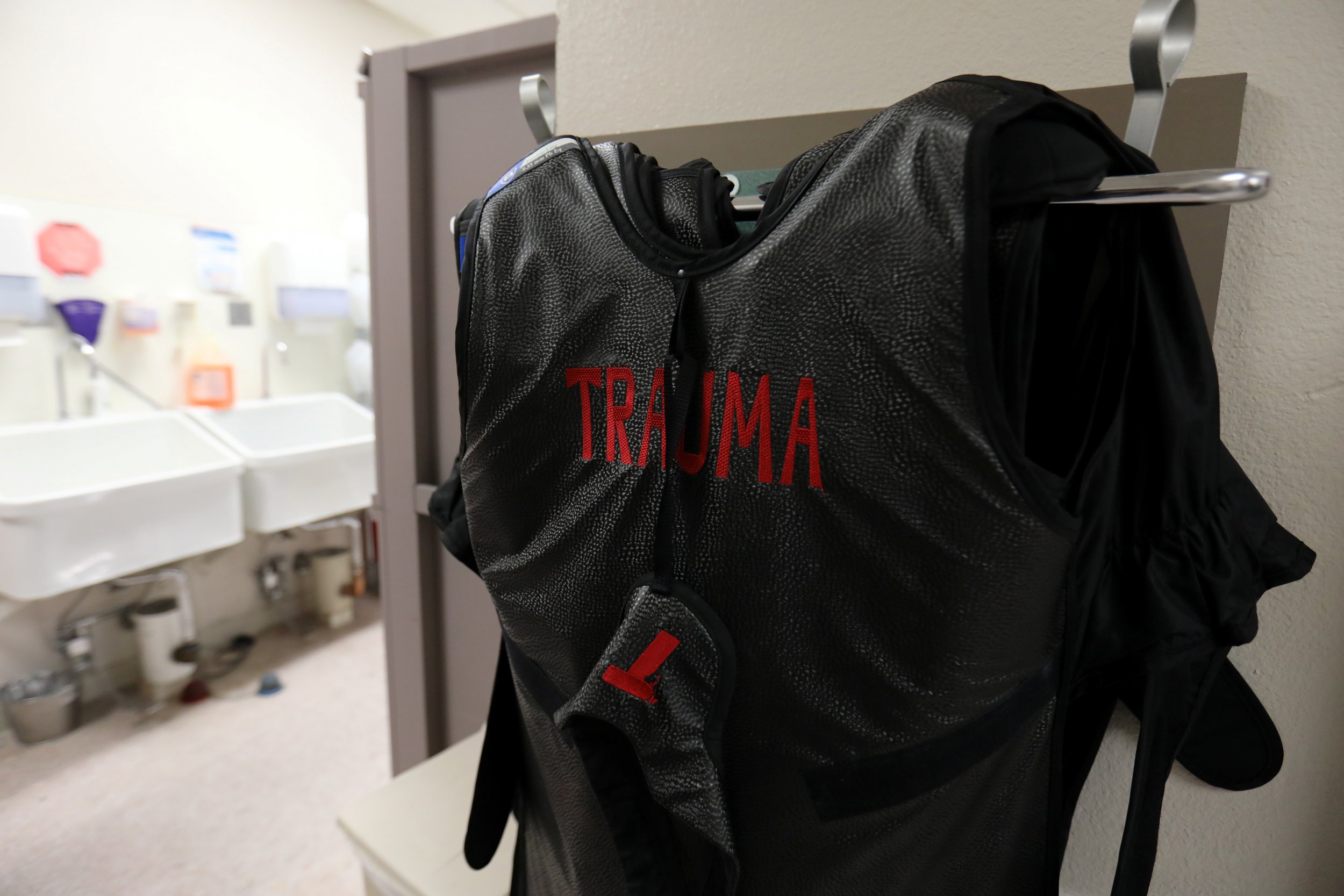 The tally of people injured in the Las Vegas mass shooting increased in the week after the attack as more people checked into local hospitals with injuries caused not by bullets but by the mayhem associated with thousands of people fleeing the gunfire, hospital administrators and doctors tell Newsweek.
The three hospitals operated by Dignity Health treated about 60 patients on Monday and Tuesday after Stephen Paddock killed 58 people on Sunday by firing at a country music concert from his room in the Mandalay Bay Resort and Casino.
The number of people treated climbed into the 70s by the end of the week, boosted by those who hadn't immediately sought medical attention, a spokeswoman said. Those patients suffered injuries associated with being trampled, cuts on their hands from climbing chain-link fences or broken wrists after jumping off tall fences or taking cover.
People may have put off their hospital visits because of shock or adrenaline, or because they didn't want to take up space right after the shooting, says Dignity Health spokeswoman Jennifer Cooper. "Now those people are coming in, whether it's for surgery or needing something looked at," Cooper said on Monday, eight days after the attack, adding that the hospital ended up treating a total of 79 people who were at the attack scene.
Alcohol is another factor that slowed some victims from reaching the hospital the night of the shooting, says Dr. Lonnie Empey, a vice chief of staff for Desert Springs Hospital, which is part of The Valley Health System. "They got away, and then they came in and said I think I twisted my ankle," says Empey. "Alcohol is a really good anesthetic."
A total of 611 attack victims were treated at four different hospitals or hospital groups for which Newsweek was able to obtain figures. That includes 104 people at University Medical Center, 199 people at Sunrise Hospital & Medical Center, 229 people at the Valley Health System's six hospitals and 79 people at Dignity Health System's three hospitals, according to spokeswomen for each hospital or group.
That figure is significantly higher than the 406 injuries and 50 deaths the Las Vegas Metropolitan Police Department estimated on October 2, the day after Paddock carried out his attack. (Authorities have still not established a motive behind Paddock's actions, and this week Las Vegas police announced new details that complicated the timeline of when he began firing.)
More injuries were caused by gunfire than by other causes, according to numbers obtained by Newsweek, though the ratio was lower than some might have expected. At Sunrise Hospital, 124 of the 199 victims had gunshot wounds (or about 62 percent), according to a spokeswoman. At the Dignity Health hospitals, 37 of the 79 victims had gunshot wounds (or about 46 percent), according to a spokeswoman.
The "majority" of the victims brought to Valley Health Systems hospitals were injured by gunfire, according to a spokeswoman who couldn't provide more specific numbers. A University Medical Center spokeswoman would not release any information about how the patients brought there were injured.
"There's a wide range of injuries, from gunshots to shrapnel wounds to trample injuries to people jumping fences, trying to egress and getting hurt," Clark County Fire Chief Greg Castle said at a news conference the day after the shooting, according to CNN.
Because so many of the victims were from out of town, some may have returned home before seeking treatment—meaning it's possible they wouldn't be counted in the total number of injuried, says Dr. Peter Caravella, a general surgeon on staff at Desert Springs Hospital, which is part of The Valley Health System. "The flesh wounds, the broken wrists, those can usually be treated electively in the next couple of days," he says, adding that a lot of people with those types of injuries likely sought medical attention after returning home.