Exclusive: New Las Vegas Shooting Person of Interest Douglas Haig Says He Never Knew 'Wacko' Stephen Paddock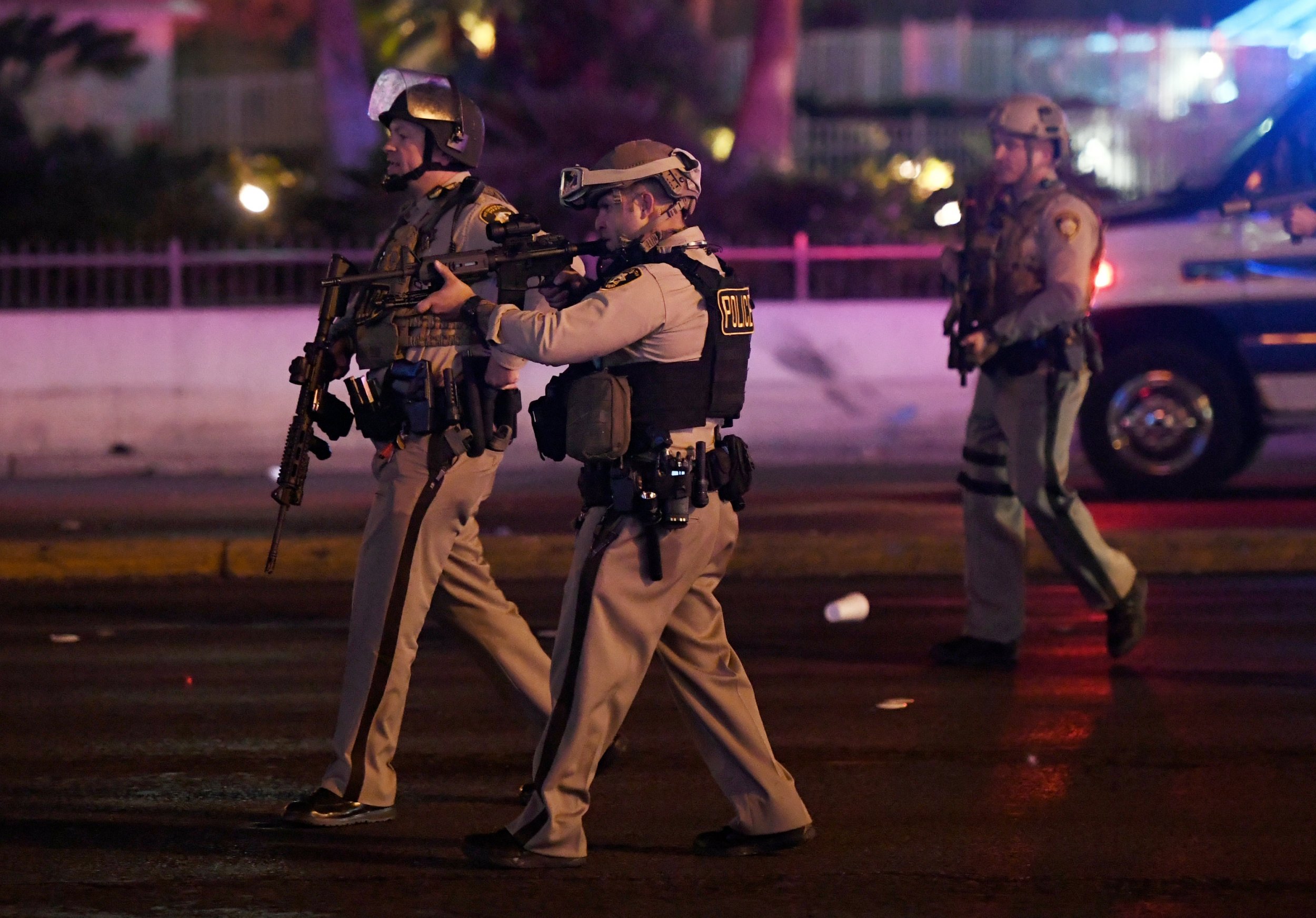 Updated | An Arizona man who on Tuesday was identified as a "person of interest" in last year's mass shooting in Las Vegas once said he had nothing to do with the crime and doesn't know why authorities would connect him to it. Newsweek spoke with the man, Douglas Haig, on Tuesday and last October.
The 55-year-old Haig, of Mesa, Arizona, told Newsweek in October that he had been interviewed by agents from the federal Bureau of Alcohol, Tobacco Firearms and Explosives shortly after the October 1 Las Vegas shooting, which left 58 dead and hundreds more wounded. The suspected shooter, Stephen Paddock, killed himself before police broke into his room in the Mandalay Bay Resort and Casino.
Related: Las Vegas Shooting Suspect's Father Was On FBI's Most-Wanted List
Shortly afterward, Haig was visited by the BATFE agents.
"They asked me a bunch of questions," he told Newsweek in a telephone interview on October 4, "and after about 20 minutes they left. Haven't heard from them since." Newsweek did not publish his remarks at the time because authorities declined to publicly connect him to the case, and Haig threatened to take action against the publication if it did.
"I have to think that if it was really, really serious or there was something that they thought I did that was wrong, [the agents] would have been kicking my door down," Haig said. He said he had "no link" to Paddock. "I didn't even know who this guy was."
Reached again by phone on Tuesday, Haig, an aerospace engineer who said he "used to sell ammunition reloading components," referred questions to his attorney.
The Las Vegas Review-Journal said in an article published Tuesday that a judge had unsealed nearly 300 pages of search warrant records, in which Haig and Paddock's girlfriend, Marilou Danley, were named as "persons of interest" last October. Neither has been charged, and it was unclear whether they remained targets of the inquiry.
Asked about the release of the names on Tuesday, Clark County Sheriff Joe Lombardo told the Review-Journal, "If you've got it, publish it." He reportedly said he could not comment on a federal case. An FBI spokeswoman told that outlet she could not immediately comment Tuesday.
In October, Haig told Newsweek that when federal agents first contacted him, "I was jumping out of my skin at first. I was like, 'Good lord, what is going on?'" The agents who visited him, he said, told him he wasn't in trouble, but said they needed to ask him some questions.
Haig is a senior engineer at the aerospace giant Honeywell. A LinkedIn account that appears to belong to him says he also works at a company called Specialized Military Ammunition. That company, which started in 1991, sells ammunition by phone, according to its website. He appears to have run the store, as his name is on the county property record for the address listed for it. Steve Brecken, a spokesman for Honeywell, confirmed Haig's employment there but declined to comment further.
Haig told Newsweek he hadn't sold ammunition reloading components "for a long time" and said he had asked the company hosting the Specialized Military Ammunition website to take it down. "I'm an engineer at an aerospace company. I have a normal 9-to-5 job," he said.
He said repeatedly that he did not know why agents had contacted him and that he had no ties that he knew of to Paddock. "It could have been a business card from a year ago, two years ago, who knows?" he said. "He might have had one of my cards and wrote something on the back of it that they found in his house."
Haig worried that any public accounts linking him to Paddock could cause him harm. "I have a family to take care of and feed," he said, adding: "I've been interviewed, and that's as far as it went. They were following up on a lead, and obviously it went nowhere.
"If I had anything that would help further this or shed light or help explain why this wacko did what he did," he said of Paddock, "I'd be more than happy to tell you."
Haig's lawyer Andrew Marcantel called the person-of-interest allegation "an old story." Beside the BATFE, he told Newsweek, the FBI had also interviewed his client "several times," asking "slightly different questions" and he had "answered them all."
"He's been 100 percent compliant," Marcantel said by phone Tuesday night. Whether the feds still consider Haig a person of interest, he said, "is up to them."
After the initial publication of this article, the Review-Journal updated its article, saying Haig spoke with reporters Tuesday evening. Despite what he had told Newsweek, Haig told those reporters, "I'm the guy that sold ammunition to Stephen Paddock." He said he had met with Paddock once but that he did not know him. He indicated that he will be speaking further with reporters on Friday.
Press accounts have previously reported that the shooter purchased guns from a wide variety of vendors, including Cabela's in Verdi, Nevada, Discount Firearms and Ammo in Las Vegas and Guns and Guitars in Mesquite, Nevada.
On Tuesday, a spokeswoman for the FBI field office in Las Vegas directed Newsweek's inquiries to the United States Attorney's Office in Las Vegas. A spokesperson there declined to comment. The bureau's Las Vegas field office and the Las Vegas Metropolitan Police Department previously did not respond to Newsweek's requests for comment about Haig. Police in Mesa, where Haig lives, directed inquiries to the BATFE. In October, Mary Markos, a spokeswoman for the agency, declined to comment because of the "ongoing investigation."
This article has been updated to include comments by Douglas Haig's attorney Andrew Marcantel. It was later updated again to include additional comments Haig made on Tuesday.