Las Vegas Shooting: Harrowing Images Captured by Photojournalist Who Happened to Be at the Scene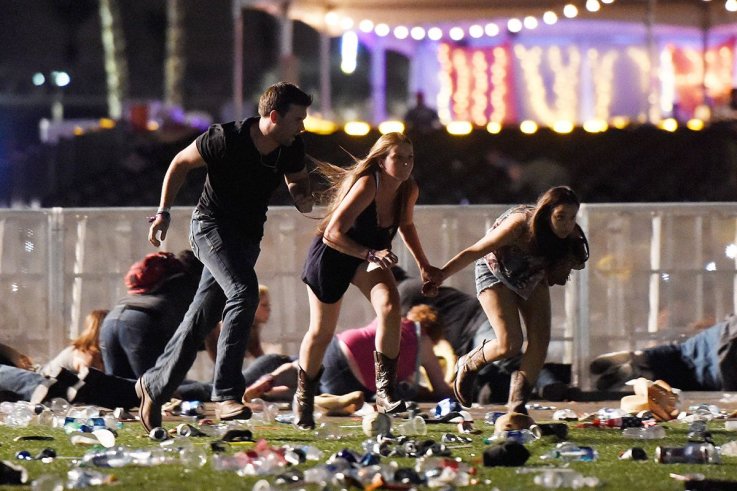 October 1 is the first anniversary of America's worst mass shooting of modern times, when a lone gunman killed 58 people and wounded more than 800 at an outdoor festival on the Las Vegas Strip.
Stephen Paddock, 64, a retired real estate investor, rained gunfire from his 32nd-floor suite at the Mandalay Bay Resort and Casino into a crowd of 20,000 people attending the Route 91 Harvest festival, then killed himself before police stormed his room.
David Becker, a photojournalist who was covering the Route 91 Harvest country music festival in Las Vegas for Getty Images, braved machine gun fire to take photos of the mass shooting.
In interviews conducted after the shooting, he described hearing "very loud popping sounds", but as they were explained to him as "just firecrackers... speakers or sound equipment: he carried on filing his photos of the festival.
"Then the noises went again, and that was when the crowd started to flee, Becker told the Washington Post.
His photos show the initial panic after gunshots were heard, with people running and taking whatever minimal cover they could find. They also show several people lying on the ground after the mass shooting.
"After photographing the final act of the Route 91 Harvest country music festival, I began editing in the media tent when loud pops startled me," he later told Getty Images. "Security said it was the sound system malfunctioning. It seemed plausible, so I went back to work.
"Moments later, loud pops rang out again. This time, concertgoers began fleeing. I picked up my cameras and started taking photos of the panic as people ran for cover, some lying still on the ground.
"Not sure what was happening, I told myself repeatedly it was only speakers. Under extreme low light conditions, I tried to capture what was going on, still unsure of what it was.
"Ten minutes later, while editing in the pitch-black media tent, the only visible light came from my computer screen illuminating a tragedy unfolding. I realized that I was witnessing the worst mass murder in U.S. modern history."
Becker says the photograph of the man shielding the woman stands out for him: "It was what the aftermath of the shooting was about—strangers, like this man, who chose to risk their own lives to help others. As for the outcome of this photo, I saw them run off and escape harm."
Becker and fellow Getty photojournalist Ethan Miller photographed the police operation to find the shooter and the subsequent outpouring of grief and togetherness in Las Vegas.
In a post on his website, Becker says: "The following are photographs that I made as the concert turned into a nightmare."