Survivors Share Their Own Stories of Route 91 Festival on Anniversary of Las Vegas Shooting
On the two year anniversary of the shooting at the Route 91 Harvest music festival, people used social media to share stories of their own experiences as well as those of their friends and families.
Gunshots rang out during country music singer Jason Aldean's set at the music festival in Las Vegas on October 1, 2017. The shooting, believed to be carried out by a single person firing from the window of a suite at Mandalay Bay hotel, claimed the lives of 58 people.
Two years later, the festival returned to Las Vegas, although in a different location, and on Tuesday, people sought to honor the victims in their own way. Some planned to do 58 acts of kindness, while others attended memorial services or simply took a moment out of their day to reflect on the tragedy.
For some people who were at the music festival when the gunfire rained down or had family and friends there, the anniversary was a time to share their own experience, gratitude and remembrance on social media.
Danielle Rose posted a photo on Instagram that had a black background and the words "Vegas Strong Day" written in bold white lettering. Alongside her photo, she penned the sentiment that she would never forget all of the lives that were lost. While remembering them, she wrote that she was grateful her daughter survived and that she has here, today.
On Twitter, Matt Alldredge shared a screenshot of a social media post he wrote during the shooting, which told his followers that he was alright. Along with the photo, he wrote that he was lucky and acknowledged that many were not, which was "still very hard to believe."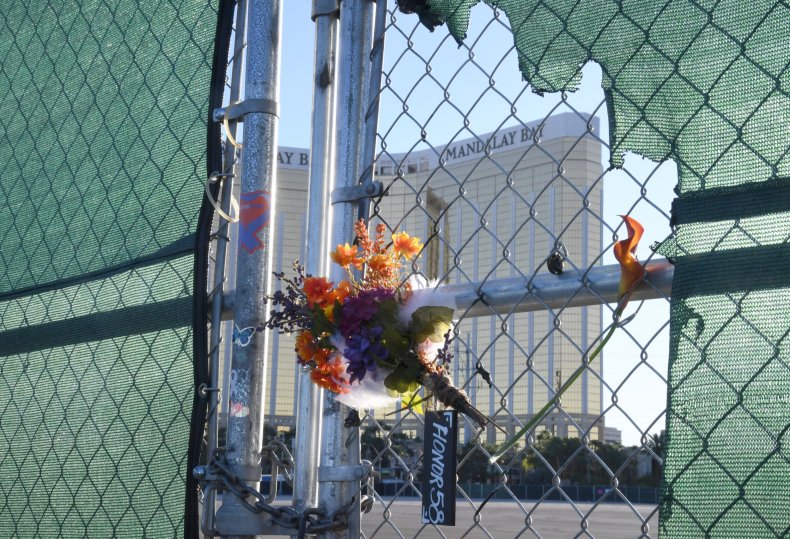 He also wrote on Twitter that two years later, the memories weren't as fresh, so when he looks back on the day, it's an "I can't believe I was actually there" feeling. Something he characterized as "strange," adding that he thanked God for making it out physically healthy.
Alex C wrote on Twitter that he would "never forget" what his brother and his wife had to go through during the shooting or what they were still dealing with today.
One social media user said she was crying as she typed her tribute to Sandy Casey, a special education teacher who was killed during the shooting. In the wake of Casey's death, a scholarship was set up in her name to be awarded to a Bennington County high school graduate.
"I'm thinking of your family & friends today­­–you should still be here with them–Enjoy everyday as if it's your last–life is short," she wrote.
Brad Sugars, who attended the festival with his wife, Lauren, shared a photo of the two of them from the concert. In the picture, he was smiling as Lauren kissed his cheek. That image, he wrote, was how he always wanted to remember October 1st.
They got separated during the shooting and Sugars told the Los Angeles Times that he used the application, Find My iPhone, to locate his wife. Two weeks after the shooting, Lauren found out she was pregnant, which Sugars told KVVU helped them turn something negative into something positive.
Another Twitter user, K Dunk, shared a video from the 2017 concert, which was taken an hour before "our lives changed forever." K Dunk wrote that she was "forever grateful" to be alive today, but would never forget the 58 lives that were taken and hundreds who were injured.
"Two years ago changed mind and my family's life forever. Each year these next two days are the hardest, but each year I gain a little strength. I vowed to never forget those we lost. If you can, say a little prayer for the #route91 families," Twitter user Reina Mendoza posted.
At the Clark County Government Center Amphitheater on Tuesday, people came together for a sunrise ceremony at 7 a.m. local time. It included 58 seconds of silence, a multi-agency honor guard and music from the Las Vegas Academy of the Arts, according to the Las Vegas Review-Journal. It can be viewed on the Clark County Facebook page.
In Las Vegas, there will also be a wellness event, multiple blood drives and the unveiling of a tribute to the victims.
Survivors Share Their Own Stories of Route 91 Festival on Anniversary of Las Vegas Shooting | U.S.