Las Vegas Shooting Sends Gun Stocks Soaring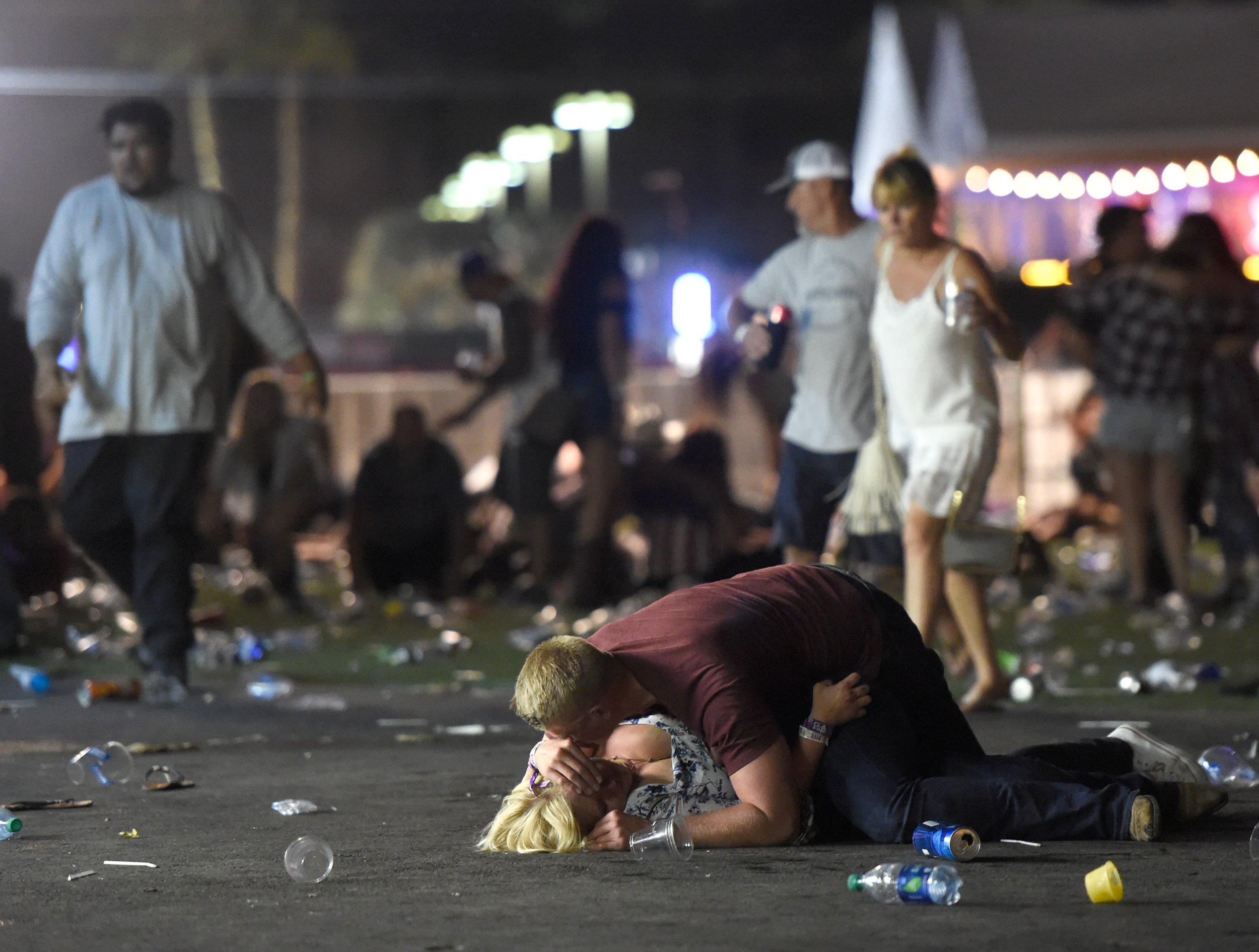 Another mass shooting and another surge for gun stock prices—a typical pattern for American investors.
In the hours after the worst mass shooting in American history in Las Vegas Sunday, shares of American Outdoor Brands, formerly Smith & Wesson, jumped 3.41 percent to $15.77 by just after noon Monday, while Sturm Ruger rose 2.9 percent to $53.20.
Share prices soared with the perception that tighter gun control rules will follow the shooting at a country music festival in Las Vegas that left more than 50 dead. The uptick marks a reversal from a drop in the market when National Rifle Association–endorsed President Donald Trump was elected and fears of heightened gun control eased.
At closing Friday, American Outdoor Brands shares had dropped almost 28 percent for the year, while Sturm Ruger was down close to 2 percent.
"Speculation surrounding increased gun control at the federal, state and local level, and heightened fears of terrorism and crime," can impact demand for firearms, American Outdoor Brands has told investors in its annual reports.
In the month following mass U.S. shootings, American Outdoor Brands shares rose on average nearly 5.4 percent, and Sturm Ruger increased close to 2.9 percent, according to a study by Kensho, a quantitative analytics tool that hedge funds use, looking at 32 cases since the 1999 Columbine High School shooting.
Following the Pulse nightclub shooting in Orlando, Florida, on June 12, 2016, that left 49 dead, stocks rose for Sturm Ruger and Smith & Wesson. The same was the case for both stocks after the San Bernardino shooting on December 2, 2015, that claimed 14 lives.
The 2016 Orlando and 2015 San Bernardino shootings brought a two- to three-month climb in gun sales and "certainly triggered something in the American consciousness about personal safety," Rommel Dionisio, managing director at Aegis Capital, told CNBC.
The surge in gun stocks is a more recent phenomenon.
After the December 14, 2012, shooting at Sandy Hook Elementary School in Newtown, Connecticut, gun makers' stock prices dropped and a private equity firm decided to sell Remington Arms, which manufactured the firearm used in that massacre.
For the three-day period after the Friday following the Newton shooting, Smith & Wesson shares dropped more than 20 percent, and Sturm Ruger fell about 20 percent. Some retailers called for suspending sales of assault-type rifles, particularly in Connecticut, capping off what had shaped up to be a banner year for the gun industry.
Gun stocks dropped temporarily following the Newtown shooting because investors seemed to react to the growing possibility at the time that new gun laws would negatively impact their profitability, according to analysts.
Some investors predicted that mass shootings would bring tighter gun regulations and gun sales rose, but the laws did not come to fruition under President Barack Obama.