Las Vegas Gunman Chatted With Staff, Gambled and Brought Bags of Ammunition Into Hotel Days Before Shooting
Las Vegas gunman Stephen Paddock gambled, chatted with hotel employees and brought in 21 bags of arsenal into the Mandalay Bay Resort days before the shooting.
Exclusive security camera footage obtained by The New York Times from MGM resorts released on Thursday shows Paddock in the hotel just seven days before he shot and killed 58 people from the 32nd floor of his hotel room.
During his stay at the Mandalay Bay Resort, the 64-year-old brought in 21 bags of luggage with ammunition and arsenals, a laptop bag, two smaller bags and a plastic container that would act as his perch to shoot festival goers at the Route 91 Harvest festival.
Paddock, who was a regular at the resort, was friendly to hotel employees and tipped them when they helped him with his luggage. When he wasn't bringing bags back and forth to his room, he bought snacks, ate a meal at the hotel's sushi restaurant and gambled for eight hours at the resort's casino.
Over the course of seven days, Paddock returned to his home in Mesquite, Nevada. He's seen on two different occasions in the elevator at the resort and leaving the hotel with some of his luggage. He stopped at The Ogden, a condominium complex where he checked in the previous Friday. The Life Is Beautiful festival was being held in the area.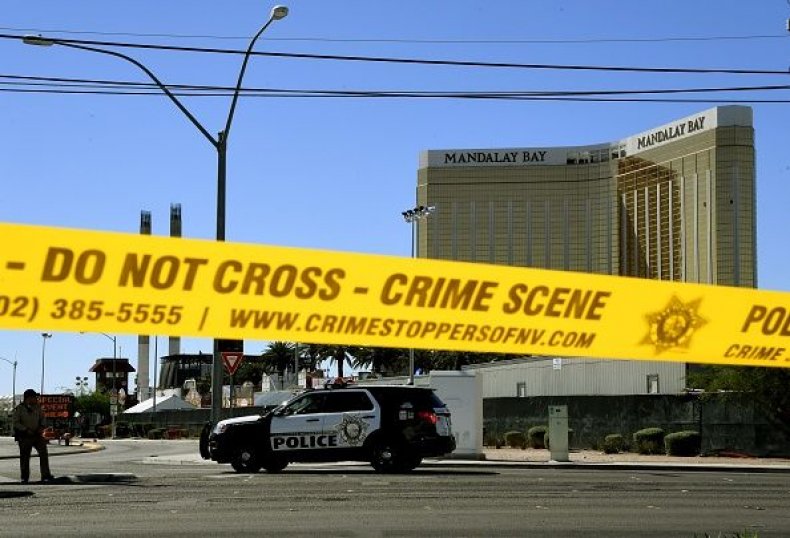 On October 1, Paddock shot and killed 58 people, including himself, in the deadliest mass shooting in American history. It is still unclear what his motive was.
Newsweek has reached out to the Mandalay Bay resort for comment on the newly released footage.
Other items that were found in the gunman's room are child pornography, handwritten notes, surveillance cameras and snorkel equipment, according to an 81-page preliminary report that was released in January.