Las Vegas Shooting Timeline: Police Audio Shows Confusion, Chaos in Search for Gunman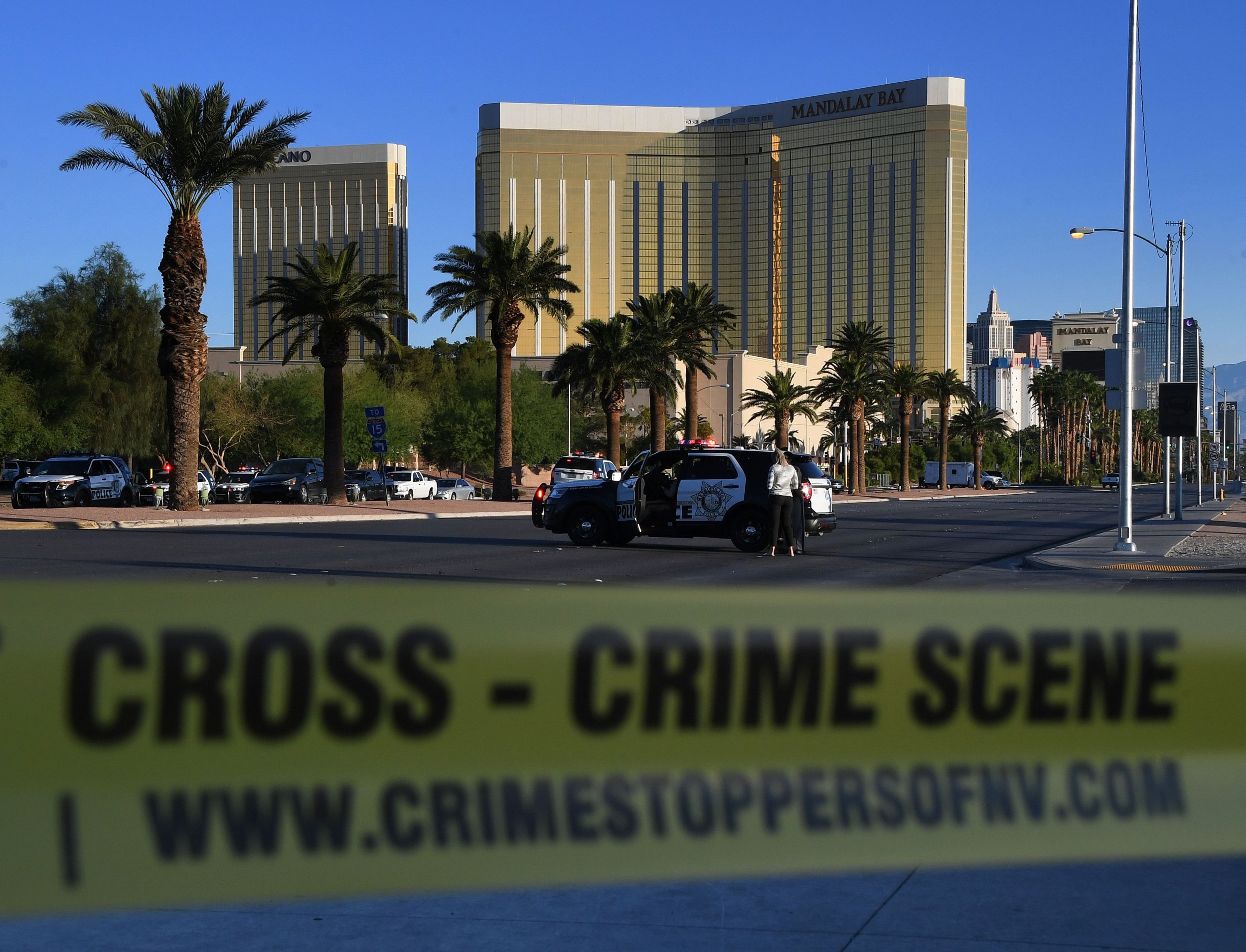 The gunshots sounded like they were coming from everywhere. People dropped to the ground. Others ran in the panic.
As officers responded to the Las Vegas Strip Sunday evening, confusion and chaos took over, police scanner traffic shows. The shooting was one of the deadliest in U.S. history, claiming 58 lives and sending hundreds of victims to area hospitals.
As the shooting began, multiple reports of gunfire at neighboring casinos flooded police dispatchers as officers responded to the Route 91 Harvest country music festival. Within minutes, scores of police flooded the area, many distraught and nearly in tears as they asked for medical help and described victims' gunshot wounds to the chest, legs, face and head.
It was more than an hour later before officers breached the suspect's room at the Mandalay Bay Resort & Casino and found he'd committed suicide. SWAT officers used a device to enter room 135 on the 32nd floor of the hotel, where shooter Stephen Paddock was holed up with a cache of at least 19 weapons. He had a perfect view of the concert and the thousands in attendance when he opened fire. He then took his own life.
Here's how the shooting unfolded and how officers responded taken from radio traffic:
10:08 p.m.: Paddock starts his rampage. The first reports of gunfire come in when an officer reports "shots fired" and says it "sounds like an automatic firearm."
10:14 p.m.: An officer reports that he is in the Mandalay on the 31st floor and can hear automatic gunfire from "one floor above us." Another officer advises others to take cover as reports of victims start to stream in.
10:17 p.m.: As officers continue to give updates on the wounded, an officer radios they need to find the suspect. "We can't worry about victims. We need to stop the shooter before we have more victims. Anybody have eyes on the shooter?" an officer asks over the radio.
Dispatchers are also told an officer has been shot.
"We have multiple, multiple victims. Shots fired right outside the medical tent. We got one shot in the head," a distraught officer says.
In response, another official radios: "Hey officers, please stay calm. We're trying to get this set up. OK. Just stay calm."
10:18 p.m.: Officers ask the hotel to shut down the elevator in the Mandalay so the suspect cannot leave.
10:19 p.m.: A team of four officers makes their way into the hotel up to the 32nd floor. It's unclear if the shooting is still going on.
10:21 p.m.: An out-of-breath officer yells over the radio: "Gunshot wounds to the chest and head. We need immediate medical!"
Another officer says police are still taking fire from a very high floor in the hotel and tells other responding officers where not to go. "Every officer who comes up is going to be a target if they're driving on Las Vegas Boulevard," he says.
10:23 p.m.: False reports start to flood dispatchers, as witnesses tell officers there could have been three shooters.
10:24 p.m.: An officer whispers over the radio that he is in the stairwell on the 32nd floor. The gunshots appeared to be coming from room 135.
10:25 p.m.: Dispatchers call for SWAT to help as officers set up outside the suspect's room.
10:26 p.m.: Officers find a security guard was shot in the hallway outside the suspect's room. They ask for backup. "He's shot into the hallway and hit a security guard," the officer said.
10:28 p.m.: An officer reports concertgoers are getting into patrol vehicles and trying to grab shotguns.
10:31 p.m.: Officers are asking for a description of the shooter but one is not broadcast. One official reports that an officer has been shot in the neck.
10:37 p.m.: SWAT officers are reportedly moving up to the 32nd floor to help officers.
10:38 p.m.: Officers say they haven't heard gunfire in about 10 minutes. One officer gets in an elevated position with a rifle to keep a medical triage area safe near the hotel.
There is confusion over what floor the shooter is on and whether there would be multiple gunmen. Officers start clearing multiple floors.
10:44 p.m.: Making the situation worse, scared concertgoers tried taking police vehicles that were parked near the venue. "I need some more units here. I'm being overtaken by citizens trying to take patrol cars," one officer reports over the radio.
10:54 p.m.: Officers report they've cleared many areas in the hotel and casino.
10:55 p.m.: One officer says he was on floor 32 and was readying to make entry.
"You need to be careful" one officer remarks. "...Are you with the SWAT guy?"
The officer says he is not with SWAT and is told to instead wait.
10:57 p.m.: Officers have locked down the hallway outside the gunman's room. I have "multiple rifles and plenty of officers," an officer says over the radio.
The next 20 minutes are filled with confusion as false reports of additional shootings and a possible bomb threat pour in from all of the neighboring casinos. Officers are worried that the other reported shootings could be a diversion, but teams are sent to check out each potential threat.
11:21 p.m.: A device is used at the gunman's room on the 32nd floor.
11:24 p.m.: Officers start clearing the room and whisper over the radio, "We have one suspect down."
11:28 p.m.: "We have one suspect down. Multiple firearms," an officer says over the radio, an hour and 20 minutes after the attack began. He says this was definitely the suspect who was "firing into the crowd."