Las Vegas Shooting Update: 47 Firearms Retrieved From Three Locations, Investigation Finds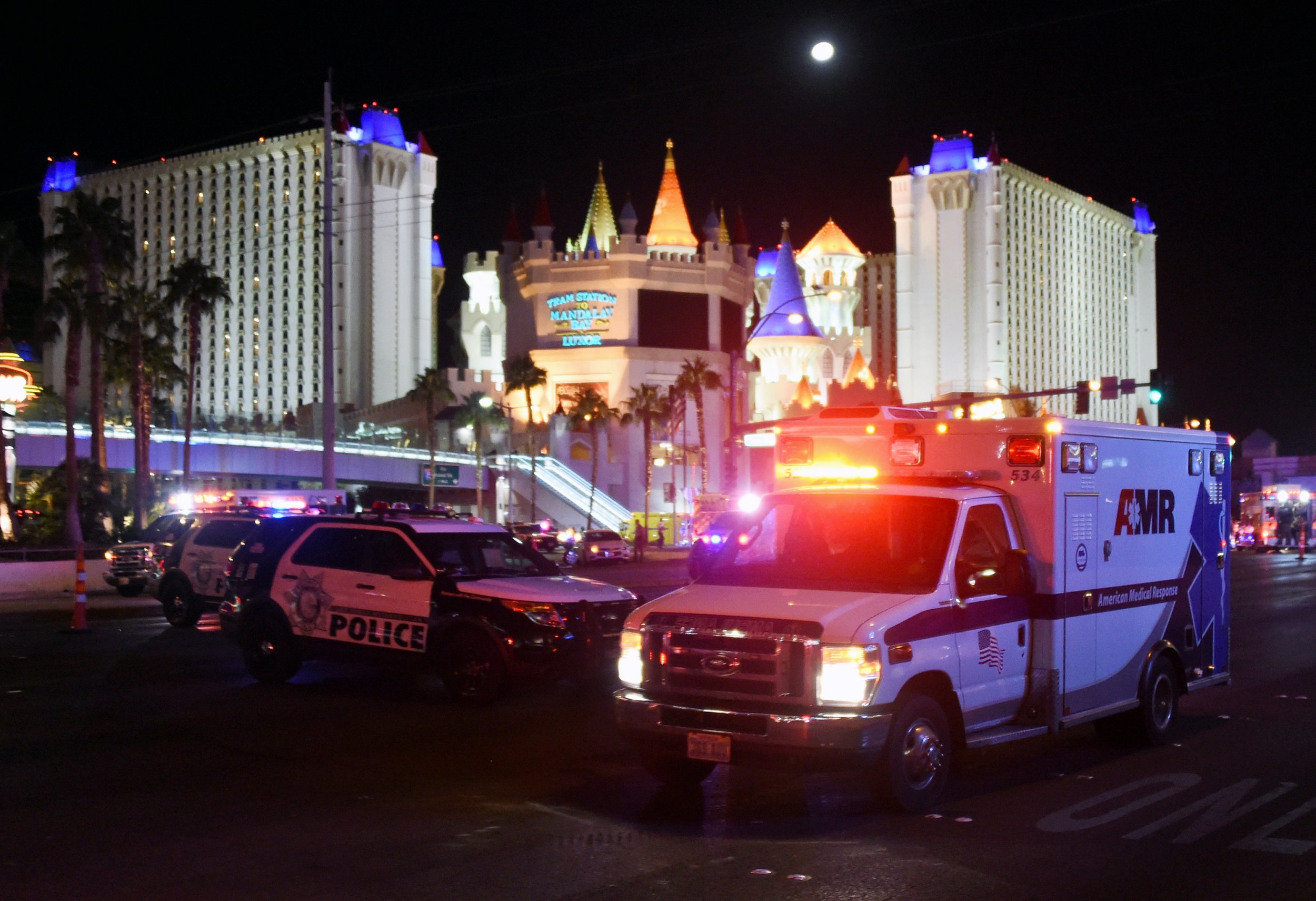 Stephen Paddock, the shooter who opened fire on a large group of concertgoers in Las Vegas on Sunday night, had a total of 47 firearms in his Mandalay Bay hotel room, his residence in Mesquite, Nevada, and a third undisclosed location.
During a press conference held tonight, Clark County Undersheriff Kevin McMahill confirmed more details of the ongoing investigation as he was joined by Jill Snyder of the ATF San Francisco Field Division, who corroborated that none of the firearms were handmade. She added that the gunman had devices attached to 12 weapons permitting semiautomatic rifles to simulate automatic gunfire. However, McMahill could not confirm whether Paddock had any firearm training.
McMahill told reporters that the first call to the police came in around 10:08 p.m. local time and the shooting ceased at 10:19 p.m. "I want you to think about that; the first minute the police are aware of shots being fired at 10:08 and it stops at 10:19, that's a remarkable response by this police department," he said, citing that the suspect was shooting "on-and-off for somewhere between nine and 11 minutes."
When asked about the 72-minute response from authorities after the first emergency call, McMahill added that the SWAT team "had to arrive at the Mandalay Bay first before taking any action during the incident." He later added, "The shooting had stopped because he barricaded himself. The suspect was contained within the room."
Also, authorities released a bodycamera video of Sunday night's shooting. The beginning of the video shows officers trying to figure out where the rounds were coming from.
The most striking visuals of the carnage, McMahill said, were personal items left behind. Nearly 150 vehicles have not been claimed, and authorities are expecting owners to pick them up with proper driver's identification, he said.
Asked if Paddock's girlfriend, Marilou Danley, would return to the U.S., McMahill said he's not sure about it. She is still considered a person of interest.
He also confirmed that the photos from the room leaked to the media are legitimate, adding that the police opened up an internal probe "to determine the source of the leaks of those photos to the public." Previously, Clark County Sheriff Joseph Lombardo did not confirm the authenticity of said images, citing his ongoing investigation.
McMahill said that the investigation is still underway, leaving more questions than answers. "I need patience. This is an investigation [that] is far from being concluded … The investigation is ongoing and I don't have a lot of answers yet. We have the responsibility to get it right so we're going to take some time," he said.
To date, authorities are still investigating Paddock's motive for the attack.