Las Vegas Shooting Update: Gunman 'Spent Decades Acquiring Weapons and Ammo'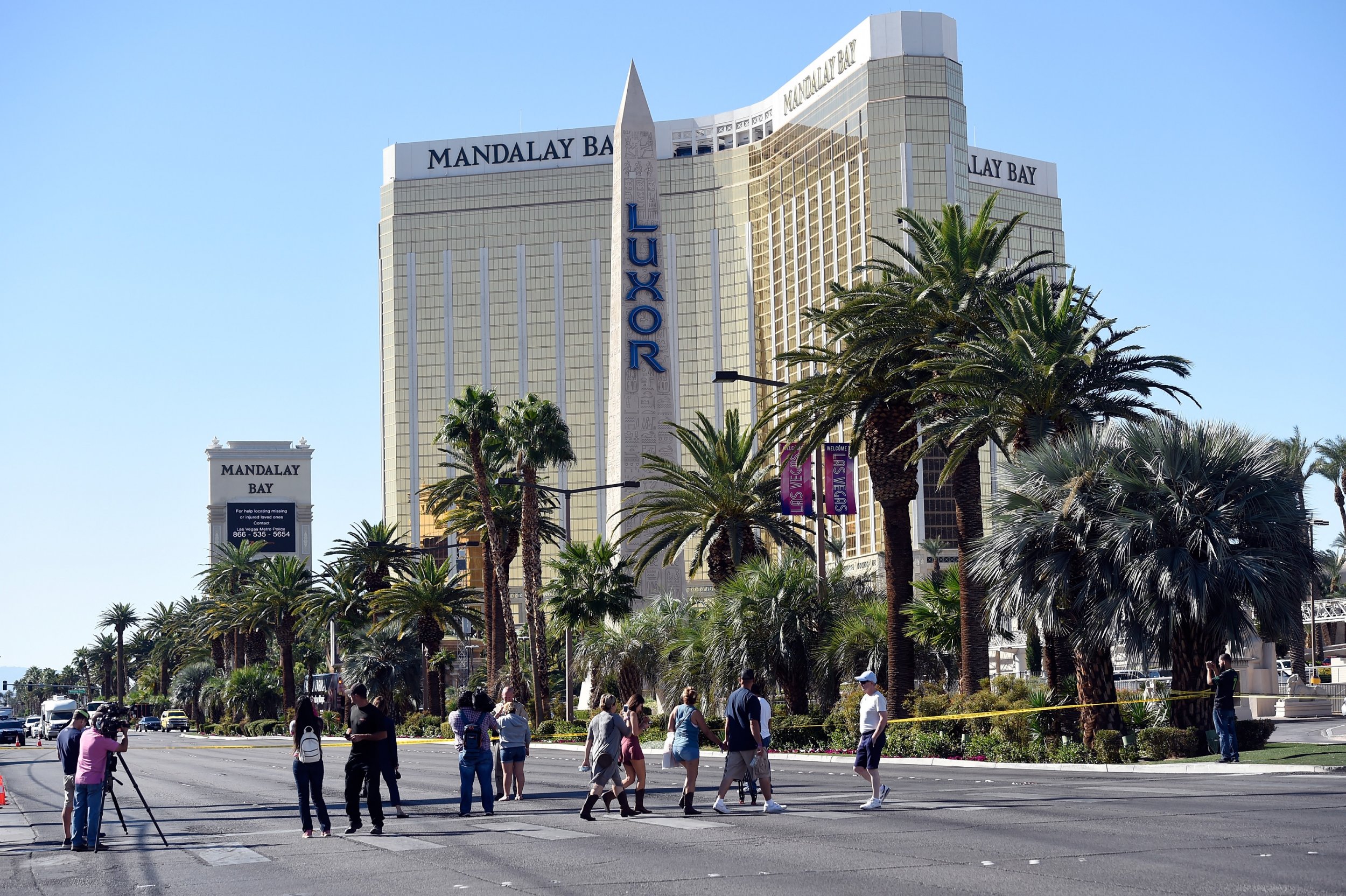 Stephen Paddock, the man who killed 58 people and injured hundreds in Las Vegas Strip on Sunday night, spent decades acquiring weapons and ammunition while "living a secret life," Clark County Sheriff Joe Lombardo told reporters on Wednesday night. He referred to Paddock as "disturbed and dangerous."
"More than 100 investigators have spent the last 72 hours combing through the life of 64-year-old Stephen Paddock," Lombardo said. It still remains unknown what led Paddock to go on a rampage. "We haven't found much about this guy; a lot of people live on social media, but he doesn't," Lombardo said.
"We are trying to prove his intent or understand his intent and the history associated with this and whether or not he has any accomplices," Lombardo added.
It was determined that Paddock had 50 pounds of tannerite, 1,600 rounds of ammunition and ammonium nitrate in his vehicle at Mandalay Bay. The findings are part of an ongoing investigation, authorities underscored.
Lombardo also assured that President Donald Trump's visit to Las Vegas did not hinder the investigation. When asked if evidence showed any sign that indicated Paddock's attempt to survive, Lombardo said "yes."
Lombardo said 489 people are injured, down from an earlier count of 527. Of the 489, 317 were discharged from hospitals. The death toll remains at 58 plus the suspect, for a total of 59.
Local authorities also offered a timeline of the carnage. First shots fired by the suspect were heard at 10:05 p.m. local time. Later at 10:12 p.m., the first two officers arrived at the 31st floor and gave notice that gunfire was "directly above them." At 10:15 p.m., Paddock fired the last shots according to bodycam footage. At 11:20 p.m., officers entered the room and saw the suspect lying on the ground. By 11:27 p.m., a second breach allowed officers to access a second room.
Hours prior to this press briefing, Paddock's girlfriend Marilou Danley, who returned to the U.S. from the Philippines on Tuesday evening, offered a statement through her lawyer on Wednesday. Danley said that she was cooperating with authorities over the "horrible, unspeakable acts of violence."
"I am devastated by the deaths and injuries that have occurred and my prayers go out to the victims and their families and all those who have been hurt by these awful events," Danley said in a statement read by her legal representative. "I have faith in God and I will continue to pray for everyone who has been harmed or hurt. I am a mother and a grandmother and my heart breaks for all who have lost loved ones."