Las Virgenes Fire in Calabasas: Oak Fire Breaks Out in California, Shuts Down 101 Freeway
UPDATE 1:16 p.m. EST — The city of Calabasas confirmed the Oak Fire was put out shortly after it started. Officials said no structures were lost and nobody was hurt, but warned residents to stay vigilant as conditions can change quickly.
Original story:
A brush fire that was reported in the city of Calabasas in Los Angeles County on Monday morning has prompted officials to close the 101 Freeway.
The so-called Oak Fire broke out at about 9 a.m. PDT, according to Patch. It started in "light-to-medium brush" along the eastbound 101 Freeway near Las Virgenes, Patch reported. The fire has since grown to be 10 acres in size.
The California Highway Patrol had issued a SigAlert due to partial lane closures as of 9:30 a.m. The highway patrol has also closed the on and off ramps for
As of 9:30 a.m. the California Highway Patrol issued a SigAlert for the 101 Freeway due to partial lane closures. California Highway Patrol also closed the on/off ramps for Las Virgenes, the City of Malibu said.
At 9:35 a.m., the Los Angeles Fire Department tweeted a photograph of a helicopter flying over the fire. The tweet also read that firefighters from the Department's Batallion 5 were actively working to put it out.
Though the tweet reads that no evacuation orders were under effect, this has since changed. Around 10,000 structures are currently under mandatory evacuation orders, according to the Los Angeles Times.
The LA Times also reported that fire officials described the evacuation zone for the Oak Fire is as follows: "Mulholland Drive on the north side, the 405 on the east, Sunset Boulevard on the south and Temescal Canyon Road on the west."
The Oak Fire came on the same day that a much larger brush fire, which started near the Getty Center museum, also broke out in Los Angeles County. It has since been dubbed the Getty Fire. That 250-acre, "very dynamic" fire also prompted officials to issue evacuation orders and tell people living in the evacuation zone that they should be ready to leave at a moment's notice.
According to the California Department of Forestry & Fire Protection, there have been 5,061 wildfires this year up until October 27, and they have burned a total of 232,168 acres of land. The largest wildfire in the state's history is the Mendocino Complex fire, which blazed across four counties in Northern California in the summer of 2018. It grew to 459,123 acres in size, destroyed 280 buildings and caused the death of one person.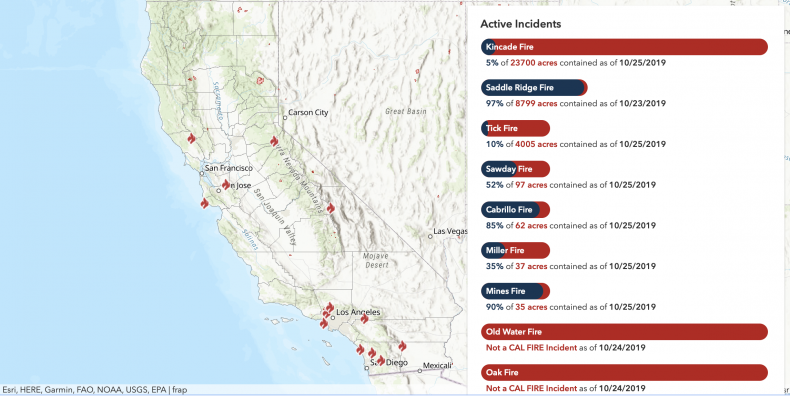 Las Virgenes Fire in Calabasas: Oak Fire Breaks Out in California, Shuts Down 101 Freeway | U.S.