'Last Chance U' Season 5: Start Date, Schedule, Where to Watch, Stream
Laney College in Oakland, California, is the focus of the fifth and final season of Last Chance U.
Netflix's behind-the-scenes college football series has developed a cult following since it first aired in 2016 but the show will switch from the football field to the basketball court after the current season.
The final chapter of Last Chance U premiered in the early hours of Tuesday morning, with Netflix releasing all eight episodes at 3 a.m. ET (12 a.m. PT).
Here's everything you need to know about this season's series.
What is Last Chance U?
Now in its fifth season, Last Chance U gives viewers an insight into what goes on behind the scenes in a community college football program over the course of a season.
The show delves into realities that are a world away from the glitz and glamour of FBS programs, focusing instead on programs featuring collegiate athletes that have had either experienced trouble in their lives, have struggled academically or, in some cases, being expelled from FBS schools.
Community college football programs are often seen as a last roll of the dice for student athletes looking to earn themselves the chance to play for more prestigious programs.
When does Last Chance U begin?
The fifth and final season of Last Chance U premiered on Tuesday, July 28 on Netflix. All eight episodes have been released simultaneously.
Where can I watch Last Chance U ?
Last Chance U is a Netflix original program and is available to subscribers online and via the Netflix app for TVs and connected devices.
Which college features on Last Chance U?
Having featured East Mississippi Community College in the first two seasons and Independence Community College in Kansas for the third and fourth season, the fifth and final season of Last Chance U is set at Laney College in Oakland, California.
Led by Hall of Fame coach John Beam, Laney was the 2018 California Community College Athletic Association Football champion after going 11-2 in the season.
At the time of filming, Beam had just been voted CCCAA Football Coach of the Year and entered his 40th season as a coach.
"We're thrilled to be able to delve into the world of Laney College for our fifth season and to have had the opportunity to document the incredible grit and drive of these junior college players in Oakland," said Last Chance U director Greg Whiteley.
Will there be a sixth season?
The fifth season of Last Chance U will also be the last, as far as college football is concerned. Netflix, however, has given the green light to a spinoff series focusing on basketball at junior colleges, titled Last Chance U: Basketball.
The new show, however, won't hit the screens until next year at the earliest.
"With this series, we always wanted to give viewers a raw behind-the-scenes look at junior college athletics and we're excited to expand the LCU legacy onto the court with junior college basketball," Whiteley added.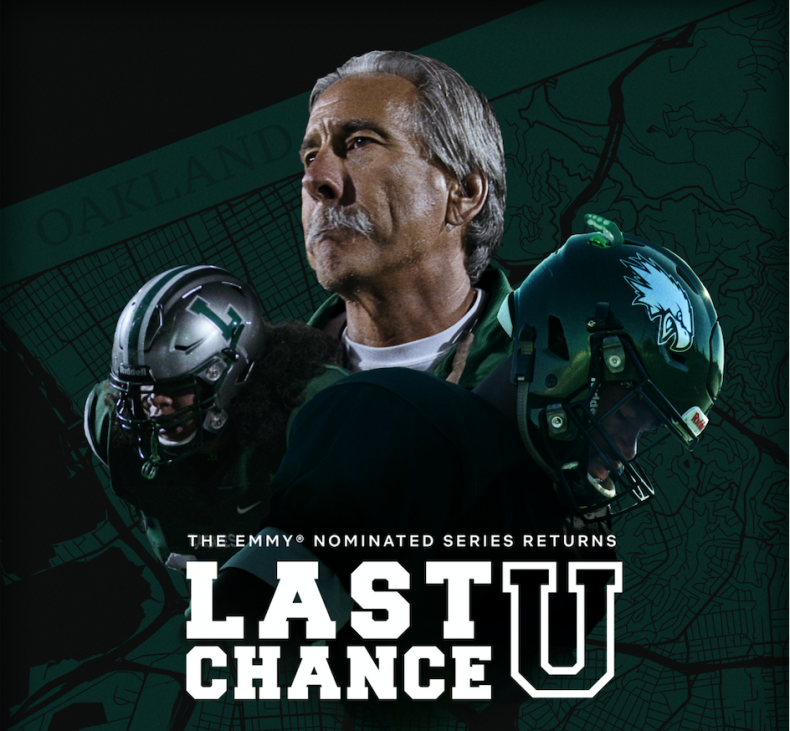 'Last Chance U' Season 5: Start Date, Schedule, Where to Watch, Stream | Sports