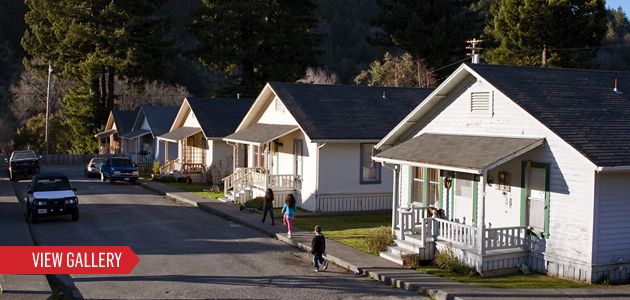 When the Pacific Lumber Co. started logging in 1863, there were few towns in the dense forests north of San Francisco. So the company built its own. Called Scotia for the hard-handed Nova Scotians who moved there, it became known as "lumberjack heaven"—a complete community with a school, church, post office, family homes, and a power plant that provided electric light years before the White House had it. During the holidays, the company played Saint Nick, stringing lights and giving presents: toys for kids, cash for teens, and a free turkey for every household in town. "It sounds hokey," says Stephanie Jeffers, 59, who settled in Scotia in 1981 and raised a family in the town. "But it was so, so nice."
These days Jeffers isn't the only one using the past tense to talk about Scotia, the last wholly owned company town in America. Scotia is about to change forever. Marathon Asset Management, a Manhattan-based hedge fund that reluctantly inherited this industrial Eden in a 2008 bankruptcy case, is planning to put the entire town on the market this year, a move worth at least $50 million in real estate (the hotel alone is on sale for $2.5 million) and millions more in saved annual expenses. The idea is to make Scotia just like everywhere else—a place where residents have the chance to own their own homes, elect their own officials, and generally control their own destiny. In other words, the American Dream, as two Marathon executives stressed recently over $28 eggs at the Royalton, a glamorous midtown Manhattan hotel.
But despite the happy spin, longtime residents say that Scotia—with its manicured streets and Truman Show feel—already amounts to the American Dream. What Marathon intends sounds "more like a nightmare," says Jeffers, sipping coffee in her company-owned kitchen, with her company-funded fridge covered with tourist magnets from a company cruise. "I've lived here so long, I don't know where I'd go."
It's easy to scoff at such a hyper-dependent existence, and many have. Company towns once dotted the country, meeting a need for laborers in the remote locations where timber, ore, and other natural resources were found. At their peak in the 1930s, they housed about 2 million Americans, including as many as one in five adults in places like South Carolina. But most were shuttered as a result of the post–World War II increase in affordable housing and suburban sprawl, and the name "company town" became a pejorative, immortalized most famously in the country song about a man soul-deep in debt to the company store.
Yet in this age of financial insecurity, far-flung family ties, and slackening safety nets, the company-town concept has renewed appeal. Perhaps it's no surprise, then, that Scotia's model—or at least its protective embrace—is showing signs of revival. In Redmond, Wash., Microsoft recently linked together what it calls "the world's largest corporate campus"—side-by-side parcels that include a new "town square" with shops to fulfill nearly every need (but no beer before 3 p.m.). Last week Facebook bought a 79-acre space in Menlo Park, Calif., where it similarly hopes to create a "small-community feel," according to an official statement. These campus models were pioneered by the SAS Institute, a massive Cary, N.C.–based software firm that's long been at the forefront of corporate paternalism, topping Fortune's latest list of "Best Companies to Work For" with offerings that include free medical care by an on-site staff of doctors and nurses.
Google is poised to offer the most paternalistic touch of all. The search giant's Mountain View, Calif., campus already offers a slew of Scotia-esque perks. Employees enjoy the services of a dry cleaner, hairstylist, massage therapist, and chefs who whip up three meals a day. They commute on company buses, nap in company "pods," and shoot pool in company parlor rooms. Now Google is set to offer on-site employee housing—120,000 square feet of it, slated for construction on NASA land near Mountain View. That's enough for approximately 60 midsize homes, or 400 dorm rooms. (Google's plans were detailed when the San Jose Mercury News obtained documents about the project under the Freedom of Information Act.)
China, too, has embraced the company-town concept, housing as many as 140 million workers in bleak factory towns along the country's east coast. One, owned by Foxconn, the Taiwanese-headquartered maker of Apple's iPhone, drew unwanted attention last year when 10 workers committed suicide. Foxconn subsequently employed counselors, raised wages, and literally strung nets from its highest buildings.
Obviously, all this corporate largesse isn't just about generosity—it also bolsters the bottom line, helping to spur productivity and reduce attrition. SAS has among the lowest turnover rates in the tech world, shedding just 2 percent of its workforce each year. And at the Googleplex, all those free meals and convenient catnaps have the added advantage of letting employees work long, irregular hours without pesky interruptions from the outside world. On Google's corporate website, former CEO Eric Schmidt explains that "the goal is to strip away everything that gets in our employees' way."
Which means that if you want to get a sense of just how Google Town might operate, there's really only one place to go.
There is no population of homeless in Scotia, town manager Frank Bacik writes (in all caps) in a recent email. In fact, quite a lot of what you'd expect to find in an ordinary town is conspicuously absent here. Bacik might have added that there's no trash (private garbage teams clean the streets) and no outrageous rents (a three-bedroom house with a backyard and two-car garage is just $900 a month, water and electricity included). There's also no bureaucracy (the company can fill town-budget shortfalls within two business days and, should anything break down, company contractors and handymen are a phone call away). Perhaps best of all, there are no taxes (at least none of the city or property variety). "This is the best town there ever was," says 72-year-old Mel Berti, who has worked for more than three decades in the Scotia grocery store, whose owners may opt to retire if their company-subsidized rent disappears.
Indeed, Scotia has a quasi-magical feel that's accentuated by its distance from any major city—five hours north of San Francisco by car through fog-choked, prehistoric redwood groves, until you finally arrive at the tiny hamlet on the banks of the Eel River. In winter, the place feels like a snow globe, and just as lonely. Midmorning on a Monday, there were no cars at the inn, one at the grocery, and none at the hair salon or doctor's office, and the town pub was closed all day. At night, guests have to let themselves into the 22-room hotel because the staff leaves at 6 p.m. On most nights the only hotel resident is "Frank," the ghost of a friendly logger who is said to roam the corridors.
There are, of course, people in Scotia—about 800 of them—but the number has been dropping for years. Logging restrictions and heavy debt delivered a mortal wound to Pacific Lumber (known by the acronym PALCO), which fired two thirds of its workers, closed one of its two mills, canceled the Christmas celebration, and opened the town's surplus residential and industrial space to a handful of outside renters before finally filing for bankruptcy in 2007.
A year later Marathon came to the rescue, and happiness returned to lumberjack heaven. The hedge fund spent millions beautifying Scotia. It restored parks, athletic fields, and a grand theater hewn entirely of old-growth redwood (the theater recently offered a free stage performance of The Musicians of Bremen, though most often the venue is used for group aerobics). Marathon maintained or expanded most perks, offering $1-a-year leases for churches, special rates for businesses ("the best rent in California," according to one store owner), and a fresh lick of paint for the town's homes, which come in one of five Easter-evoking colors. The company also took over the role of Santa, or at least his decorator, hanging wreaths and holiday banners, decking out the town Christmas tree, and offering a $500 rent reduction to the most bedazzling company home.
Behind these utopian touches, however, is a laundry list of rules that seem borrowed from a boarding school for delinquent boys. Home businesses are banned; residents are barred from conducting "offensive, noisy, immoral, or dangerous activity"; and cars cannot be repaired in driveways. Residents also aren't allowed to let "rubbish" accumulate in the front yard or hang laundry anywhere outside. Stoop sitting and marijuana growing are legal in the state of California, but they aren't in the Republic of Scotia, where there's "no lounging or unnecessary loitering on the front steps," and Marathon tracks electricity meters for signs of unusual use.
Decades of such tight control have led Scotians to develop an almost comical reliance on company aid. Residents call "all the time" to request help screwing in new lightbulbs, according to Susan Pryor, the town's housing administrator; she tells them to try using their wrists. This winter one woman locked herself out of her house three times in one week, calling the company keyholder for free bailouts. And the townsfolk love their company alarm clock: two years ago, when Marathon announced that the PALCO steam whistle was no longer necessary, residents voted to keep it, preferring to have their spirits rattled every day at 7:30 a.m., just as they always have been.
Such fondness for a parental touch seems counter to the individuality Americans fetishize. But we've long been willing to trade independence for employment. Henry Ford's plan for the "Five-Dollar Day," for example, included an ominously named "Sociological Department" that docked factory employees if they were caught smoking, drinking, gambling, or visiting hookers. Even so, the program debuted with support from reformers, workers, and politicians alike. Today, Scotts Miracle-Gro, the Ohio-based lawn-and-garden company, conducts random urine tests for nicotine and fires employees who fail. Clarian Health, an Indiana-based hospital system, has considered fining employees $10 per paycheck for obesity and $5 for each failure to meet benchmarks for cholesterol, blood pressure, and glucose levels. Yet such programs are popular, finds Todd Henderson, a University of Chicago law professor who has studied the rise of "nanny corporations" from the first company towns to the nosier firms of today. We want an involved corporate mommy, he argues. "We demand it."
Which perhaps explains why Scotia—sequestered, stage-managed, and, in the words of one 21st-century PALCO chief executive, lacking any "distinction between the individual and the company"—has always been a generally happy, strife-free place. To this day, the bond between Scotians and their company is almost religious. "Man, the Murphys were the coolest people!" exclaimed a customer at a local coffee shop, referring to the family that controlled the company from the 19th century to the 1980s. Town Fire Chief John Broadstock, 53, invokes Lee Iacocca and Walt Disney when trying to describe the glory of the Murphy clan. And when Stanwood Murphy, the third CEO to hail from the family, died young in 1972, the whole town attended the funeral. People later described that day as the worst in Scotia's history.
None of this has translated into an organized public outcry against Marathon and its plan to Craigslist the town. First, "people are still afraid of the company kicking them out of their homes," says one California journalist, who declined to be named because he doesn't want to be frozen out by the company (there is no newspaper in Scotia). Indeed, most Scotians asked not to talk on the record, and those who did were wary. "Don't get me in trouble, now," was a common signoff. One Marathon employee spoke in person about the "rude awakening" coming—then backtracked with an email.
Adding to the lack of public outrage: the only proposed alternative to self-governance as a "community-services district" would be for Scotia to merge with the neighboring town of Rio Dell. And most Scotians think that's the worse of two evils. Once called Wildwood because it was where single lumberjacks went to find liquor and women, Rio Dell described itself in a 2007 economic report as a "run-down community with an inferiority complex." Boarded-up shops mar the main drag, abandoned gas stations sprout weeds, and there's a nightly parade of wandering hobos. The side streets are cluttered with rotting boats, rusting cars, and eerily dark "grow houses" that supply Humboldt County's other famous agricultural product: homegrown marijuana. One fifth of the residents are below the poverty line, according to census data, and the city government is nearly broke. Last year it was forced to sell the police dog to make ends meet.
Scotia could well wind up like Rio Dell once Marathon is no longer holding the purse strings. After the sale of the town, residents will need to support the annual budget, which includes interest on a bond of as much as $5 million for infrastructure needs. They will have to pay for the upkeep of the historic theater. They'll need to scrape together down payments to purchase their homes, valued at about $180,000 in today's market, or pay rent to a new owner. "It will never be the same," says Linda Bartlett, who has lived in Scotia for 34 years with her husband, a company electrician.
In Scotia, it's tempting to wax poetic about deep roots, old growth, and new life. Redwoods, in particular, lend themselves to such descriptions. They grow back straight from the stump and disperse seeds to form an "angel chain" of new trees around every fallen one. For now, it's hard to imagine such regrowth for Scotia itself. But maybe, as companies like Google and Facebook build all-encompassing worlds for their employees, Scotia won't be America's last company town after all.