'The Last Dance' Has Inspired Some Quality Memes — Here Are Some of The Biggest Slam Dunks
Michael Jordan may have finally outdone his famous crying meme—this time, with a laughing one.
The NBA legend has been the focal point of ESPN's 10-part documentary, The Last Dance, which follows Jordan's history within the sports league and the multi-championship-winning-team he played for, the Chicago Bulls, during the 1990s.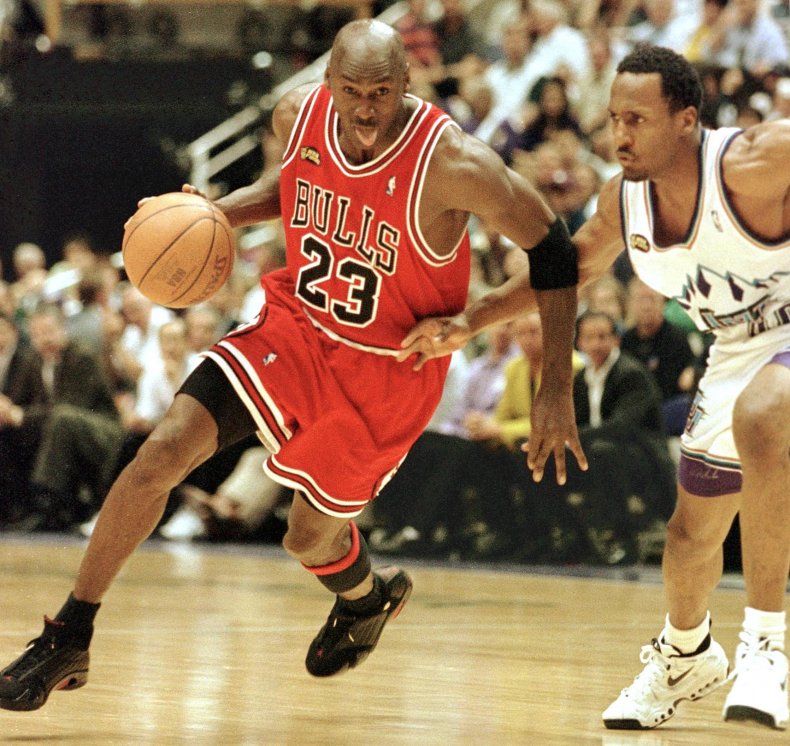 Since the show first debuted in April, Jordan's candid commentary has inspired many fans who have turned into the docuseries each week. However, it's Jordan's facial expressions and mannerisms that have caused an abundance of social media fodder. Viewers have flooded the internet with screenshots of Jordan, which have been turned into memes.
Images of Jordan laughing seemed to be the biggest memes of the night on Sunday during the seventh and eighth episodes of The Last Dance.
"Michael Jordan is the meme gift that keeps on giving," one viewer wrote on Twitter.
The meme in question is a photo of Jordan cracking up while holding an iPad.
"Still thinking about Michael Jordan laughing at anyone that appears on this iPad," Yahoo Sports wrote.
It's a sight The Last Dance viewers have become familiar with as the docuseries includes many moments in which producers instruct the former basketball player to watch iPad videos they've recorded of his former teammates and opponents sharing memories of him.
On Sunday's eighth episode, Jordan let out a good belly laugh while watching former Seattle Supersonics player Gary Payton talk about his attempts to tire Jordan out during the 1996 NBA Finals against the Bulls. Payton's efforts essentially resulted in Jordan returning to the game with full of energy and vengeance, which led the Bulls to a championship victory.
Fans of the series had a similar reaction to Jordan while watching Payton's commentary, and used the meme to harp on it. The meme was also widely used after viewers witnessed Reggie Miller claim that he thought he was going to retire Jordan during the 1998 Eastern Conference Finals.
"Reggie Miller: In my mind, I'm thinking 'That's it, you're going to retire Michael Jordan.' Jordan:" one Twitter user wrote.
Jordan's laughing-face wasn't the only scene from The Last Dance to get the meme treatment. Former Bulls player Steve Kerr was also turned into a living meme after he told the story of a fist-fight he and Jordan engaged in, during which Jordan punched him in the eye.
Check out some of the best memes from last night's episodes of The Last Dance below.