Is This the Last EU Leadership Photo That Includes a British Prime Minister?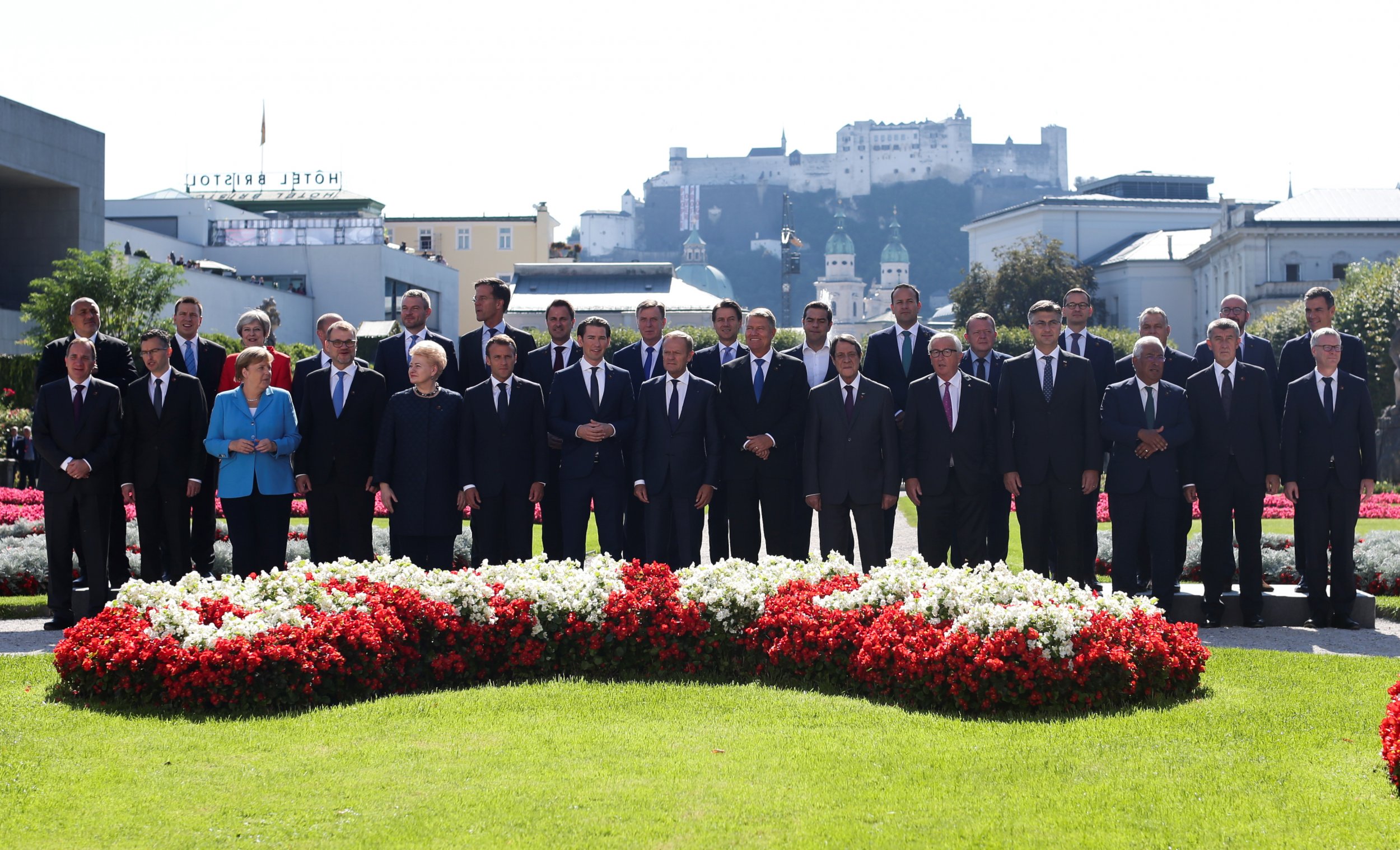 The European Council President Donald Tusk rejected the Brexit proposal of British Prime Minister Theresa May—who will likely also be the last British leader to attend an EU leadership summit.
Her Chequers plan, named after the official country residence where it was negotiated with her Cabinet ministers, "will not work," according to Tusk.
It raises the prospect of there being no deal at all with Brussels when the U.K. leaves the EU on March 29.
After the summit in Salzburg on Thursday, which focused on Brexit, Tusk said: "We need to compromise on both sides on Brexit. This is the essence of negotiations.
"There are some issues where we are not ready to compromise. The EU is not compromising on the single market and this is why we are skeptical about Chequers," he told reporters.
May had posed earlier on Thursday with other European leaders in the Austrian city—likely one of the last times a British leader will be seen with the heads of EU's other 27 countries.
An emergency summit has been called for November as the prime minister grapples with meeting a deadline on the Irish border question as well as honoring her pledge to avoid checks between Northern Ireland and Ireland.
May told journalists at a news conference that her plan, which involves leaving the single market but creating a new British-EU free trade area, was the "only serious credible" way to avoid a hard border in Northern Ireland, the BBC reported.
But she downplayed EU criticism of her plans, saying: "I have always said these negotiations were going to be tough and at various stages of these negotiations, tactics would be used as part of those negotiations."
But many of her rivals were quick to line up to criticize her.
Liberal Democrat deputy leader Jo Swinson told Sky News: "Chequers is over, whatever Theresa May might suggest. Whatever comes out of the negotiations now will inevitably be a very bad deal for Britain."
Leading Conservative Brexit champion, Jacob Rees-Mogg told Sky that Tusk's comments showed that May's deal "isn't viable."
French President Emmanuel Macron was blunt in his language about British politicians such as Rees-Mogg, who are pushing for the hardest possible Brexit. "It has demonstrated," he said, "that those who said you can easily do without Europe, that it will all go very well, that it is easy and there will be lots of money, are liars.
"This is all the more true because they left the next day, so they didn't have to manage it."