'The Last Jedi' on Disney Plus: When Will 'Star Wars Episode VIII' be Streaming?
Disney+ has much for Star Wars fans to enjoy, from the first seven films in the movie series and all seasons of The Clone Wars to brand new show The Mandalorian. However, the streaming service does not yet have the most recent film in the saga, Episode VIII: The Last Jedi.
The Rian Johnson-directed movie is currently still on Netflix, where it landed due to a deal between Disney and and the streaming service struck in late 2012, which gave Netflix the first-run streaming rights to new Disney content (which includes Marvel and Star Wars) from 2016 onwards. However, according to The Verge, this deal ended in 2017, when it was written that, "Disney says it plans to cut Netflix off starting with the studio's 2019 films, and Netflix says it'll be able to keep all the Disney movies it gets through the end of that year."
Despite early reports that Star Wars: The Last Jedi would come to Disney+ in early 2020, the new streaming service has managed to get Episode VIII as a slightly late Christmas present for fans. The movie has been confirmed by Disney to be coming on December 26, 2019, with the spin-off prequel Solo: A Star Wars Story following on in July 9, 2020.
As for Episode IX: The Rise of Skywalker, Disney+ has not revealed a release date yet, but it is expected to arrive on the streamer around the same time as Solo.
Prior to the release of Disney+, CEO Bob Iger shared with investors in 2018 some of the difficulties of getting the Star Wars films onto the new streaming service, saying the company was, "encumbered by licensing arrangements that we have with a number of different entities, notably Netflix and Starz."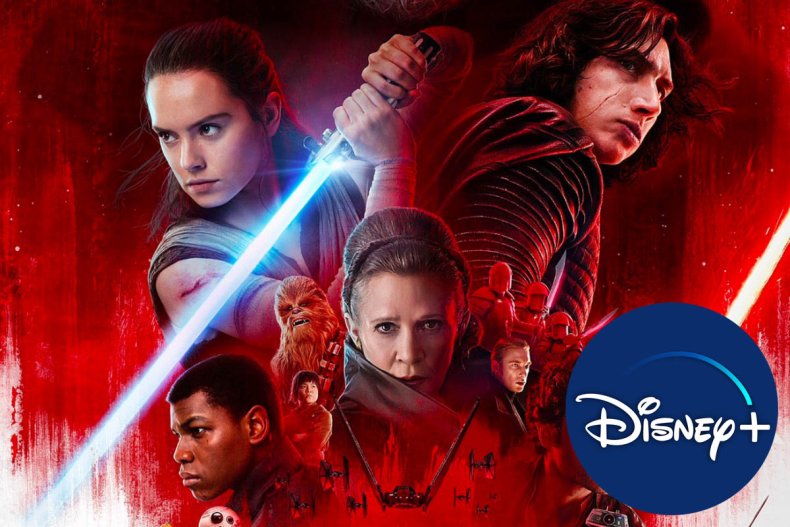 Episode VII: The Force Awakens came to Disney+ after a reportedly last-minute deal with Starz, after reports in August 2018 that the JJ Abrams film would not be on the streaming service. Starz, however, allowed the movie to move from their service in return for Disney+ running an advert for the network.
Disney+ will also soon have new Star Wars content, with Season 7 of The Clone Wars, which will have 12 episodes, confirmed to be coming to the streamer in February 2020, while The Mandalorian Season 2 is currently filming. The service will also feature series based around Rogue One character Cassian Andor (played by Diego Luno) and the prequels version of Obi Wan Kenobi (Ewan McGregor) in the coming years.
Star Wars Episode VIII: The Last Jedi will be released on Disney+ on December 26, 2019 and is streaming on Netflix now