The Last Living Slut: Born in Iran, Bred Backstage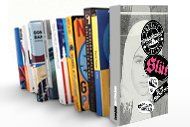 Roxana Shirazi
315 pages | Buy this book
Born in Iran on the cusp of the 1979 revolution, Roxana Shirazi fled the country 10 years later for England, where she suffered as a shy, dislocated teen whose only loves were library books and rock and roll. This split passion continued into adulthood: even as she pursued a life in academia, she spent wild nights backstage with London bands. Now she reveals, in explicit and raunchy detail, her decadent romps with washed-up rockers, and she inexplicably lashes the sordid tale to the country of her birth. This is the groupie tell-all gone disastrously wrong.
What's the Big Deal?
Igniter Books, an imprint of HarperCollins, is marketing the memoir as "the rock and roll version of The Satanic Verses," and the New York Daily News quotes Shirazi as saying that several editors "passed on her manuscript for fear of a fatwa." What's so scandalous? In addition to the expected drugs-and-sex debauchery, Last Living Slut makes a mockery of Shirazi's natal religion. Take, for instance, the photo spread of Shirazi swathed in a chador, making an obscene gesture with her tongue between two fingers, or pulling open her traditional robe to reveal tawdry lingerie. At a moment when the Western and Muslim countries are locked in mutual crosscultural suspicion, books like this one have the potential to spark absurd and unnecessary conflict. This isn't to deny Shirazi her freedom of expression. It's only to wish that that expression had been more thoughtful and less exploitative.
Buzz Rating: Whisper
The book is getting scant coverage by the mainstream media. Here's a guess as to why: reviewers aren't reluctant to touch the book because it's controversial (though that would be entirely understandable), but because it's tasteless.
One-Breath Author Bio
Shirazi holds a master's degree in English and lectures at women's conferences on the subject of "gender and identity." She also now claims the unenviable distinction of having carnal knowledge of a whole host of aging musicians, from Mötley Crüe's Nikki Sixx to '80s hair-metal vet Joe Leste.
Don't Miss These Bits
1. If you must read any part of this book, make it the parts on Iran. Shirazi's account of the vibrant Persian traditions of her youth and of the revolution as seen through the eyes of a young girl are thoughtful and touching—it's almost impossible to believe they were penned by the same author who produced the smutty and depressing rock-and-roll chapters.
2. Throw some more gas on the fire, would you? East vs. West clichés are alive and well here, regrettably. The West is a place of sin, sex, and shame—Shirazi considers herself a "Western girl" (page 75) when she starts dressing in short skirts and revealing tops. The East, however, is a feminized place of mystery, a "majestic dusky seductress" (page 315). For a woman who claims to have studied postmodern social theory, she must have skipped the lecture on Orientalism.
3. This book isn't feminist and daring, it's just tragic. In her intro, Shirazi says she's reclaiming the word "slut" from its negative connotations and presents herself as a real-life Samantha Jones, a woman whose sexuality comes from a place of power and confidence. But the more you read, the clearer it becomes that Shirazi is operating from a place of deep insecurity. Her wilting explanation of an abortion illustrates the point. Even though she wants to keep the child, she wants even more for the father "to like me, but I knew if I kept this baby, he wouldn't" (page 243). When she's invited to hang out with Guns N' Roses, she frets, "Did I have what it took? Was I pretty enough?" (page 193). She repeatedly ties her self-worth to the attention and approval of rock stars: when they desire her, she feels fantastic; when they reject her, she spirals into depression and suicide attempts. And that's what makes this tale, far from an "unapologetic feminist book," pitiable and sad.
Hidden Agenda
One almost gets the feeling that Shirazi wrote the tell-all primarily to get back at Guns N' Roses' Dizzy Reed and Reed's former Hookers N' Blow bandmate Scott Griffin for breaking her heart.
Swipe This Critique
Shirazi goes so far out of her way to exploit the Iran angle—selecting a picture of herself in a headscarf for the cover; doing a promo photo shoot (warning, NSFW) in porn-star poses and a black veil—that we expect her to make some coherent statement on Islam, gender, and sexuality. But she never does. Instead, she seems to be using the headscarf as a publicity tool, which would not be out of keeping with the persona she portrays in the book, one whose driving motivation is proximity to fame. Shame on Shirazi and on her publishers for using Islam to sell a glorified sex diary.
Tic Alert
Oversharing. The details of life post-abortion are insufferable. The sex descriptions are graphic and loaded with bizarre (and often mixed) metaphors. None of which is suitable for sharing on a family Web site.
Gradebook
Prose: Shirazi writes in a little-girl tone. It works during the Iran parts, but when she's in her 30s and describing people as "fairy angels" and "puppies" and "pretty but annoying dolls," something's gone off the rails.
Construction: The Iran bits have something of a coherent arc, but the rest of the book reads like Shirazi dumped her diary entries onto her publisher.
Bottom Line: Literally, we read this one so you don't have to. You're welcome.